HOFNER GUITARS MADE IN SPAIN?
- FACT FILE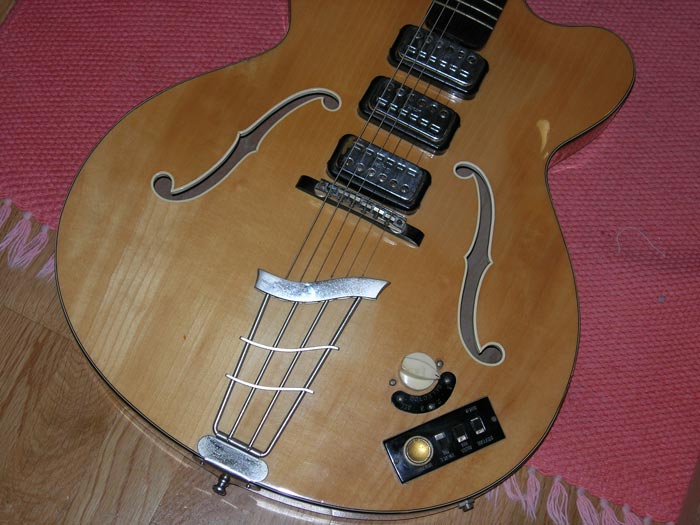 It has become apparent to me in the years that I have been running this website that some Hofner guitars were produced under licence in Spain during the 1960's. At first, these seemed to have been electric solid guitars. Now however, I am aware of several models of semi-acoustic guitars and also examples of Spanish-made 500/1 & 500/2 basses have appeared. There are no doubt many other Spanish-built Hofner models that I have not yet encountered.
The basic design of the Spanish Hofners seems to have a strong resemblance to the German-built Hofners, but most are not exact copies. The semi illustrated above for instance appears to be based on the German 4560 model, but has minimal body binding/purfling, very plain maple laminates on the body back, and a one-piece neck. The Spanish guitars tend to be fitted with German-made hardware, but some items have definitely been produced in Spain to the German design. In the case of the above semi, take a look at the control console, and also the three-on-a-plate tuners. The 500/1 Bass however has retained the main features of the German made products.
Luis Jimenez of Madrid, Spain has carried out some research into these guitars, and his conclusions are as follows:
"Hofner, along with Invicta and Jomadi (these two are true Spanish brands) were manufactured in Zarauz (in the Basque Country) during the 60's. Back then, Spain's import duties were very high so it's feasible that the Germans worked out an agreement with this Spanish manufacturer to sell Hofners at reduced price tags.

The factory where the "Spanish" Hofners were made still exists in Zarautz. The factory was founded in 1944 by Enrique Keller, a German immigrant. Thus, the German connection between Hofner and Spain becomes more understandable! Nowadays, the factory manufactures fine classical and flamenco guitars under the Admira brand. Apart from actually making guitars, the Enrique Keller company also distributes musical instruments in Spain, although ironically Hofner's current guitar range is not amongst them!

I have to point out that Invicta and Jomadi are considered the best Spanish-made guitars of the 60's. In fact, my own Spanish-built Hofner is flawlessly made and plays remarkably well after 41 years, something not easy to find in other Spanish or Italian instruments of that era."



Xosé Crisanto Gándara of Galicia in Spain has also researched the history of the Spanish-made Hofner 500/1 Bass:
"Keller started producing the 500/1 from 1963 onwards, with a license to produce 500, and these were produced up until at least 1974.

Initially all the components were supplied from Germany, but after 1966, Keller started to produce their own necks.

Also at some later stage, Keller began producing the electrical components." (The unusual control console and the Type 511B pickups can be seen on Xose's own 1972 bass.)

"Some of the Invicta brand solid guitars made by Keller were also fitted with Hofner German parts, but these guitars did not bear much of an overall resemblance to Hofner guitars.
An example of such guitars can be viewed below:
The Keller company still retain their association with Hofner in Germany to this day. Keller produce the Carmencita and Altimera range of classical guitars (HG and HC Series) which are in the current Hofner catalogue.
There is obviously more to be learned about the Spanish Hofners. If anyone has any further information, or actually owns a Spanish-built Hofner, I would be grateful if they could get in touch with me.
In the meantime, I have scheduled below some examples of Spanish-built Hofners
Further examples of Keller/Hofner Spanish-made guitars can be found at the following page on this website:

Inscription on back of Xosé Gándara's 500/1 Bass

Lluquet Catalogue entry for a Spanish-made 500/1 bass in 1968. Translated into English, this says: "BASS GUITARS HOLLOW BODY - HOFFNER T-21: body VIOLIN shape like that of the Beatles', shadow brown varnished with clearer [varnish] in the middle. Two pick-ups and slides and volume and tone. Palosanto [rosewood?] fingerboard and white purflings along body sides.......................................6.900" [in Spanish Pesetas, which equates to less than 42€ today!!!!!]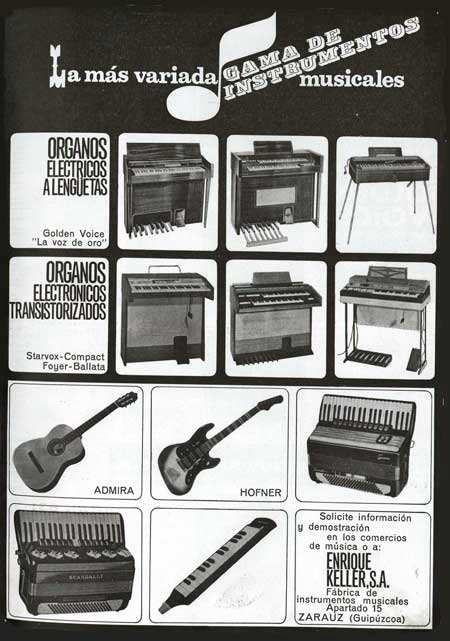 Enrique Keller Advert from 1967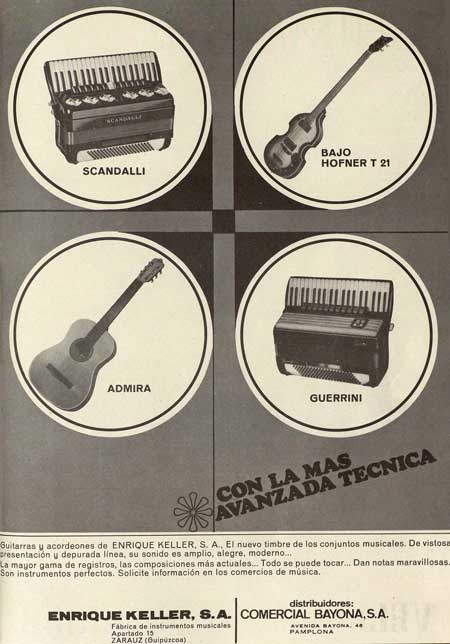 Enrique Keller Advert from 1969


.........and a Lluquet Catalogue entry which shows a guitar strap looking very similar to the type that Hofner were selling at that time!
As an interesting aside, Keller actually used the Hofner "Tea-Cup" control knobs on one of their amplifiers the Ritmo CR-12 Amplifier Unit, which was introduced in 1963. Photos of this 12 watt amplifier can be viewed HERE.
---
Many thanks to Luis Jimenez of Madrid, Spain and Xosé Crisanto Gándara of Galicia, Spain for their help in producing this Fact Sheet.
---