Amps
FIRST OF THE MANY - SELMER/RSA TRUVOICE AMPLIFIERS 1930's TO 1957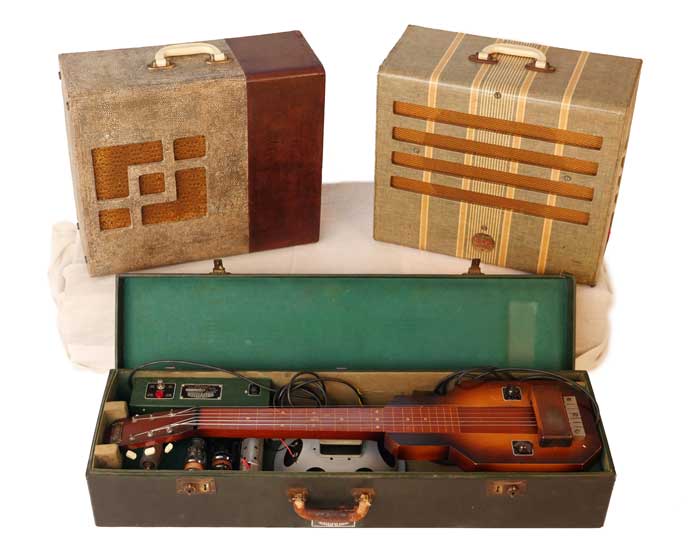 Photo courtesy of Julian Marsh, Nottinghamshire, England


---
THE STORY OF SELMER AMPLIFIERS - PART 1
Selmer took over the R.S.Amplifiers Ltd company in December 1947, and began marketing a range of PA equipment, closely followed by combo amps dedicated to single instruments such as the piano accordion and that new upstart....the electric guitar! In fact, Selmer had been producing amplifiers under their own brand name from 1935 onwards at Charing Cross Lane, London. RSA were based initially at Reynolds Road, Acton Lane, London W4, and it would appear that their product name was "Truvoice". All production was very soon consolidated at Charing Cross Road, and the Selmer-Truvoice story had begun!

There is very little information apparently available on these formative years, and very few amplifiers from this era seem to have survived. We have however been contacted by some owners of these rare pieces through this website, and hence are able to feature the following units.
As an aside, an interesting piece of evidence which demonstrates the roots of Selmer's electronics part of the business existed in the catalogues up to the late 1960's. This was a Contact Microphone, which still had the name RSA Truvoice on its casing right up to that time. Presumably, Selmer didn't want to go to the expense of changing the case mould.
IMPORTANT - During this early period, Selmer Truvoice did not fit mains transformers to their amps, resulting in an inherent safety problem if one's amp has not been modified to prevent possible electrocution. It is strongly recommended that any owner of one of these amps checks out this YOU TUBE VIDEO produced by Nick Adams which very effectively describes the problem in detail and advises on the best way of isolating oneself from the mains current when using such an amp.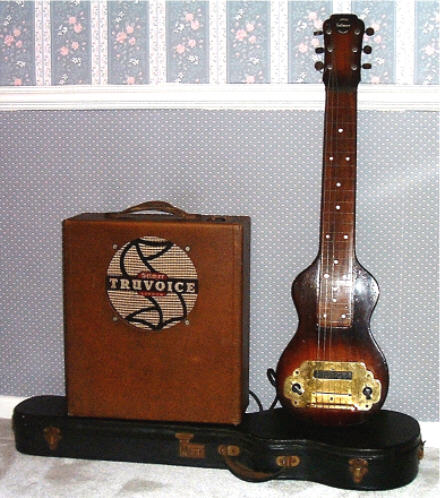 Truvoice TV8 (Serial No 100401) together with Selmer Lap Steel guitar, purchased new as a pair in 1949 by Billy Smith of County Down, Northern Island. Billy still owns this beautiful old outfit.
---
SELMER-TRUVOICE AMPLIFIER & HAWAIIAN GUITAR OUTFIT
THE SELMER-TRUVOICE TV8 COMBINATION AMPLIFIER
A small amp measuring 12" x 15" x 4", and fitted with an 8" speaker. Valves: 1 x KT33C, 1 x U31, 1 x KTZ63 rectifier.
THE SELMER-TRUVOICE MODEL "15" COMBINATION AMPLIFIER
Probably a 10 watt combo, and fitted with a 12" speaker. A single volume control and tone control located in a recess on top of the amp. Five unknown valves were fitted to this amp which seems to have been introduced by Selmer very soon after World War 2.


THE SELMER-TRUVOICE TV10 COMBINATION AMPLIFIER
A mid-range model that was based on a 10" speaker. Two input sockets for high and low impedance, each with their own volume control, and a shared tone control. A rather prominent voltage selector which also serves as the on-off switch for the amp! Valves: 1 x ECC83; 1 x 12AX7; 2 x EL84 (?) giving a rated output of 8 watts (peak 10 watts).
THE SELMER-TRUVOICE TV15 COMBINATION AMPLIFIER
Three inputs (two high and one low impedance), with a volume control for each input and a single shared tone control. The same type of voltage selector/on-off switch as for the TV10 above. Curious strip-type art deco speaker grill. The valves originally fitted to these amps were 3 x 12AX7; 2 x PL82; 1 x PY82 rectifier, although it can be seen from some of the examples below that these have often been changed over the years. Speaker - 12" Goodmans Audiom 60.


THE SELMER-TRUVOICE TU8 PA AMPLIFIER & SPEAKER SYSTEM
A PA system that was designed for portability. The amplifier section was stored inside the two speaker cabinets, which themselves clipped together to make one compact unit for transportation.
THE SELMER-TRUVOICE U12 PA AMPLIFIER & SPEAKER SYSTEM
This model is thought to have been used by the Beatles in their very early Quarryman days. It was still in the Selmer catalogue in 1958. The amplifier section was carried inside the two speaker cabinets, which clipped together for easy portability. Output 12 watts. A microphone was also included in he package.
Over the years there seems to have been a two input version ( Valves - 3 x KTZ63; 2 x KT33C; 2 x U31) and a three input version ( Valves - 3 x 12AX7; 2 x PL82; 1 x PY82 rectifier).
UNKNOWN MODEL PA AMPLIFIER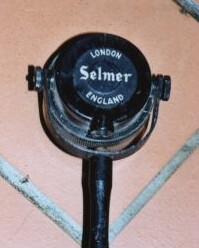 Picture of 1950's Selmer hand-held microphone - probably of the type that could have been used with the PA Systems featured above. - Courtesy of Angela Tracy, Lincolnshire, England.
---
Proceed to THE MAROON/GREY PERIOD (c1957 - 1959)
Return to SELMER AMPLIFIERS-MAIN INDEX PAGE