1946/47 RSA MODEL U12 INTEGRATED MONO VALVE PA SYSTEM
COURTESY OF MELVYN TAYLOR, BRIGHTON, ENGLAND
Visit Melvyn's Amps-n-Bits Website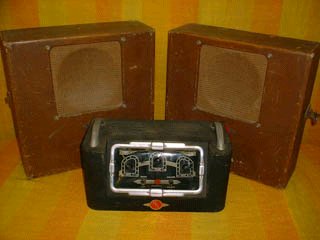 From "Audio, Audio", about vintage British hi-fi equipment, by Jonathan Hill (who has also written a book called "Radio, Radio", the British vintage radio collector's bible):
"RS Amplifiers Ltd., Reynolds Road, Acton Lane, London W4 (taken over by Henri Selmer in December 1947)
RSA12 integrated mono valve PA outfit (1946/47), power output 12 watts, 2 x mic inputs. Outfit comprised integrated valve amplifier, ribbon-type microphone and twin loudspeakers. AC operation. RSA12B (1946/47) - battery-operated portable version of RSA12. U12 - AC/DC version of RSA12."

From which we see that the U12 is an early pre-Selmer RSA PA amplifier dating from 1946 or 1947, and a pretty rare beast nowadays. Selmer were still making a very similar PA system in the late 1950s according to a catalogue we found : the head looks identical, but the speaker cabinets are fancier. 12 watts would, of course, have been considered rather loud in the quieter world of the late 1940s.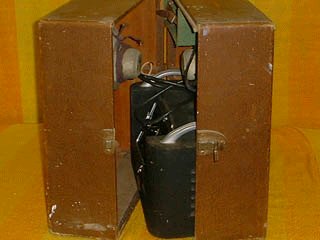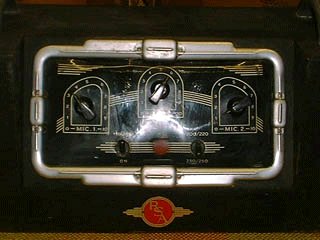 Rumour has it that the pre-Beatle Quarrymen's first amplifier was a Selmer PA, bought for them by the Students Union of Liverpool Art College at the behest of committee members Stu Sutcliff and Bill Harry in late 1959 or early 1960. Intended for use only at college dances, the Quarrymen adopted it as their own and the SU never got it back ! If so, it probably looked like this one, though no known pictures survive.


---
Return to SELMER AMPLIFIERS - 1947 TO 1957