Amps



SELMER AMPLIFIERS -
MISCELLANEOUS AND GENERAL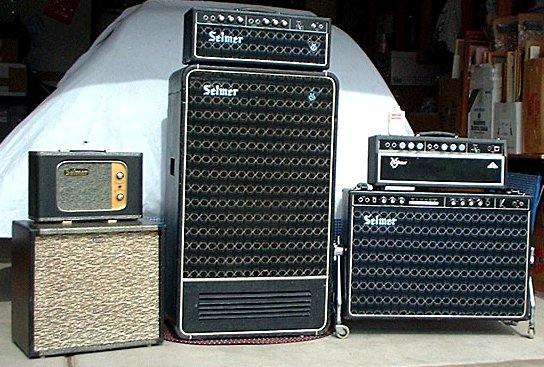 ---
MISCELLANEOUS SELMER EQUIPMENT


THE SELMER CONCERT, MINSTER, & LINCOLN ORGANS
Three examples of electronic organs made by Selmer in the 1950's for use in churches and in the home.


THE SELMER CLAVIOLINE ELECTRONIC KEYBOARD
The Clavioline was a small keyboard which packed into the separate amplifier unit for transportation, and which was intended for use as a supplementary unit to a piano. This keyboard was used intensively by small dance bands in the UK during the late 50's /early 60's, and also was the distinctive lead instrument on the Tornado's "Telstar" hit back in 1962.



THE SELMER PIANOTRON PORTABLE KEYBOARD


By the mid to late 1960's, Selmer were offereing more sophisticated portable keyboards for band use. This Pianotron is owned by Des Abbott, who played it back in the 1960's with his band, The District Line. Also included on the page are catalogue scans of the Pianotron and also the Capri ELectronic Organ.


THE SELMER VARITONE OCTAMATIC AUDITORIUM
A combo amplifier produced for use with a SAXOPHONE!! A special pickup was supplied, which was attached to the sax, together with a small control consul fitted with volume and tone controls. That is why there are only the tremolo controls actually on the amplifier unit itself!


THE SELMER-LESLIE COMBINED AMPLIFIER & SPEAKER
Selmer imported Leslie Organ parts during the 1960's/70's, and assembled the organs under licence for sale in the UK. For a short period in 1967/68, they produced a combo amp for use with the organ. This produced the famous Leslie rotating speaker sound, but by means of a moving baffle in front of the speaker; not by actually rotating the speaker. We understand that one of these units was supplied to the EMI Abbey Road studios for use during the Beatles recording sessions.


THE SELMER-LESLIE SPEAKER CABINET
This was produced prior to the above combo unit for use with Leslie organs. Again, it employed a moving baffle in front of the speaker to produce the "Leslie Sound".


THE SELMER SCINTILLATION REVERBERATION UNIT
Produced for a short time in the early 1970's, this spring-based effect was introduced to compliment the various "SV" Series amplifier heads that did not incorporate built-in reverb. The example shown is one of two recently (2003) discovered, still in their original factory packings - and unopened!


SELMER BUZZ-TONE PEDAL
An early solid state "distortion" unit, which Selmer introduced at the September 1966 British Musical Instruments Trade Show.


SELMER FUZZ-WAH PEDAL
Introduced into the Selmer catalogue in September 1968, and described as being "suitable for use with both guitar and organ". A Wah-Wah Pedal without the Fuzz effect was also offered.


SELMER TREMOLO EFFECTS UNIT
A much earlier effects unit than the pedal above - probably from the late 1950's or early 60's.


SELMER U.S. BUILT "GENERAL PURPOSE" COMBINATION AMPLIFIER.
Just when we thought that we had grasped the basics of the Selmer amplifier history, we have been taken unawares by Brandon Tinianov. He has sent us pictures of an old Selmer amplifier manufactured in Indiana, USA. This would appear to be a general purpose amplifier, intended for use with "phonographs" and "recorders" as well as with "microphones" and "instruments".


SELMER U.S. BUILT COMBINATION AMPLIFIER
An even earlier US-built amplifier that probably dates from the 1940's. We can only conclude that this and the above amp were built for the parent Selmer Paris company for distribution in the US. They are not really from the same ancestry as the UK Selmer amps on which this website is based. Nevertheless, they are very interesting. Thanks to Dave Huyck for supplying the photos of his amp.


1940's(?) SELMER U.S.-BUILT COMBINATION AMPLIFIER
And another example of an early amp built by/for the Henri Selmer, Paris company in the States. Again, any information on this old amp would be gratefully received.


SELCOL PLASTICS "JUNIOR BEATLE" GUITAR
Selcol was an associate company to Selmer, who were displaced in late-1968 from their factory in Braintree, Essex in order to make way for the relocated Selmer amplifier production facility. Prior to being closed down, Selcol made plastic garden furniture and toys - an interesting example of which is this plastic guitar which helped to satisfy the demand for "all-things-Beatle" in the UK during the mid 1960's.


SELCOL PLASTIC "RED JET" ELECTRIC GUITAR
And another plastic guitar made under the Selco trade-name. This one is owned by Des Abbott in the UK.


SELMER-TRUVOICE MODEL 912 AMPLIFIER UNIT
We are not quite sure what this one is; maybe a valve driven Hi-Fi unit from the 1960's?


SELMER TAPE RECORDING MACHINE
It would appear that Selmer-Truvoice made tape recorders at some stage; probably in the late 1950's or early 1960's from the appearance of the cabinet covering and control panel. This particular example was based on a Collard tape deck. Many thanks to John Beer for finding this rarity.
---
GENERAL SELMER INFORMATION
DATING YOUR SELMER



Unfortunately we do not have any information on serial numbers at this stage, although it might be possible to collect them into a database if there is sufficient interest to justify this. It is difficult to pinpoint the manufacturing date of a Selmer amplifier more precisely than to the general periods defined by the colour schemes. It is worth looking inside the amp to see if there are any inspection stamps or electrical components which might indicate a date, but please read the safety warning below before poking around the inside of any amplifier.

The one exception is for amplifiers which contain Celestion speakers, if these can with any certainty be presumed to be original fitments. Many of the larger and more expensive Selmer amps were fitted with Celestions, including the popular Zodiac and Thunderbird combos. Celestion speakers carry a manufacturers date code which indicates the exact day when the speaker was made, which is a very good clue to the age of the amp : as guitar amplifiers were in great demand in the the 1960's, it is unlikely that speakers hung around for any length of time before being fitted.

The Celestion Date codes are contained in Appendix 1 to "The History of Marshall" by Mike Doyle. Look for a 2 number, 2 letter date code stamped either on the rim gasket or the metal frame of the speaker (e.g 17 AH). The numbers give the date of the month, the letters stand for the month and year.

Celestion's Website now contains a list of date codes in the "Doctor Decibels Secrets" section.


(Selmer also used speakers by Goodmans, Fane and Elac in their amplifiers, and we do not know of any way to date these).
BUYING AN OLD SELMER AMPLIFIER



At this time Selmer amps seem to be enjoying a burst of popularity, which may be simply a wave of nostalgia or because all the Vox amps have disappeared into collections !! Unfortunately old Selmer amps are quite rare nowadays, and I think this is because although they were manufactured in large numbers, during the late 1970's and 1980's they were regarded as almost worthless and many ended life in landfills. (In those days of course, a Vox AC30 could be found in the local junk-shop for under £100). It's a case of keeping an eye on newspaper advertisements and music-shops - there are still bargains to be had!

Prices are difficult to define as there are numerous Selmer models and a limited market. The most popular models are the croc-skin Zodiacs and Thunderbirds, and in good original condition these presently seem to command prices in the £1000 to £1500 range (compared to contemporary JMI Vox AC30 which can sell for up to, and sometimes beyond, £3,000 in the UK these days). T'n'B heads can be a great bargain at as little as £250, though finding the matching cab is often a problem. Nowadays it is rare to find any of the early 60's Selmer amps in good condition at less than £200. With Selmers, you can get a lot of amplifier for your money !

SPARE PARTS FOR YOUR SELMER AMPLIFIER



The only sources of used Selmer spare parts that we know of are:


There are a good selection of Selmer Circuit Diagrams on the SCHEMATIC DIAGRAMS PAGE elsewhere on the website.
WHAT DO SELMER AMPLIFIERS SOUND LIKE?



The simple answer is - usually great ! The solid-state amplifiers of the late 60's are no great shakes, but the valve-powered models of the early 60's are classic in both looks and sound.

Sound is a subjective thing - what I like, you might not. But in attempting to describe them I'd say that the smaller valve combos with EL84 & ECC83 valves sound very like their Vox equivalents, and indeed the small Watkins amps of those years. All had similar circuitry and components so that's probably not surprising. The AC15 probably had the edge on treble and tone quality, but certainly not by so much of a margin as Vox would have liked.

Selmer generally used EL34 output valves for their amps above 15 watts so you'll get a sound somewhere between a Vox and a Marshall - less treble and "chime" than an AC30, less grunge than a Marshall, but a good sound in it's own right, very usable and versatile.

That's all I'm going to say - they're your ears, try one !

There are now some reviews of individual Selmer amps, written by the owners/users themselves on the Review Pages at Harmony Central. well worth a visit!
TAKE IT TO THE TECHNICIAN!!



For two reasons. The first is the most important - it might save your life. Old amplifiers which haven't had attention for years can be in a dangerous and even lethal condition. I've had several "tingles" and one belt which I wouldn't like to risk getting again from messing around with things I don't really know much about. Don't plug straight into an old amplifier you know nothing about - if you just can't resist the temptation, at least use an RCCD (residual current cut-off device), a few pounds from the local hardware store. That will cut off the current in micro-seconds if anything goes wrong. Ordinary fuses take milliseconds, slo-blo ones longer - they are designed to protect the equipment, not you, and by the time they blow you can be brain-dead, which is a bit of a barrier to enjoying your Selmer.

Reason 2. An old amplifier which has been stored for 30 years in someone's loft, or had 30 years of abuse by a succession of teenage guitarists, is unlikely to be putting out it's best performance. Apart from a safety check, it will probably need new valves (though don't throw out the old original Mullards or Brimars as a collector will value them), new electrolytic capacitors ("caps" or "filter caps" which dry our over a period of time), and probably lots of the other little red, yellow & green bits inside aren't doing now what they did 30 years ago. Find a good tech recommended to you as experienced with vintage valve amps - the less hair, the better !! It'll be worth the money.
A NOTE CONCERNING CURRENCY



For the benefit of our American and other overseas visitors, the currency used on this website is the domestic currency of the UK.

Until 15 February 1971 it was in Pounds (£), Shillings (s), and Pence (d) with 12d = 1 Shilling, 20s = £1.
After that it went decimal to £(pounds) and pence (p), with 100pence = £1.

Now as for guineas, they lost their status a legal tender in the UK way before electric guitars were even invented! However, many so called luxury goods were often priced in guineas up to the early 70's, presumably in an attempt to retain a feeling of status and past grandeur amongst the gullible UK buying public.

A guinea, by the way, was worth £1-1-0........ or put another way: 21 shillings.

Confusing, isn't it!
---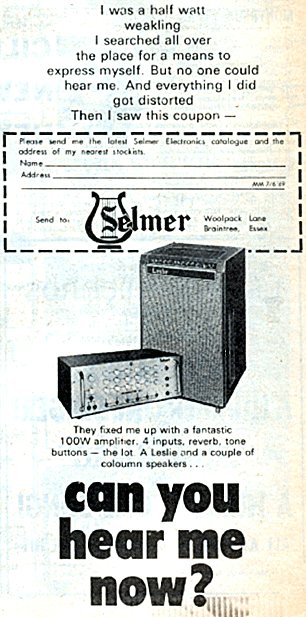 Advert from "Melody Maker" - June 1969.
Thanks, Laszlo.
---
Return to MAIN SELMER AMPLIFIER PAGE

Return to MAIN HOFNER GUITAR PAGE