HÖFNERS OLD & NEW
THE SECTION OF THE VINTAGE HOFNER WEBSITE WHICH DEALS WITH THE MANY GUITAR AND BASS GUITAR MODELS PRODUCED BY HOFNER FROM THE EARLY 1950'S TO THE PRESENT DAY.
Josef & Walter Hӧfner in the Bubenreuth Workshops; c1952.
Christian Hoyer's History of the Hӧfner Company is now on this Website.
---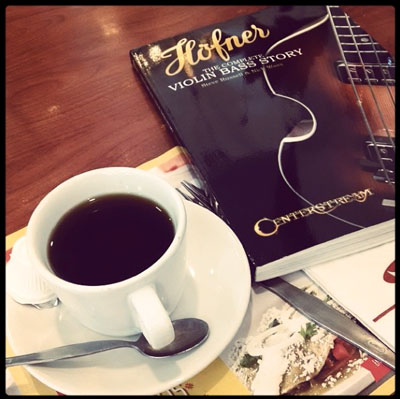 The Complete Höfner Violin Bass Story, produced by Steve Russell & Nick Wass, is published by Centerstream Publications. It is available from several outlets worldwide, including Amazon.
Photo courtesy of Eduardo Capdeville, Mexico.
---
MAIN WEBSITE INDEX
RECENT ADDITIONS TO THIS WEBSITE


The easy way of finding what has arrived onto the website in the past few months:

THE HISTORY OF THE HOFNER COMPANY:
THE HOFNER GUITAR GALLERY:

Just about every Hofner model and model variant is illustrated in this gallery. It is therefore intended as a tool to help you identify your own Hofner.
THE VINTAGE HOFNER GUITAR REGISTER
If you own a Hofner Committee, Golden, Deluxe, President, Verithin, Senator, Club, Congress, or 500/1 Violin Bass, you can register it on this website. The details that you supply about your guitar will also be made available on the website to help us all understand further the development of that model. Other Hofner model registrations will be set up in the future.