THE SELMER CONCERT, MINSTER, & LINCOLN ORGANS
1. THE "CONCERT" ORGAN
SCAN TAKEN FROM THE 1959 SELMER TRADE CATALOGUE: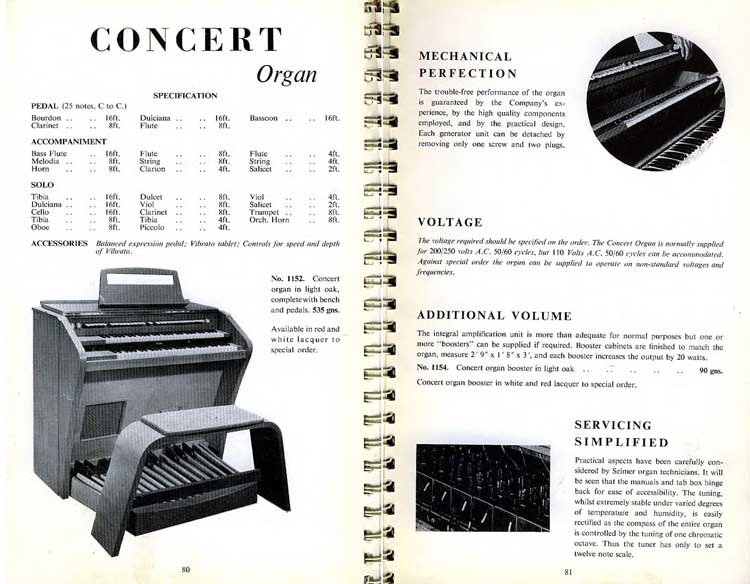 Although called a concert organ, the style is of a well appointed spinet with 2 full-range manuals and a wide variety of stops, vibrato and expression pedal. The model has two manual 60 note keyboards and a 25 note two-octave pedalboard, radiated and concave to allow both feet to play in heel-and-toe fashion. The in-board speaker was a Goodmans Audiom 60 bass unit, and the amplifier is a KT66 push-pull low distortion configuration. The frame is made almost entirely from solid English Oak. Sixty 12AX7ís are used to generate notes. The original catalogue price of 535 guineas was a serious amount of money!
At least one unit has survived in Australia and is now restored. The pictures of it below are courtesy of Tim Robbins, who also has restored the service manual, which is available for viewing on Tim's website at:
http://dalmura.com.au/projects/Selmer%20Organ.php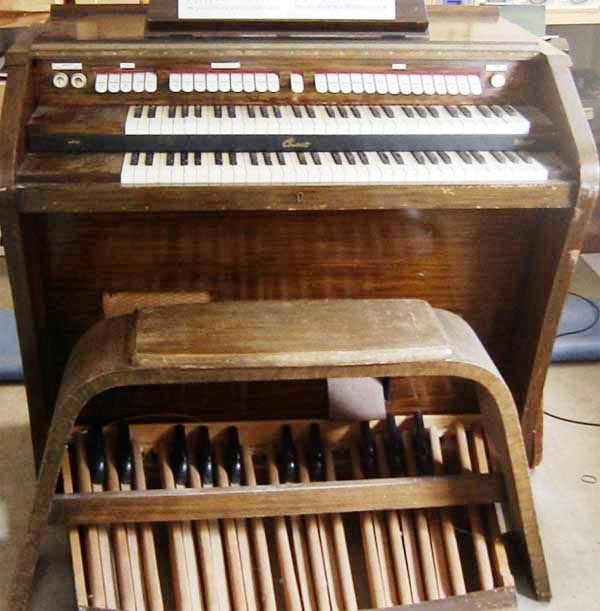 Tim's Selmer Concert Organ.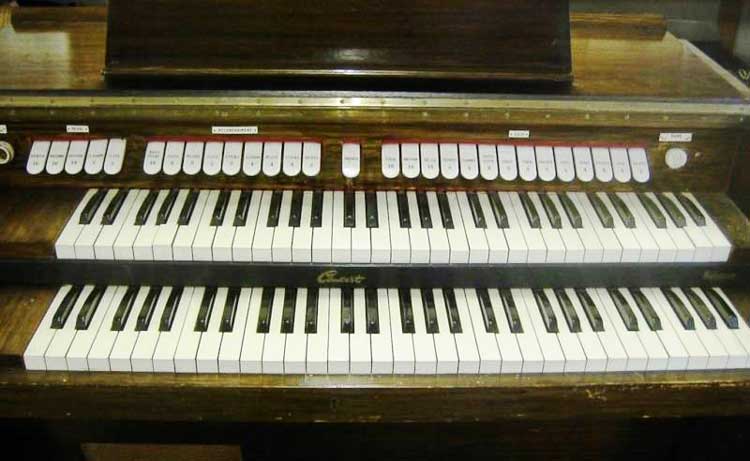 The Manuals.
Rear View. Note the 64 x ECC83, 4 x 6SN7, 2 x 15OC2, 2x KT66, & 1 x GZ32 (rectifier) valves on display !!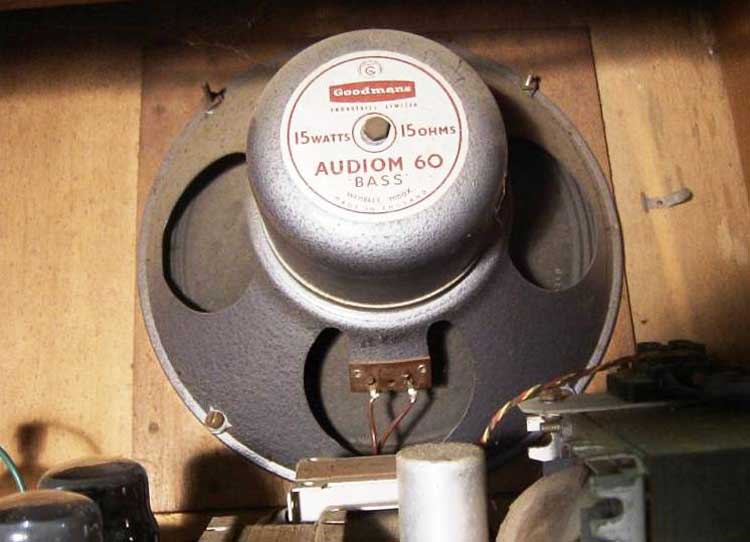 The single Goodmans 12" Bass Speaker in the Organ
Tab Box
The Concert model was introduced in 1957, and was upgraded sometime later with the main power supply and amplifier chassis split, and the amplifier beefed up from KT66 to KT88. A close equivalent to the Concert was the Minster model which used different registrations and had a more ecclesiastical appearance.


2. THE MINSTER ORGAN
SCAN TAKEN FROM THE 1959 SELMER TRADE CATALOGUE: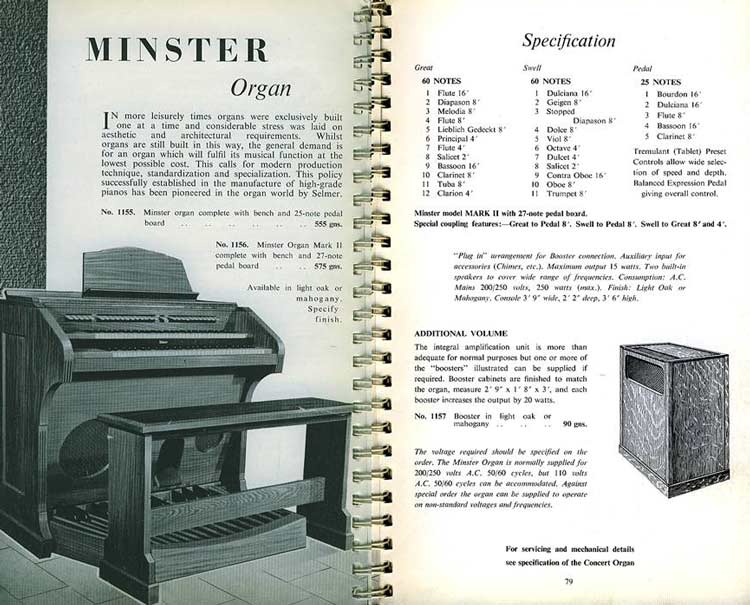 3. THE LINCOLN ORGAN
Selmer manufactured the simpler Theatre model organ from 1954, which also had an ecclesiastical brother the Lincoln model. One Lincoln organ has survived in England, and pictures of it below are courtesy of Robert Quayle, and Tim Robbins has the service manual on his website.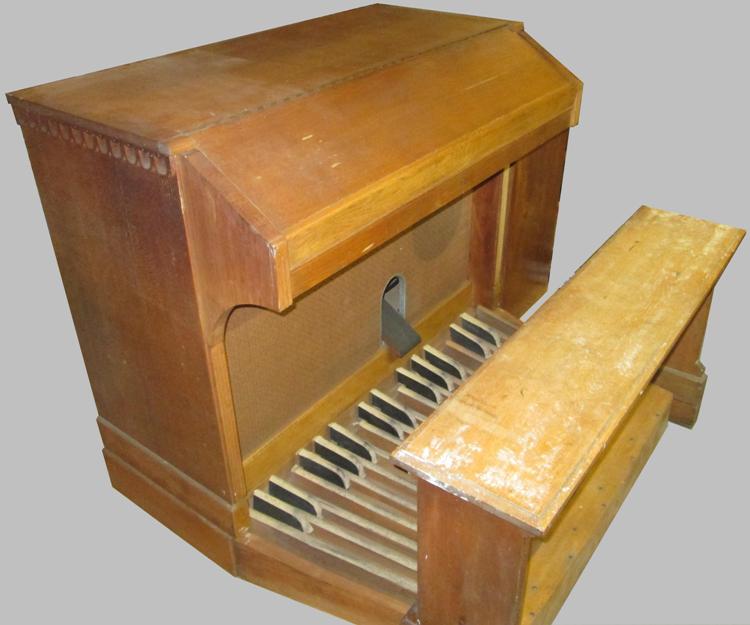 Selmer Lincoln Organ.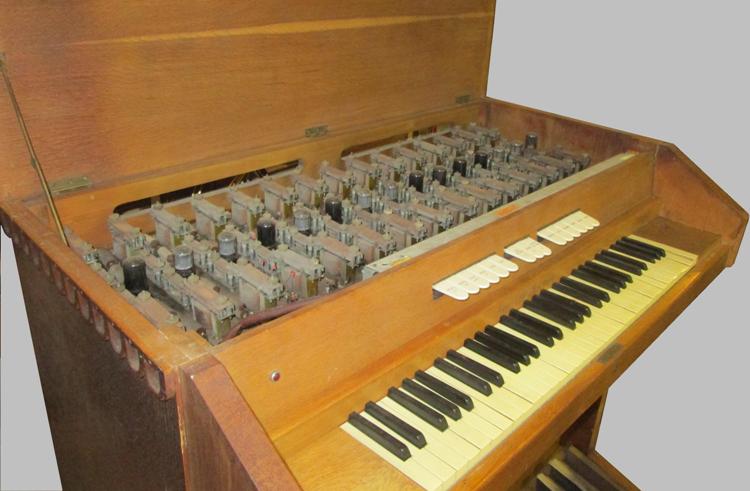 Single Manual and oscillators 'under the hood'.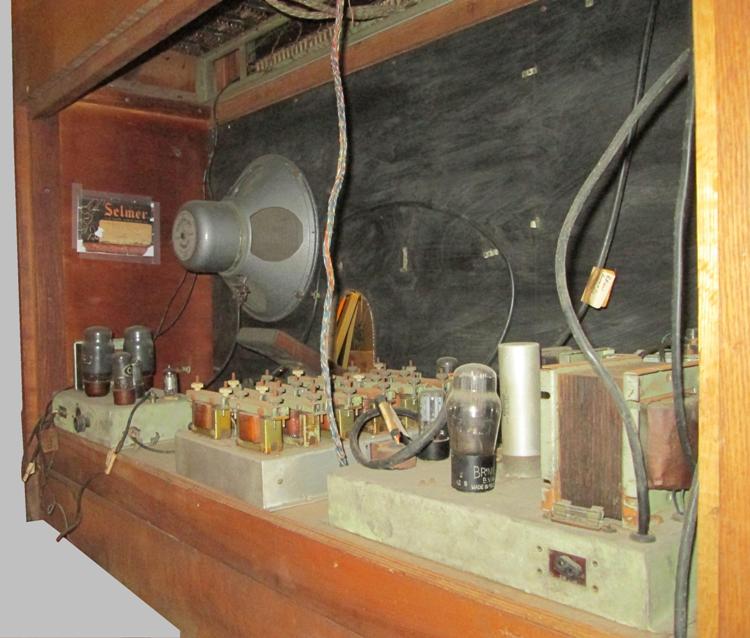 KT66 amplifier, pedal tuning chokes and power supply chassis with a Goodmans Audiom 60.
---