VISITORS' GALLERY
The pages where other people's Hofners are featured.
HOFNER CUSTOM BUILT, PROTOTYPES, MODIFIED, AND ODDBALLS GALLERY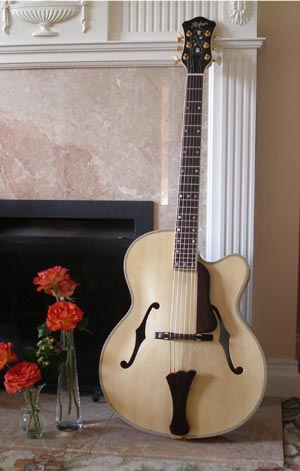 Alan Cramp's Jazz Café
---
Over the years, countless Hofners have been modified or repaired in an attempt to improve their appearance or performance. Many of these instruments remain fine guitars; even in some cases being an improvement on how they originally left the factory! In addition, Hofner themselves have produced prototype models and special-orders in the normal course of their business. The purpose of this page is to display the best examples of these non-standard instruments.


---
MODIFICATIONS TO A 2009 HOFNER GALAXIE - PART 2
It has been several years since Olaf Poeter provided us with details of the active electrics modifications that he made to his "modern-day" Galaxie. He has now carried out further work on the guitar, including up-grading the pickups and fitting a 6-way selector switch. The results are shown and described on the linked photo-page.


TWIN PICKUP HOFNER S7B SOLID BASS GUITAR
The S7B model was a single pickup solid bass guitar. Why then has this nice example got two pickups? I am not sure whether this is in fact a Hofner-made "prototype" or a guitar that has been modified by a previous owner. Whatever, it look a very usefull "working" bass guitar. Owned by Guy Audoux in France.


RESTORATION OF SPANISH-MADE HOFNER D-22-S SOLID GUITAR
Guy Audoux in France has restored this guitar from a heavily over-painted body and neck, using genuine old Hofner parts.


CONVERSION TO ELECTRIC OF A HOFNER PRESIDENT ACOUSTIC GUITAR
A superb conversion carried out by Olaf Poeter in Germany. Olaf has provided a wiring diagram, together with his account of the conversion.


MODIFIED HOFNER COLORAMA SOLID GUITAR, WITH ACTIVE ELECTRONICS
This guitar began as a 1961 Hofner Colorama, but since then its life has changed radically. Prior to David Beschizza acquiring the guitar, it has a full suite of active electronics fitted, including fuzz, stereo tremolo, and tone boosters. David wishes to find the previous owner who carried out this work, so can you help him?


CONVERSION OF A HOFNER T2S SEMI-SOLID GUITAR TO LEFT-HANDED
The photos of and the story behind a well-used "working guitar", provided by Jens Knoop of the Left Hand Gear website.


RESTORED 1962-63 HOFNER COLORAMA I SOLID GUITAR
A very impressive restoration, carried out by Martin Kunz in Vienna, of an old Colorama that involved building back the body to its original size and shape.


HOFNER ALPHA BODIED SOLID BASS GUITAR PROJECT
A very attractive but unusual guitar made as a project by its owner John Reed in the UK, using many Hofner parts including a mahogany solid body which must have been made by Hofner for making up into the rare Alpha Custom Solid model.


RESTORED 1959 HOFNER COLORAMA II SOLID GUITAR
Before and after photos of this Colorama show just what is possible with two cans of Hammerite paint and a lot of care. Guy Audoux in France carried out this superb restoration.


REPAIRED 1958 HOFNER PRESIDENT ARCHTOP GUITAR
These photographs illustrate the perils of shipping guitars, but they also show that no matter how damaged a guitar can be, there is still hope that it can be repaired to a very high standard..........that is if one uses a luthier as skilled as Trevor Dean of Rosendean Guitars, Woking, Surrey. The owner of the President is Cameron Brown of Surrey, England.


RESTORED 1957 HOFNER 461/S ARCHTOP GUITAR
This guitar was originally finished in black cellulose, but has now been re-finished by Guy Audoux to a natural blonde as part of a restoration process which also involved repairing a badly butchered neck heel. It is interesting to see that Hofner used a rather presentable piece of figured maple laminate for the body, even though they then covered it up with the black lacquer.


c1961 HOFNER 172 SOLID JAZZMASTER-STYLE PROTOTYPE
Walter Hofner constantly had ideas for possible new models, and he was always in a great hurry to try these ideas out. I believe that this guitar acted as a test-bed for one such idea - Hofner's answer to the Fender Jazzmaster. It is a workshop-modified Hofner 172/173 solid guitar that has been fitted with large single coil Jazzmaster-like pickups. It's owner, Martin Kunz in Vienna, Austria explains about his very interesting guitar. Unfortunately, this is one appears to be one of Walter's projects that never made it into the Hofner catalogue!


THE BLACK PROJECT
A very successful project carried out by James Payze of The Red Barn & Paul Westerman of Rocktech, both of Essex England on behalf of Bob Cocozza, Florida, USA. Bob provided two 1960's Hofners: a President Bass and a Model 4576 very-thinline, and these have been transformed into well-appointed and extremely attractive instruments. The theme is very much black, with gold plating! (For further details, visit this U-TUBE SITE .)


1960 HOFNER MODEL 128 (CLUB 60) SEMI-ACOUSTIC GUITAR
This very unusual guitar is owned by Case van der Linden, who bought it brand new in The Hague, Holland in 1960. When he purchased it, he requested that it be fitted with an additional pickup........ and that is how it was supplied to him a few weeks later! Whether the third pickup was fitted in the Hofner factory, by Van Wouw the distributors, or the retail store is not known, although my guess is that it was probably modified by Van Wouw. Case now lives in California, USA.


HOFNER 185 SIX-STRING BASS GUITAR
To the best of my knowledge, Hofner have never offered a 6-string bass guitar using the 185 model as a basis. (Excuse the pun.) Here one is though, and it looks to have been put together very professionally to me! Was it made as a Hofner prototype, assembled from Hofner parts by an employee in his spare time, or was it made-up by a un-connected luthier as an interesting exercise? Who knows? It has a 30" scale length, looks great, and apparently sounds good too. It is owned by Rob Francis in the UK.


1962 MODIFIED HOFNER 126 "CLUB-STYLE" GUITAR
A guitar owned by Paul Gorter of the Netherlands, whose late father was a director and partner in the Van Wouw Company back in the 1950's and 60's when Van Wouw were Hofner's sole distributor in the Netherlands. The story of how he acquired the guitar and its subsequent modification is fascinating.


LEFT-HANDED BASS GUITAR MADE UTILISING HOFNER PARTS
Made by Clement Cachot-Coulom around ten years ago (c2001) as a change from the standard Violin Bass. The double cutaway body has a solid carved spruce top, with a flat maple back. Although an original design, Clement has captured the true Hofner style in his bass.


2010 HOFNER US CUSTOM SHOP VERYTHIN CLASSIC
Produced by the Custom Shop in Chicago, USA, using a Hofner Verythin Classic as the basis but with the body front finished in a beautiful surf green and fitted with chrome hardware. This particular guitar was sold by J. Hale Music in Hartland, Wiscosin. Surfs up!


c1964 HOFNER "P�HLERT" THINLINE ARCHTOP
A guitar discovered by Alan Cramp of the "Just Jazz Guitars" website. Werner Pohlert was a famous German jazz guitarist who died in 2000 at the age of 73. During the early-mid 1960's, he approached Hofner with the request that they made a small number of guitars for his students and also for his own use. This is one of those guitars. It has the P�hlert logo inscribed onto the escutcheon tailpiece, but no Hofner logo anywhere on the guitar. The body has an 18" lower bout width, with a 55mm body depth.

In 1969, Hofner used the P�hlert name to market three already existing Hofner models - the 497 Classical, the 4578 twin-cutaway thinline archtop, and the 500/8 bass guitar. This initiative lasted only for a very short period, but examples of these Hofner guitars fitted with tailpieces with the P�hlert logo do appear from time to time.


2010 HOFNER JAZZICA ARCHTOP - SPECIAL ORDER
This is a one-off special order Jazzica that has two body-mounted pickups, and is finished in the non-standard violin varnish which makes the white binding look gorgeous! Otherwise, it has all the features of the Jazzica model, including a solid carved spruce top and those soundhole plugs of course!


c1970/71 HOFNER 4600 SEMI-ACOUSTIC - SPECIAL OR PROTOTYPE
I believe that this guitar was made to this unusual specification by Hofner. It is basically a 4600 model, but it has been given binding around the body top edge. It also has the Type 513 "Blade" pickups fitted, which is unusual for a 4600, together with a rectangular neck fixing plate instead of the usual trapezoidal type. My guess is that Hofner were using up a partially completed 4600 body after that model had been discontinued in 1970.........but that is only my guess! A very interesting guitar owned by Gunter Gabriel in Germany.


RESTORATION OF A LATE 1960'S HOFNER 500/8M BASS GUITAR
Restored by James Payze Guitar Services in Suffolk England, and owned by Bob Cocozza in Florida USA, this blonde beauty has now regained her good looks. Fitted with Hofner Sound Mix active electronics, she sounds as good as she looks.


2010 HOFNER US CUSTOM SHOP SOLID GUITAR
A guitar made for presentation to American guitar maestro Jennifer Batten, and now owned by Bob Cocozza in Florida, USA.


THE "THOMAS SPECIAL" BASS GUITAR
Thomas in Stockholm, Sweden collected together a Hofner Bass neck, Hofner parts, and an un-named German archtop body, and then asked James Payze Guitar Services to put them all together. The result is a good looking and very usable medium-scale archtop bass guitar.


MODIFIED 2009 HOFNER CT GALAXIE ACTIVE SOLID GUITAR
Olaf Poeter in Germany was so impressed with his new Hofner CT Galaxie that he bought another one. In order to obtain a different set of tones, he has built active circuitry into this second guitar, together with adding further controls and a new scratchplate. As well as photos of the modified guitar, Olaf has supplied a comparison report on the performance of the two Galaxies.


RESTORED HOFNER 182 SOLID BASS GUITAR
A very tasteful 182 Bass restoration, carried out by Martin Kunz in Vienna, Austria.


SPECIAL ORDER 1999/2000 VIOLIN BASS 500/1
A special red-finished 500/1 Bass, made for the 2000 NAMM Show. David Leblanc, the guitar's owner, has researched its history, and this is provided with the photos.


c1980 HOFNER 4578
This is an interesting guitar. It has the lavish mother of pearl inlays to the headstock and split fret-marker blocks that one would only associate with Hofner's top-of-the-range models in the 1970's and 80's, such as the 471/4710 model. It also appears to have a neck-rake adjuster built into the heel, and the name "P�hlert" stamped into the Lyre tailpiece. This can't be how Hofner specified the 4578 at the end of its production run so surely it is a special, or perhaps more likely a guitar made up by someone away from the Hofner workshops? A lovely guitar though, owned by Ollie in Germany.


MODIFIED c1964 HOFNER 500/1 BASS GUITAR
Now this is what I call a "carved top" ! An owner in the past has obviously not appreciated the smooth original lines (and potential value!) of his 1964 bass, and decided to add a little something. I have to say that it rather suits it. Oh....and he obviously preferred a fretless bass! The current owner is Andy Smith.


HOFNER COMPOSITE 4578 - 5000/1 BASS GUITAR
During the 1990's, a large number of un-assembled Hofner bodies, necks, and other parts flooded onto the market following the closure and clear-out of the old Hofner Bubenreuth factory. It would seem that this bass was a result of that situation, being made up of a 4578 body and a 5000/1 neck. Was it a coincidence that the bass was purchased in the Doncaster area, close to the old home of Music Ground, by its present owner, Andrew Redding?



Mid 1960's HOFNER MODEL 177 "EXQUISIT" SOLID GUITAR
A Hofner 177 with a most unusual neck/fingerboard. The fret-markers are unlike anything that I have seen on a Hofner solid before, and there is a "zero fret", even though this is a bolt-on neck. The tuners are the open-gear type, rather than the better quality enclosed type usually found on the 177. A most interesting guitar, owned by Lucas Winck in Brazil.


2009 NEWBUILD HOFNER 500/6 BASS GUITAR PROJECT
This lovely bass was constructed by Andrew Lines of Lines Guitars using a body and neck from the Bubenreuth factory closure, together with new Hofner re-pro parts. Andrew has carried out a similar project on a Hofner 4578 also featured on this website.


1980's MELODIJA MENGES "SG" STYLE SOLID GUITAR
Er no, I don't think that this is a Hofner 174 model, even though it has a similar shaped body and the "Hofner" logo on the headstock. This guitar has two output channels, and some very unusual but good looking visual features. It may look like a Hofner but actually it is a guitar that was made in Slovenia by a company called Melodia Menges and then "modified" a previous owner to have the appearance of being a Hofner. Unfortunately there is a lot of that sort of thing going on - BUYER BEWARE! Now owned by Detlev Goldau in Germany.


1970's HOFNER SEMI-ACOUSTIC GUITAR
This very interesting guitar is owned by Marc Moris in Belgium. At first glance, it appears to be a 4578/E3 model. However, closer examination shows it to have a 40mm deep body rather than the 50mm on a 4578. Also, Marc's guitar has a bolt-on neck ! The guitar is a true semi-acoustic as it is fitted with a sustain block inside the body. If anyone has a similar guitar or information about this unusual semi, please get in touch !!


2008 OLIVEWOOD VIOLIN BASS
This beautiful copy of a Hofner 500/1 bass has been handcrafted by Malcolm Weaver in Nottinghamshire, England. It was modelled on Malcolm's own 1962 Hofner 500/1, and it features a solid spruce carved top and a superb carved sycamore back.


1960's HOFNER/OTWIN "SPECIAL" ARCHTOP
This guitar the body from an Otwin Melodie archtop and a Hofner neck of the type fitted to the 465 and 468 models. It is finished in a beautiful red/orange finish. A unique and very attractive guitar combination, owned by Michael Valentin in Hamburg, Germany.


RESTORED c1967 HOFNER PRESIDENT THINLINE
After having been painted first blue and then white, this originally brunette guitar has now been restored to a blonde finish by its owner, Rolf Carlsson in Sweden. In order to achieve a good clean finish, the top layer of the body laminate has been removed. However, the cross-grain of the laminate's core timber has produced a very attractive appearance, resulting in a very successful restoration.


Late 1960's/1970's HOFNER 500/7 "SPECIAL" BASS GUITAR - THREE PICKUPS
This very unusual bass was possibly made as a special order, or maybe for a trade show. It has the three pickups and electrical circuits of the Hofner 4575 6-string semi. I have never seen another like it, neither in "the flesh" nor in a catalogue. It is owned by Silas in Germany, who has restored the bass back to its original red body finish.


Mid-1950's HOFNER-MADE GAGLIANO K-150 ACOUSTIC GUITAR
A Hofner Model 462 acoustic with Gagliano logos. Gagliano were a US distributor who purchased job-lots of instruments direct from various manufacturers including Kay, Harmony, and Hopf and sold these under the Gagliano label - rather like Silvertone in the US and Broadway as well as Futurama in the UK. From the appearance of this guitar, Hofner certainly didn't compromise on the quality of those guitars that it produced for Gagliano. Owned by Chad Coulter.


HOFNER MODEL 125 CLUB UPGRADED TO A MODEL 126
This guitar almost certainly started life as a single pickup 125 Club model with a "Selmer Distributed" logo applied in error to its Treble Clef headstock. It was supplied by Hofner to Van Wouw, the Netherlands distributor. Somtime before being delivered to its first (and only) owner, it had a second pickup together with selector switches added, and the "Selmer Distributed" logo removed. Even more bizarly, the second pickup was fitted directly adjacent to the original bridge position, just as on a "Cavern" bass! Many thanks to Harry Sibum of The Hofner House for supplying photos of this strange guitar.


RESTORED/MODIFIED HOFNER COLORAMA / MODEL 164 SOLID GUITAR
Probably the nicest looking Colorama that I have seen. A real hot-rod of a player too apparently ! Modified and owned by Alan Patrick in Berlin, Germany.


RESTORED HOFNER MODEL 182 BASS GUITAR
A superb restoration carried out on Hofner's standard soliod bass model. Now why didn't Hofner make them look like that in the first place? Restoration work and photos by Martin Kunz, Austria.


ELECTRIFIED 1958 HOFNER COMMITTEE ACOUSTIC
A Committee that has been fitted with the pickups and controls from a Gibson Les Paul, and also has had an active treble boost added. Richard Newton, the guitar's owner, explains the background to this conversion. Oh and by the way, it is believed that this Committee was once owned by a member of 1960's iconic band, Johnny Kidd and the Pirates!


1960's HOFNER MODEL 457 "RUBY SPECIAL"
A very attractive guitar, due to it's lovely ruby red sunburst finish.......and an interesting one too! This guitar appears to have been factory made during possibly the mid to late 1960's using a pre-1956 non-cutaway body, and high quality, non-standard neck and tailpiece. Owned by Alan Cramp in England.


RESTORED 1956 HOFNER CONGRESS
This guitar has had quite a rescue experience, after being found in a skip! Now owned by Christian Vydelingum in London, England.





2007 HOFNER VERYTHIN THREE PICKUP PROTOTYPE
This recent factory prototype is based on the current Verythin Classic model, but as well as having three pickups it also has a stop-tailpiece.


RESTORED HOFNER MODEL 172 SOLID GUITAR
This Hofner solid has been recently restored by Kristopher Chandroo in Canada using a re-issue control panel and two modern Type 514 humbucking pickups that I was able to sell to him. He is now delighted with the sound from the old Hofner, and has used it on several recording sessions.


1957 HOFNER MODEL 459(i) ACOUSTIC ARCHTOP GUITAR
A lovely old, and fairly rare guitar, that has had a new fingerboard fitted in order to rectify neck-related problems. This has resulted in the guitar now having dot-markers rather than the original "bar" fret markers used on the 459 model. It is still a lovely guitar though. Take a look at the birds eye maple back! Owned by Bill Perrett in the UK.


PETE HAYCOCK'S TWO HOFNER NIGHTINGALES; "HEIDI" & "ROSE-MARIE"
Pete (Climax Blues Band / Pete Haycock Band) has had a long association with the Hofner company, and owns two prototypes which were made by Hubert Kaa in the Hofner factory during the development stage of the Nightingale. In fact it was Pete who suggested to Hofner that a master volume pot should be adopted for the Nightingale model. The two guitars appear to be the fore-runners to the Nightingale Special model, but with slightly different hardware. One of the guitars - "Heidi", has a gloss black finish and gold plated hardware. "Rose-Marie" is finished in red, with nickel plated hardware.


LA PROVENÇALE
Alan Cramp's latest project, based on a Hofner Jazzica prototype guitar but with a very special finish, electrics, and pickguard. This guitar has PASSION.


1963 HOFNER CONGRESS ELECTRIC ARCHTOP GUITAR
The Congress was only offered as an acoustic archtop, so this particular guitar certainly attracted my attention when Detlev Goldau sent me some pictures of his collection. At first I thought that it must have been some sort of factory one-off, as the electrics do look correct for the date of the guitar. However, Detlev assures me that there is evidence of the "electrification" not having been carried out by the factory. It certainly is a nice looking guitar though.


HOFNER VERITHIN RESTORATION
A 1964/65 Verithin, complete with Bigsby, that has been nicely restored and re-finished by Bruce Pitman.


HOFNER CLUB MYSTERY GUITAR
This guitar seems to have been made up from a late 1960's neck and body. It has an unusual single pickup, but no controls are fitted. The tailpiece is a 1950's "KH" logo type. Is it a guitar made up from parts lying around the factory by a Hofner employee? Owned by Uwe Schmalohr in Germany.


c1967 HOFNER MODEL 176 SOLID GUITAR
This Hofner solid has received additional ornamentation from its owner, Upendra Laxmeshwar in India. Edging has been provided around the scratchplate and headstock, plus the "Galaxie" logo provided on the body. It turns the 176 model into rather a stunning looking guitar.


THE "JAZZ CAFÉ"
An acoustic carved-top archtop, which has been made by Alan Cramp using a 2003 Hofner body and neck obtained from the factory via Norbert Schnepel. If ever I saw a good reason for Hofner re-commencing the production of fully-acoustic archtops as in the 1950's, then this is it. Superb!


COMBINED HOFNER MODEL 468/HOFNER DELUXE MODEL
This guitar has been made up from a Model 468 body and a Hofner Deluxe neck, both of which were originally found in a trash can !! How did they get there? The restoration has been carried out by James Jordan, who also now owns the guitar.


CUSTOM-BUILT 1954 HOFNER COMMITTEE
Now this really is a rare guitar - a very early Committee with a very unusual headstock that was almost certainly custom-made by Hofner to special order. It has also had a Framus pickup/scratchplate unit fitted by a previous owner. Owned by Andy in Wimbledon, England.


MODIFIED HOFNER MODEL 175 SOLID GUITAR
A "Tele" with a difference - made up using a Hofner body and neck as the basis, but with Fender, Gibson, and Kent Armstrong hardware. A beautiful looking guitar owned by Desmond Abbott of Essex, England.


c1957 HOFNER MODEL 462/S/E2
A 462 that has been fitted with up-dated electrics and a new bridge. It also has been signed by Donna Presley-Early, the cousin of Elvis !! A real "working" guitar owned by Russell Marsland in Canada,


1964 HOFNER VIOLIN BASS (500/1) - LEFT HANDED
A superb example of restoration. This bass left the factory as a "leftie". It was rather crudely converted to a right-handed instrument by a previous owner, and has now been fully restored back to its original left-handed glory. Owned by Joe Baiardi in Texas, USA.


1959 HOFNER COMMITTEE
This beautiful Committee has had non-standard pickups and control consul fitted, but in a very neat and tasteful manner. Owned by Simon Riding in Lancashire, England.


MODIFIED & RESTORED HOFNER MODEL 160 SOLID
An early 160 from c1958 which was given a face-lift by Jim Greenwood in the UK and is now owned by Guy Audoux in France. A very "cool" looking guitar.


2004 HOFNER MODEL HE-179 SOLID GUITAR PROTOTYPE
This is a design that was considered by Hofner for production in their Chinese factory from 2004. In the end, it was the New Colorama that went into full production. (Although a few HE-179's have got out onto the market). Still a nice looking guitar though. Owned by Bryan Hackett in West Yorkshire, England.


2003/2004 HOFNER HE-179 SOLID GUITAR PROTOTYPE
A slightly different version of the above HE-179 prototype.


2004 PROTOTYPE HOFNER COLORAMA SOLID GUITAR
A beautiful transparent blue prototype of the New Hofner Colorama. Owned by Michael Naglav in Grmany.


GALAXIE "V-12" SOLID 12-STRING GUITAR
Rob Van De Plas of The Netherlands has changed his Hofner Galaxie into a very attractive 12-string guitar.


c2002 PROTOTYPE (?) HOFNER PRESIDENT GUITAR
An acoustic guitar based on the current President range, purchased on Ebay without any fittings, and then completed with a floating neck pickup by Olaf Poeter in Germany.


MODIFIED & RE-FINISHED HOFNER 185 BASS GUITAR
With a slightly revised body shape, black finish, and chrome fittings, this old bass looks great! Work carried out by Olaf Poeter in Germany.


Late 1960's/1970's HOFNER PROTOTYPE SEMI-ACOUSTIC
Almost certainly a factory prototype, this semi has similar features to the Model 4572, but with a 4574 body shape, large F-holes, a 2" deep body without binding on the back, a bolt-on neck, and active treble boost/fuzz tone electronics. A very interesting guitar owned by Sascha Reinsch in Germany.


1970's HOFNER MODEL 170 SOLID GUITAR
The Hofner copy of the Strat, but a little different to the norm. This one has individual pickup selectors instead of the usual 3 or 5-way switch, and it is finished in Lake Placid Blue! All the Hofner 170's that I have seen are in factory-applied sunburst finish. Owned by Bernhard Zubragel in Germany.


1961 HOFNER V2 SOLID GUITAR
A lovely restoration, carried out by Jim Dougans of Bedfordshire, England. You can also visit Jim's Hofner V2 Restoration Project website to see how he did it.


HOFNER MODEL 4578 GUITAR PROJECT
A stunning guitar, made by Andrew Lines using genuine Hofner spare parts during his guitar building course at Leeds College of Music, England.


HOFNER MODEL 191 DOUBLE-NECK GUITAR
This guitar has been recently assembled from old Hofner parts. It is not totally authentic on the original Model 191 specification, but it definitely has the correct style and build quality about it. A very interesting instrument owned by John Hall of Berkshire, England.


RESTORED & MODIFIED HOFNER SENATOR THINLINE
Rescued from a car boot sale in 1990, this guitar now sports twin pickups and is back in the peak of condition, thanks to its owner, Peter Stone of Bath, England.


RESTORED HOFNER MODEL 455 AND CLUB 40
These two guitars have been restored by Barry Potts. They are excellent examples of how Hofners can be sympathetically restored so as to still retain the full vintage Hofner flavour without necessarily being 100% accurate with regard to detail.


LEOPORDSKIN FINISH HOFNER SUPER SOLID III
It could become the fashion! A very attractive re-finish carried out by Dennis Danielsson of Sweden


---