VISITORS' GALLERY
The pages where other people's Hofners are featured.
HOFNER BASS GUITARS
SELMER UK DISTRIBUTED MODELS: c1953 to Mid-1970's
Matt Armstrong's Hofner President & Verithin Bass Guitars


The following picture-sets of Hofner bass guitars have been sent to me over the years by their owners. This has allowed me to present a much greater range of models and vintages than encompassed by my own collection, and maybe this will help other visitors to the site to identify and date their own Hofner.

Click on the underlined heading for each guitar to view photographs of that particular example.


---


VISITORS' OWN HOFNERS:


SEMI-ACOUSTIC BASSES:
HOFNER ELECTRIC BASS GUITAR - SINGLE PICKUP (MODEL 500/3)

Selmer Catalogue No. 530 Blonde & 531 Brunette. Same headstock (plastic Treble Clef fascia) as the Senator thinline but with 2.5" body depth. (Very last examples - 2" depth) Rectangular Hofner control consul. (Very last examples had separate rotary volume & tone controls) 21 Frets. Sold by Selmer between about 1960 and 1963, when it was replaced by the Senator Bass.




HOFNER ELECTRIC BASS GUITAR - TWO PICKUPS (MODEL 500/5)

Selmer Catalogue No. 328 Blonde & 333 Brunette. Based on a 2½" depth version of the 17¼" wide Hofner 4550 model body and with an inlaid mother of pearl flower design headstock facia. 21 Frets, later increased to 22. Single dot fretboard markers. No neck binding. Rectangular Hofner control consul. Sold by Selmer between about 1959 and 1963. A brunette version of this model was used by Stu Sutcliffe in the Beatles' early days.


1959 HOFNER ELECTRIC BASS (500/5)
The earliest Selmer distributed 500/5 that I have seen with a Serial No of 112. This blonde finished bass is part of the BeatlesOnTour Exibition, compiled by Frank Seltier in Germany.


1959 HOFNER ELECTRIC BASS (500/5)
Another of the earlier examples (# 209) with a slimmer headstock than those to follow. The blond finished bass is owned by Nigel Munro in the UK.


1959 HOFNER ELECTRIC BASS (500/5)
Owned since 1962 by Derek Law of the Midlands, England. Also featured is Derek's "modified" Selmer Selectortone Automatic amp, which has kept the Electric Bass company all this time!


1959 HOFNER ELECTRIC BASS (500/5)
And another one...... but this time with an early 1960's Watkins Clubman amp. Owned by Mike Guthrie over in Athens GA, USA.


1959 HOFNER ELECTRIC BASS (500/5)
Owned by Greg Feo in California, USA.


1959 HOFNER ELECTRIC BASS (500/5)
This particular guitar is a little unusual due to the black/dark brown lacquer factory-finish on the body sides. Hofner hollow bodies do seem to have been occasionally finished in this manner, but this is the first 500/5 that I have seen with this feature. An immaculate original bass owned by David Wojciechowski in New York City, USA.


1959 HOFNER ELECTRIC BASS & FRAMUS STAR BASS
In late 1950's Britain, there was really only a choice between the 500/5 and the Framus Star Bass for players planning to change from upright bass to bass guitar. The Star bass had been introduced at the same time as Hofner's 500/1 Violin Bass at the 1956 Frankfurt Trade Show, The 500/5 appeared a year or so later, and was obviously intended to compete directly with the Framus. By then however, the Star Bass had got a foothold in the UK, and was used by the likes of Jet Harris and Shirley Douglas, followed a little later of course by Bill Wyman and Heinz. The scales were tipped back towards Hofner in 1963 when Selmer finally brought the 500/1 into the UK, capitalizing on the fame of a certain Paul McCartney.


1960 HOFNER ELECTRIC BASS (500/5)
In early 1960, the 500/5 model was given an adjustable truss rod in the neck, and the pickups were changed to the "Toaster" type. This brunette example is owned by John Espinosa in Sydney, Australia.


1960 HOFNER ELECTRIC BASS (500/5)
And another lovely example, this time with a black lacquered neck. Owned by Barry Frost of Surrey, England.


1960 HOFNER ELECTRIC BASS (500/5)
A blonde version of the above, which are generally much rarer than the brunette 500/5's. Fitted with "toaster" pickups, this guitar is owned by Bob Cocozza in Florida, USA.


1962 HOFNER ELECTRIC BASS (500/5)
A nice brunette example owned by Jason Williams in Australia. There is also a photo of Jason playing the bass on stage.
HOFNER ELECTRIC 6-STRING BASS GUITAR (MODEL 500/10)
Hofner produced the 500/10 between 1960 and 1968 for the European market. However it was also supplied to Selmer for distribution in the UK for a very short period around 1960/61. Less than 200 of these basses appear to have been shipped to Selmer, making this version a rare find.
HOFNER SENATOR BASS GUITAR

This single pickup archtop bass appeared in the UK in 1963 and replaced the Hofner Electric Bass Guitar (500/3) as a cheaper alternative to the also new twin pickup President Bass. The major difference between the Senator Base and the 500/3 was the change from the Hofner consul mounted controls to two rotary controls for Volume and Tone, together with a reduced body depth of 2" compared to the 500/3's 2½". The Senator bore little resemblance to the Senator six string archtop, which did not even have a body cutaway at that time. In 1964, the Senator Bass was revised slightly - the headstock decoration was changed from the "Treble Clef" fascia to a "Dagger" motif.


1964 HOFNER SENATOR BASS
A lovely restored example, owned by Guy Audoux in France.


1964 SENATOR BASS
Another nice example, owned by Rob Nelson in the UK.


1964 HOFNER SENATOR BASS
A great action picture of Hans Deberitz from Perth, Australia; on-stage with his Senator Bass.


1967 HOFNER SENATOR BASS
One of the later Senator Basses, fitted with the Type 512B "Blade" pickup. This one has been signed by Jack Bruce, and is owned by Des Abbott in Essex, England.


1967 HOFNER SENATOR BASS
And another one fitted with a "Blade" pickup, courtesy of Jono Kirk of The Music Locker, Ripley, Derbyshire.


11967 HOFNER SENATOR BASS
An interesting example - this Senator Bass has been fitted with a President Bass neck! Being one of the last Senator Basses made, Hofner could have run out of Senator necks and rather than produce another batch, they appear to have used a President neck instead. Owned by Doug Burns in California, USA.



1968/69 HOFNER SENATOR BASS
....and another of the last Senator Basses made, with a very different specification to what one would have expected in this period. This example has a "Treble Clef" headstock fascia, Type 511 "Staple" pickups, and the old-style" exposed gear "Catshead" tuners - all fittings that were several years out of date when this bass was shipped from Bubenreuth. I believe that this is yet another result of Hofner's attempts to supply Selmer London with the very low quantities of the Senator Bass that Selmer were calling up by the late 1960's.

HOFNER PRESIDENT BASS GUITAR

Introduced into the Selmer range in 1963 to replace the Hofner Electric Bass Guitar (500/5). The President Bass differed significantly from the earlier bass in that it had the same body as the President Thinline guitar, i.e. a laminated spruce top as opposed to the spruce top of the 500/5, and body dimensions of 16¼" width by 2" depth instead of the 500/5's 17½" width by 2½" depth. Four rotary control electrics were fitted instead of the rectangular consul, and 24 frets as opposed to 22 on the 500/5. Also the triple dot fret markers and fingerboard binding of the President guitar were introduced. A brunette finish only was now offered in the Selmer catalogues, although it would appear that some of the very early examples were finished blonde. The President bass disappeared from the catalogues in about 1967, considerably earlier than its Senator stable-mate.


1963 HOFNER PRESIDENT BASS
This early example of the model is in the rare blonde finish. Owned by John Dwyer in England.


c1964 HOFNER PRESIDENT BASS
In immaculate condition, and owned by David Pauwels in Canada.


1964 HOFNER PRESIDENT BASS
A similar bass from the same period, owned by Paul Berry in Liverpool, England. This guitar was played in and around Liverpool during the 1960's - it even has a Liver Bird on the headstock!


1966/67 HOFNER PRESIDENT BASS
From mid-1965 the President Bass, in line with the other Hofner electric models, was fitted with wide plastic surrounds. This bass is an example of one of the last President Basses made. Owned by Rimi Pitman in Brisbane, Australia.

HOFNER VIOLIN BASS

The 500/1, which had been produced by Hofner for only European consumption since 1956, was finally introduced into the UK by Selmer in 1963 as the Violin Bass, obviously prompted by the Beatles' success. It was identical to the 500/1, except that it had a Selmer serial number stamped onto the rear of the headstock. It appears to have disappeared from the catalogues in about 1972. A few have been brought into the UK after that date, right up to the present day in-fact, but these would have been sold as 500/1's, not as Selmer's "Violin Bass".




HOFNER VERITHIN BASS GUITAR

Based on the Hofner Verithin six string semi, and hence featuring a double-cutaway body with a 1.25" depth. In the UK Selmer catalogues from 1963 until 1971. Single dot fret markers and unbound fingerboard was used initially (according to the catalogue illustrations), followed very soon by a bound neck and bar type fret markers as on the 6 string Verithin. The European/US equivalent was the Model 500/7.


HOFNER COMMITTEE BASS

Introduced in 1963 as the bass version of the Committee 6 string guitar. All the Committee guitar's attributes were incorporated into the bass, including exotic binding/purfling, mother of pearl flower inlays to both headstock and fretmarkers, and the beautiful birdseye maple back and sides. However, unlike the guitar version, only a brunette finish was available for the bass. The Committee Bass had been discontinued by the end of 1965.


1964 HOFNER COMMITTEE BASS GUITAR
A very nice example, owned by Joe Raffel in Germany.


c1964 HOFNER COMMITTEE BASS GUITAR
Another beauty, photographed at Music Ground's Doncaster store in 2000.


c1964 HOFNER COMMITTEE BASS GUITAR
A guitar owned by Ralf Lothar in Berlin, Germany that has lost its body label. This could be perhaps that Hofner produced more Committee basses than Selmer London could sell, and hence the over-production may have been sold throughout the rest of Europe, after first removing the Selmer body label of course. Just a theory of course........


1965 HOFNER COMMITTEE BASS GUITAR
Another one that does not have a body label & serial #, but the wide pickup surrounds show it to be one of the last Committee Basses made. Owned by Oliver Smith in Paris, France.
SOLID BODY BASSES:
HOFNER SOLID BASS GUITAR (VERSION1)

The first solid bass guitar to appear in the Selmer catalogue - during 1961. Fitted initially with either single or twin toaster pickups closely spaced near the bridge, and later with similarly placed Type 510 Diamond Logo units. This guitar was based initially on the first version of the V3 Solid, and hence had a "set-neck", rather than the bolt-on neck as with all future solid Hofner basses. It appears that for the last few Version 1 basses made, the body was changed to a "Strat" type body (but still with the "set-in" neck and angled-back headstock). All examples seen to date have been finished in translucent dark cherry. It was replaced by the Version 2 bolt-on neck bass in 1962.


1961 HOFNER SOLID BASS GUITAR (VERSION 1)
This fairly rare single pickup example is owned by Kevin Wolahan in Ireland.


1961 HOFNER SOLID BASS GUITAR (VERSION 1)
The twin pickup model, with the "diamond logo" units fitted. Courtesy of Music Ground, Leeds, England.


Mid-Late 1961 SOLID BASS GUITAR
A very rare bass; this one seems to have been produced for just a few months in the second half of 1961 as a transition between the old "V-model" shape solid basses and the second solid bass version with it's "Strat" shaped body. It still features the glued-in neck and angled-back headstock, but has the new body shape. Owned by John Kingsland in the UK.


Mid-Late 1961 SOLID BASS GUITAR
A restoration project bass, similar to the transition bass above and owned by Rick Fuell in the UK.
HOFNER SOLID BASS GUITAR (VERSION 2)

Introduced simultaneously into the UK by Selmer with the Hofner Model 182 in Europe during 1962. The Selmer Solid Bass had a bolt-on one-piece maple neck and of course serial numbers on the rear of the headstock. The Solid Bass changed to the one pickup Professional Bass in 1963 when the Artist two pickup bass was introduced. The Hofner control consul and either one or two "Diamond Logo" pickups were fitted, although a very few of the last ones seem to have had four rotary controls instead of the consul. Most, if not all, Solid Basses were finished in red cellulose.


1962 HOFNER SOLID BASS GUITAR
At last, we now have a picture of the Version 2 Solid Bass. It is a two pickup version, and is fitted with a chrome cover over the tailpiece. This seems to have been a hangover from the Version 1, presumably on early examples only. The cover is not fitted on most of the other Version 2's that I have seen. Pictures courtesy of Adam Holmes who lives in The Potteries, England.


1963 HOFNER SOLID BASS GUITAR
One of the very last to be produced in twin pickup format, fitted with two rotary volume and two rotary tone controls. From my experience, this is quite a rare bass. Owned by "J.J." in the UK.
HOFNER PROFESSIONAL SOLID BASS GUITAR

Very similar to the single pickup Solid Bass Guitar (Version 2), but fitted with two rotary controls instead of the Hofner rectangular control consul. Staple pickups seem to have been fitted throughout the basses' production period of 1963 to around 1972. Always finished in a bright red lacquer, the Hofner Professional Bass was designated the 182/E1 model for Hofner's general European & World market.




HOFNER ARTIST BASS GUITAR

Introduced in late 1962 into the Selmer UK market, simultaneously with its European cousin, the Model 185. A stylish, "offset-waist" body, and twin pickups made this a very attractive looking bass. The Artist was generally supplied in bright red cellulose paint body finish, but some early models had the red vinyl finish. It differed initially from the 185 in that the 185's two pickup selector slide switches were not fitted. The Artist generally had a clear lacquered neck finish whereas the 185's neck could have either a clear lacquer or a black cellulose. Individual pickup switches were fitted to the Artist from about 1965 onwards. The Artist was discontinued around about 1967.
Have a look at my own 1963 Artist Bass.



1962 HOFNER ARTIST BASS GUITAR
An early example, fitted with the Type 510B "diamond logo" pickups, and finished in the usual red cellulose paint. Owned by Riccardo Abbondanza in Rome, Italy.


1962 HOFNER ARTIST BASS GUITAR
Yet another early Artist, but this one has the red vinyl finish. Owned by Grame Fletcher in the UK.


c1963/64 HOFNER ARTIST BASS GUITAR
A later example than the ones above, now fitted with the twin-coil "Staple" Type 511B pickups and also a string tree on the headstock. This guitar is almost certainly a Selmer-distributed Artist model as opposed to the European specification 185 model equivalent, although rather strangely it has not been given a serial number. It does still have its Selmer/Winter shaped case though.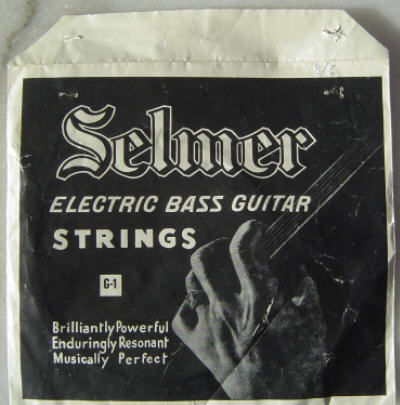 A Selmer Bass String packet from the 1960's - courtesy of Paul Hunter.


---