RAMSAY McKINNON'S HOFNER GUITAR PROJECT - PART 3:
SELMER LOGO GUITARS MADE BY HOFNER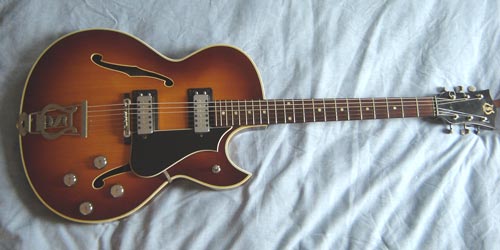 Selmer Diplomat, courtesy of "Spice Albert".
PART 3 - SELMER LOGO GUITARS
Sometime around 1967, Hofner were commissioned by the Selmer Company to manufacture a range of guitars, similar in design and construction to certain Hofner models of that year, but for distribution as Selmer instruments. The production of these guitars continued for only a year or two with around 1,500 being produced. A study of the not-too-clear catalogue extracts, shows the essential differences to Hofner models.
Note the distinctive pick-ups, pick-guards and tailpiece. A Selmer logo also appeared on the headstock.
Click on the Guitar's Name to see Pictures:
The 3" deep acoustic version of this guitar is similar to the Senator Electric of the period. (ie 1965/1966)

The Diplomat is similar to the President Electric Model 66 (single Venetian cutaway)

The Astra is similar to the Verithin Model 66 (double Florentine cutaway).

The Emperor is similar to the Ambassador introduced in 1965 (double Florentine cutaway).

The Selmer Arizona seems to lie somewhere between the Hofner branded Arizona and the Hofner Western, both distributed by Selmer at around the same period.

Even more confusing is the Selmer branded Western Jumbo, which seems to be very similar to the Selmer Arizona!
---
© Ramsay McKinnon 2006.