Amps
KELLY AMPLIFIERS
- A CHIP OFF THE OLD BLOCK?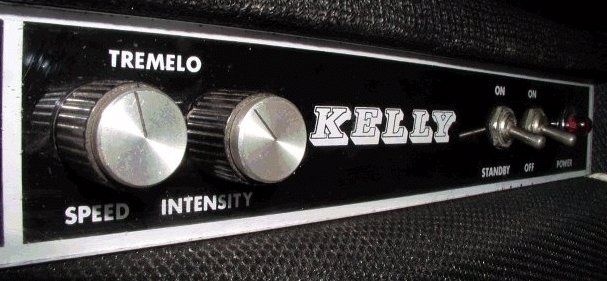 Picture Courtesy of John Egan
And you thought that this website deals only with Selmer amplifiers? Well...........Kelly amps are very closely related to Selmer amps, and in fact could be said to be a direct spin-off from Selmer. But read on -
John Kelly originally worked in the Selmer factory Service/Repair Department. At some stage during the later half of the 1960's, he left Selmer to set up his own business making valve amps. His son, also called John, worked in the business, together with one or two other ex-Selmer employees. The firm seem to have been in business during the late 1960's and early 1970's.
The styling and construction of Kelly amplifiers is very similar to that of Selmer, fairly understandably. Numbers of Kelly amps produced however was not large, certainly not by Selmer standards. A much smaller manufacturing operation is envisaged, possibly best described these days as a "cottage" industry.
So far, we have found only four basic products produced by the Kelly Company -, a 15 watt guitar combo, a 50 watt guitar amplifier in both head and combo format, and two guitar/bass heads - one of 50 watt and the other of 100 watt. The 50 watt combo was equipped with two speaker combinations - single 12" and a twin 12" versions. Variations on this theme are evident in the examples that we have encountered to date, but the larger units do seem to have been heavily influenced by the Selmer Treble n' Bass.
A 100watt PA System amplifier has now surfaced !!
EXAMPLES OF KELLY AMPLIFIERS:

---
Return to SELMER AMPLIFIERS-MAIN INDEX PAGE