JILL AND THE BOULEVARDS
(incorporating Pete & the Boulevards)
STUDIO 2, ABBEY ROAD, LONDON. FEB 1962
COURTESY OF MICHAEL LLOYD:
Jill & The Boulevards pose with Bob Barrett, Norman (Hurricane) Smith, and Norrie Paramour in Studio ", Abbey Road, London.
JILL & THE BOULEVARDS - THEIR STORY by Michael Lloyd
Jill & the Boulevards (J&TB) originated as a London based band, formed in 1961, as a result of John Turner visiting Joe Meek's legendary studio in Highgate, with his sister Jill on vocals and a guitarist friend, to record his latest composition, "Eugene". (Note: John Turner still has a copy of this demo!)
John & Jill Turner lived in Hampstead, just down the road from the Abbey Road recording studios, where John sent the demo to Norrie Paramor at Columbia records. In response, Norrie asked John to put a band together for a recording test, which proved successful. By that time, John had written "And Now I Cry", so both songs were recorded at the session and, subsequently, the new song was chosen as the 'A' side of the single.
It's interesting to note here that Brian Epstein had also sent a demo tape of a Liverpool band, named The Beatles, to Columbia and they had been invited for a recording test around the same time. However, as luck would have it, Jill & the Boulevards were signed up to Columbia and The Beatles were turned down. The Beatles had to wait a few more months before they landed a contract with Parlophone records, with George Martin acting as their A&R manager.
Jill & the Boulevards comprised Jill Turner on vocals, John Turner (Fender Precision bass), Mike Hickling (lead guitar, Futurama III), Michael Lloyd (rhythm guitar, Hofner President) and Reg Montague on drums.
The band returned to Studio 2 at EMI Abbey Road in February 1962, to rerecord "And Now I Cry" and "Eugene", for the final takes. The above photo was taken at the end of the session, featuring the band, Norrie Paramor and Bob Barrett (A&R) and Norman (Hurricane) Smith (Recording Engineer). Norman Smith went on to engineer many of the Beatles and Pink Floyd recordings and also had a successful run of hit singles in the 1970s. Norrie was of course the man responsible for many EMI records, particularly those of Cliff Richard, The Shadows & Helen Shapiro.
"And Now I Cry" & "Eugene" was released on Columbia in April 1962, and became Radio Luxembourg's "Record of the Week". The record was reviewed in all the music papers, which featured a variety of publicity photos taken by legendary photographer Dezo Hoffman, one of which is reproduced below.
Had the record been a success, it is likely that Jill & the Boulevards would have been featured on the Beatles British tour the following year, and could well have been part of the "British Invasion" of the USA. However, they did successfully audition for a spot on Adam Faith's 1962 UK tour but, unfortunately, Adam then made the unusual decision to try his hand at cabaret so the tour never actually went ahead. Therefore, sadly, none of the Jill & the Boulevard's songs has ever been performed in public, i.e. until 2005 (see below).
Another link with The Beatles was when Michael Lloyd met up with George Harrison and visited him regularly at his bungalow in Esher, Surrey.
Michael recalls that George was a very generous person and their mutual interest was "12- string" guitars and "1950s Rock'n'Roll". So much so that George lent Michael both his 12-string Rickenbacker guitars, at different times, during the period 1966 to 1967. One he collected from George at the Abbey Road studios, during the recording of "Doctor Robert" for the "Revolver" album. The other he collected from Denny Laine, who had previously borrowed it for a recording session with The Moody Blues. George also gave Michael a couple of lessons on his sitar. On another occasion, one winter's afternoon in early 1967, they recorded some "tape loops" together, in George's small studio, with George playing his red Gibson SG and Michael on George's Vox Continental keyboard. These produced guitar & fairground organ type sound effects similar to those heard subsequently on "Being for the Benefit of Mr. Kite" on the "Sergeant Pepper" album. Who knows, they may even have ended up on the actual record, a few months later!
Another memory of that session was playing the small "zither" type instrument that is predominant on "Strawberry Fields Forever".
Strangely enough Michael & George never discussed their mutual experiences with Columbia records, since this connection only came to light many years later in Mark Lewishon's book, detailing the Beatles recording sessions. Unfortunately, Michael lost contact with George when he moved to Henley.
The Boulevards struggled on, Jill departed and later in 1962 they returned to Joe Meek's studio in Highgate, with singer Pete Lacey, to record two more of John's songs, hoping that either Joe Meek or Columbia would release these as the Boulevards' second single. The tracks recorded at that session were "Lover Return" and "You're My Girl". However, nothing came of it and the band broke up shortly after. Fortunately they had obtained a couple of pressings of the Joe Meek demo tracks, such that 43 years later, in October 2005, the best copy was digitally remastered and released for the first time (see below).
If anyone gets the chance to hear any of these four tracks, they will be impressed by the overall sound of the band and Jill's amazing voice. Mike Hickling's excellent guitar solos featured a red Futurama III, into a 10 watt Watkins (WEM) Westminster. Michael's "clanky" Hofner President is also unmistakeable, on rhythm guitar. These were basically budget instruments so they were rarely heard on professional recordings. Norman Smith (recording engineer at EMI) was "knocked out" by the sound from the little Watkins Westminster amplifier. That says a lot for the amp, especially considering he was used to working with classic equipment, including the Shadows' Vox AC15s & AC30s.
Incidentally, the bass and rhythm guitarists had to share John's Fender Bassman amplifier since there was, surprisingly, no house amplifier available either in Abbey Road Studio 2, or Joe Meek's studio, at that time.
That was the end of the story, until in 2000, Michael Lloyd started collecting Hofner guitars and contacted Steve Russell, who had just created his Hofner website to cater for the ever growing band of Hofner enthusiasts!
Steve then added a series of web-pages featuring Hofner users, including Jill & the Boulevards. This has resulted in Michael Lloyd being contacted by people from all over the world, who had bought/and lost the record, or heard it on the radio. Many consider "And Now I Cry" to be one of their favourite singles of all-time. These "fans" were particularly pleased to discover the website since, up till then, Jill & the Boulevards had been one of the "mystery" bands of the 1960s.
It was then discovered that "And Now I Cry" had been digitally re-mastered and released on a CD compilation of British girl singers from the 1960s, including Elkie Brooks, Cilla Black and Helen Shapiro. This was released as "Dream Babes, Vol 2: Reflections" and is still available on RMP Records UK, part of Sanctuary Records.
This is where the J&TB story takes a "new twist". In 2004 a young lady named Hannah Lindsey walked into "Tower Records" in Denver, looking for a CD featuring British girl singers, to find a song to perform at the "British Invasion Pops Show" at Denver School of the Arts, where she was a student.
She discovered "Dream Babes Vol 2" and out of the 22 songs, decided that "And Now I Cry" was the song for her. This was largely down to its unusual sound, together with the fact that Jill's fantastic vocal range fitted Hannah's voice perfectly. The only problem was that Hannah was unable to obtain the music for this complex song (comprising many minor chords) so she and her mother resorted to the internet, where they discovered Steve's Vintage Hofner website and Michael's contact details. Fortunately Michael still retained the chord sheets from the original Abbey Road session, so was pleased to oblige and score the song for Hannah to perform, in March 2005.
This was particularly significant, as this was the first ever live performance of a J&TB song and Hannah did a brilliant job on it, judging from the DVD recording of the show. As a result of this, Michael visited the Denver School of Arts in January 2006, to meet Hannah and present a master class to 350 students on "The British Invasion". He also performed "And Now I Cry", live with Hannah, which was quite an experience in itself, considering it was the first time he had played it since the Abbey Road session in 1962.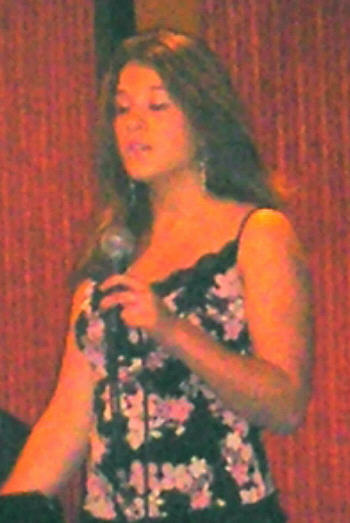 Hannah Lindsey performing in Denver, USA.
Another major development in 2005 was the release of the two Pete & the Boulevards demo tracks (recorded at Joe Meek's studio in Highgate in 1962) on "Joe Meek: The RGM Legacy - Portrait of a Genius [box set]"
The songs featured were "Lover Return" and "You're My Girl" and the compilation is still available on Castle Records, part of Sanctuary Records.
This was followed a year later by the release of "Telstar-The Hits of Joe Meek" [double CD], featuring the same two songs.
In 2007, Norman "Hurricane" Smith's biographer was searching the web and came across Steve Russell's Hofner website, where he discovered the connection between Norman and Jill & the Boulevards, with the result that the band are now to be featured in Norman's biography, which is to be entitled "John Lennon Called Me Normal" and is scheduled for publication in April 2008.
The scene was set for a reunion of Jill & the Boulevards. The only problem had been that despite a 10 year search, Michael Lloyd had been unable to trace Jill & John Turner. However, thanks once again to the Hofner website, their young sister had found the webpage via "Google" and they eventually made contact. The reunion of the whole band took place in December 2007, nearly 46 years after they were last all together in Studio 2, at Abbey Road.
The band are already planning to return to the studio to re-record their Columbia tracks and also to record some more of John's songs, which were originally composed in the early 1960s for their first LP, which never materialised, and they are hoping to do a few live gigs - so watch this space!!!
If anyone has a story to tell about the band's recordings or would like more information on Jill & the Boulevards or Pete & the Boulevards, please contact Michael Lloyd at mfl_uk@yahoo.co.uk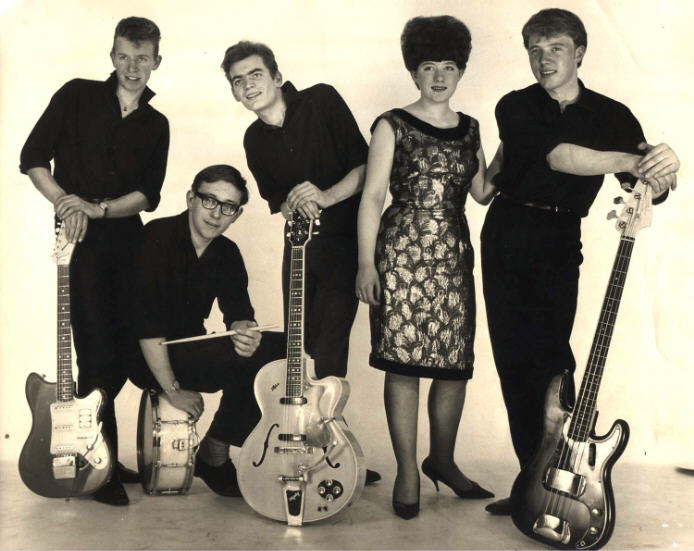 Original publicity photo taken by legendary photographer Dezo Hoffman in February 1962.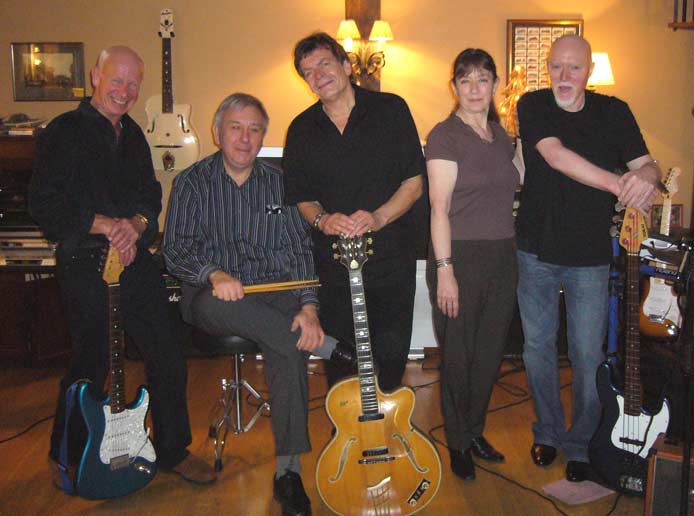 Recent photo taken at the reunion of Jill & the Boulevards - December 2007.
---
Return to EARLY UK BANDS PAGE
Return to the VINTAGE HOFNER INDEX PAGE