VISITORS' GALLERY


GALLERY 8: SELMER DISTRIBUTED FUTURAMA GUITARS & BASSES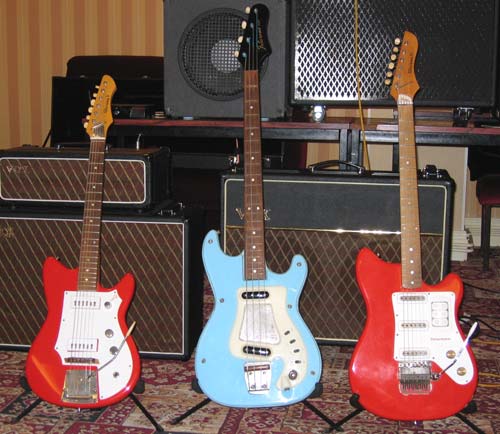 Photo courtesy of Laurence Dickinson.
---

The following picture-sets of Futurama and Grazioso guitars and basses have been sent to me over the years by their owners. The purpose of this page is to help me tidy-up and supplement the rather complicated FUTURAMA GUITAR STORY PAGE elsewhere on this website.


Click on the underlined heading for each guitar to view photographs of that particular example.


---
1. CZECHOSLOVAKIAN INSTRUMENTS
SELMER FUTURAMA SOLID GUITAR - THE RESONET GRAZIOSO

These are the first Czech solids brought into the UK by Selmer from about 1957/58. They were produced by the Dreokov company in Blatna, South Bohemia using the Trade Name Resonet, under the direction of a Mr Ruzicka. Selmer gave them the name of "Futurama Solid Guitar" in their catalogue.
SELMER FUTURAMA II & III SOLID GUITARS - NEOTON/JOLANA STAR I, STAR II, & STAR III

These are the second phase of Czech solids imported by Selmer into the UK from 1959. The Blatna Resonet company had ceased making musical instruments, so this role had been taken over by the CSHN company in Hradec Kralove, again under the guidance of Mr Ruzicka.
CSHN initially used the trade name of "Neoton", but this was soon changed to "Jolana". The Jolana Star I two pickup solid guitar was traded as the Futurama II by Selmer. The Futurama III was actually called the Jolana Star II and later Star III in Czechoslovakia.


SELMER FUTURAMA II, III, & DUO SOLID GUITARS 1963 ONWARDS- JOLANA STAR V

These are the third and final distinct phase of Czeck solids distributed by Selmer under the Futurama label. They were again made at the CSHN Hradec Kralove factory, but both basic models had significant (and what look like cost saving) design changes.. By now, the trade name Jolana (model name: Star "#") was used in Czechoslovakia throughout this period.
2. SWEDISH HAGSTROM INSTRUMENTS:
FUTURAMA DELUXE SOLID GUITARS & BASS GUITARS
These guitars were basically the Hagstrom Kent with elements of the Hagstrom II and III models, simply re-badged and sold as Futurama's by Selmer in the UK. Solid red, and light blue finishes were offered, and the guitars were introduced into the Selmer catalogue in late 1963. They were still there in the September 1965 catalogue.
Both two and three pickup options were offered in 6 string guitar format, both with vibrato tailpieces, and also a bass guitar. Earlier two and three pickup guitars seem to have had a plain plastic scratchplate. Later two pickup guitars and basses had a very odd "cheesegrater" section built into the scratchplate between the pickups. A feature of these guitars was the "Kings Neck", with "expandable stretcher" - a steel truss rod enclosed within an aluminium sleeve. All-in-all, these were good quality guitars at a budget price.
FUTURAMA CORONADO SOLID GUITARS & BASS GUITARS
More "up-market" than the Futurama Deluxe, the Coronados were again made in Sweden by Hagstrom.
---
---