HOFNER LINKS
BOTH ON THE NET AND IN BOOKSHOPS!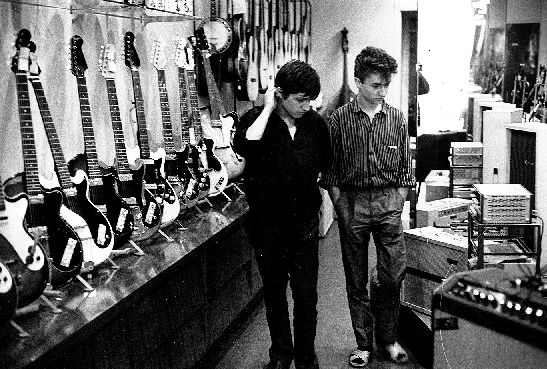 "Well, I suppose that we could raid a bank to raise the cash?"
From Jean-Pierre Legendre


---
Hofners are not the most fully documented guitars in the world by any means. Open any book on guitars or rock music and the names Fender, Gibson, Gretsch, etc. scream out at you. And why not? Those names belong to the manufacturers who produced the top quality designs which continue to appeal to the majority of guitarists and hence resulted in sales figures which dwarf Hofner's output. The deserved success of such instruments in popular music over the last 50 years has put Hofner guitars somewhat in the shade!

However, all is no lost. If one looks hard enough one can find some books, and now several web sites, dedicated to providing information on Hofner guitars. There are also more general works of reference that provide more incidental information. Read on:
---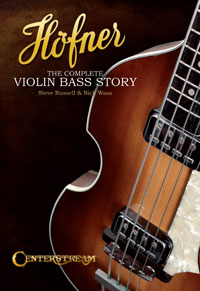 The Complete Höfner Violin Bass Story, produced by Steve Russell & Nick Wass, is published by Centerstream Publications. It is available from several outlets worldwide, including Amazon.
The Hofner Anniversary Book is available for purchase at the Thomann Cyberstore and at Amazon.
325 pages of pure nostalgia with lots of pictures from the Hofner Company Archives!
---
HOFNER RELATED WEB SITES

Karl Hofner GmbH & Co - The official site of the Hofner Guitar Company. All the new models are featured here, together with Michael Naglav's excellent "Vintage Showroom" which catalogues the earlier models.
The Hofner Facebook Page - The up-to-the minute place for everything Hofner!
The Hofner Twitter Page - and of course on Twitter!
Pyramid Strings - The Bubenreuth-based string manufacturer that has been supplying strings to the Hofner Company since the pre-World War days when both companies were together in Schoenbach. Every conceivable musical instrument string is listed on this website.
Collecting Hofner Vintage Guitars - Part of a much larger site, this must rate as just about the most detailed source of information on Hofner European/US market archtops available anywhere. Written by Stephen Candib.
Ramsay McKinnon's Hofner Guitar Project - The results of 12 years collecting of, and research into, the Selmer UK distributed Hofner archtop guitars from the 1950's and 60's.
German Jazz Guitars - A website run by Konstantinos Zarifopoulos in Germany which showcases his very impressive collection of German-made archtop guitars, many of which are hinh-end Hofners. The photos on the site are stunning.

German Vintage Guitar - This website features all types of German-made guitars, from lavish archtops to the simplest of "Jugend" guitars, and features instruments from just about every German manufacturer, including Hofner of course. Excellent quality photographs.
Alan Cramp's Just Jazz Guitars Website - A site set up to showcase Alan's collection of vintage jazz guitars, including Gibsons, D'Angelico, Guild,....and Hofner. There is also a "For Sale" section on this website.
Katou Hidekazu's Website - This excellent Japanese site provides information on the Japanese-Market 500/1 Bass Guitars.
Jiri Kalina's Czech GuitarS Gallery - A gallery page full of vintage Czech-made guitars, including a pre-war Hofner Primus and plenty of early Cremona archtops.
Verithin Geoff's Website - The site for all-things Verithin, run by Geoff Walton in Queensland, Australia.
Schlaggitarren - A website run by Stefan Lob and which features his very extensive collection of German-made guitars of all makes, including Hofner.
Dr. Christian Hoyer's Personal Website - Dr. Hoyer is a professional historian who specialises in research into the German musical instrument industry.

Jazzgitarren - Vintage German Made Archtops Guitars - An excellent website produced in Japan that showcases all German manufacturers, including Hofner. The photos are stunning!
The Carvin Museum - Hofner supplied the necks used in the construction of Carvin guitars and bass guitars during the 1960's and 70's. This superb website documents all the many models made by Carvin over the years. (See also Hofner/Carvin Fact File)

Excellentleads - A site run by Will Halligan that, as well as dealing with the electronics of electric guitars in general, also has very useful sections on Hofner guitars. The Hofner section of the 1968 Selmer Catalogue is reproduced on this website.

Bengt Ericsson's Hofner Club Site - The definitive website for the Hofner Club series guitars.

George Smith's 1965 Hofner Site - A US site that is based on George's 500/1 Hofner Bass. Some very nice detail pictures here.

Fab Guitars of the Beatles - This site, run by John Crowley, is the place for information on the Beatles' guitars, including of course the Hofners which they used in their early days.
Hoagys Guitars - A new website dedicated to vintage archtop guitars and accessories. It has a bias towards German-made archtops, and features several nice Hofners which are owned by the website owner, Greg Hough. Some of the guitars on the site are also for sale.
Ruby Music - John Espinosa in Sydney, Australia, runs this site which as well as having a gallery of vintage basses for sale also has live music played by his band.
The BeatlesGear.com - A website dedicated to Paul Aujla's impressive collection of guitars and basses associated with the Beatles, including some Hofners,
Hofner Gitarenhobby - This features the collection of Herrie Kamphuis. A nice selection of Hofners, plus some other German, Czech, Italian, and Dutch made guitars from the 1960's and 70's.

HOFNER RELATED DISCUSSION GROUPS & FORUMS

Hofner Hounds Discussion Forum - Now resurrected and run by Geoff Walton, this is THE forum for Hofner enthusiasts to discuss all matters relating to Hofner guitars.

The Vintage European Guitar Forum - The "sister site" to Hofner Hounds, dealing with all the other European makers such as Framus, Hoyer, Hopf, Hagstrom, and the Czech Futurama makers, Drevokov and CSHN.

The Beatgear Cavern Forum - Run by Wes Cooksey, this forum is for discussion on Beatle related gear, including the Hofner guitars and basses used by the Fab Four.

The Vox Showroom - For all things Vox, old and new. As well as lots of photos and info. on just about every Vox amp, guitar, and keyboard ever made, it also has a very intense discussion group attached.




BOOKS WITH INFORMATION ON HOFNERS

"Musical Instrument Making In & Around Bubenreuth" by Christian Hoyer - The history and products of the famous town of Bubenreuth, home of Hofner and many other instrument makers. Written in German.
"The Complete Story of the Hofner Violin Bass" - Written by Steve Russell and Nick Wass, this book is essential reading for everyone interested in the iconic Hofner 500/1 Violin Bass. It can be obtained worldwide at Amazon.

"Hofner Guitars & Violins - A Celebration" - Written by Nick Wass, Harry Sibum, and Steve Russell to mark Hofner's 125 Year Anniversary. This is definitely not your usual reference book, but a 325 page volume packed full of old photos, historical documents, and a great deal of Hofner nostalgia! It can be obtained at the Thomann Cyberstore and at Amazon.
"Hofner - The Guitars that made the Beat Boom Happen" - Written by Nick Wass and Harry Sibum. Full of 1950's and 60's nostalgia, together with some great photos of Hofner guitars! Unfortunately no longer available.
"The Hofner Guitar, A History" - Written by Gordon Giltrap and Neville Martin, published by IMP Books. This very readable British book deals with the Selmer period, and gives very good information on dating Hofners from that time.

"Hofner-Guitars Made in Germany" - Written by Michael Naglav, published Ulrich Plaumann (Germany). Full of photographs of just about every Hofner, guitars and basses, made. An excellent book!
Click HERE to order direct, or write to Michael Naglav, Pestalozzidorf 14 c 45964 Gladbeck, Germany (Tel # 049 2043 44316)
"Electro-Gitarren Made in Germany" - Written by Norbert Schnepel and Helmuth Lemme. A more general book than the one above, as it covers most of the more famous German guitar makers, including Hofner. Obtainable from Musikkeller
"Electric Guitar Sound Secrets and Technology" - Written by Helmuth Lemme, one of the authors above who co-wrote "Electro-Gitarren Made in Germany". In this book, Helmuth provided a full explanation regarding the mystery of electric guitar electronics, old and new. Click HERE to read about this book, which can be purchased from Helmuth's Website.
"Hofner Violin 'Beatle' Bass" - Written by Joe Dunn.

"The Ultimate Guitar Book" - Written by Tony Bacon and Paul Day, published by Dorling Kindersley. A book that covers most manufacturers of guitars, with a page or two on Hofners.

"Seventeen Watts" - By Mo Foster, published by Sanctuary Publishing Ltd. A book which describes, with anecdotes from many of the guitar pioneers, the first 20 years of British Rock History. Not specifically written on guitars, but Hofners appear time and again in the text and photographs. Amusing and very entertaining!

"Beatles Gear" - By Andy Babiuk, published by Backbeat Books. It's just as the title says...Gretsch, Rickenbacker, Vox, Gibson, Futurama, Selmer, and of course the early Hofners! A "must have" for every vintage gear (and Beatle) enthusiast.
"Framus - Built in the Heart of Bavaria" - By Dr. Christian Hoyer. This book deals with the Framus Company history, part of which during the immediate post-war years was entwined with that of the Hofner Company. Obtainable via the Framus and Framus Vintage websites.
SPECIALIST HOFNER RESTORATION, REPAIRS, & SPARE PARTS
James Payze - The Facebook page of James Payze, who carries out repairs and restoration projects on all makes of guitars and amps in Suffolk, England
The Hofner House - Harry Sibum's website which included superb photography of lovely old Hofners. Harry carries out restoration work on vintage Hofner guitars. He is also compiling a schedule of Van Wouw serial numbers.
Project Guitar Parts
- A UK company selling original vintage, new Hofner, and reproduction spares for Hofner guitars and basses.
Alan Exley
runs this company.
Great Guitars Australia
-
Michael Skehan
runs a business "down-under" which specialises in vintage guitars in general, and Hofner spare parts in particular. His gallery page contains some great images of vintage archtops.
Musikkeller
- A company in Germany run by
Norbert Schnepel
that specialise in the sale of vintage German guitars, including Hofners. They also supply Hofner spare parts.
Rodgers Tuning Machines
-
If your Hofner Committee needs new tuners, and you want the very best for it, then you may want to take a look at what's on offer at this website!
Shellex
- A specialist company in Germany who supply all types of plastic guitar fittings. Try here for tuner knobs, fret-markers, pickguards, etc, etc.


DEALERS IN HOFNERS & SPARE PARTS

Vintage, Rare & Retro Guitars - A retailer who specialises in new and old Hofner guitars, but also has plenty of vintage guitars from other makers. Based in Gullane, East Lothian, Scotland.
Sound Affects - Based in the market town of Ormskirk, Lancashire.
Vintage 'n Rare Guitars - Based in the Georgian town of Bath, England, this classy shop is crammed full of top-quality vintage guitars of all makes, including Hofner. Well worth a drool!
The Music Locker - This company deals only in vintage gear - particularly vintage amps and guitars, but also drums and effect units. Plenty of old Hofner guitars and Selmer amps are usually in stock. Run by Jono and Martin, and based in Ripley, Derbyshire.

Old Hat Guitars - This must be one of the vintage guitar market's biggest secrets. Based in a store in Horncastle, Lincolnshire, England, Old Hat carry a very large inventory of old guitars and amps, with quite a number of old Hofners.
Fretted Americana - A retail store in Los Angeles, California which has a large stock of extremely high quality vintage guitars, including Hofners. David Brass, the owner, works very hard to ensure that the descriptions and provenance of his stock is 100%.
Parts is Parts - A US company selling spares for Hofner guitars and basses, and for many other vintage makes, such as Vox, Marshall, Bigsby, and Echoplex.

Real Vintage Guitars - Run by Nino Fazio in Italy. Some Hofners, but also many stunning vintage American instruments. The "Playmate of the Month" feature on the website is a must!!

Marnic Instruments - A company owned by Ton Paulussen in The Netherlands that retails current CT Hofners, together with own-brand Marnic budget guitars and banjos.

GOOD MUSIC
Eugene & The Sampletones
- Great music in the late-50's/early-60's style.
The Bits
-
Top Hungarian Band who really can play superb Beatles music!
Flashback
- 1960's music played as it should be...........using vintage Hofner guitars and basses !!
The Kaisers
- probably the most successful 60's-retro band in the UK, who use Hofner instruments extensively.
The Fab 5
- One of the top "British Sound" Tribute Bands in the US.
Guitar Swing - A nice sounding German three-piece string/swing band.
Rolf Carlsson - Superb classy music from Sweden. Rolf is also a Hofner President player!
Nervous Records - Old-style Rock n Roll and Rockabilly!
The Dave Cartwright Website - Dave has been a professional musician for many years, recording, appearing on TV, and performing live all over the world.
508 Park - A Texas-based band that have a wide repertory.
Cam Brown - Great Folk Music, much of it comic and very witty!
Dominic Blaazar - Some fine music, and also a very nice photo gallery showing Dominic's vintage gear.
Fab Sounds - A project based in Germany with my friend Dieter being heavily involved. The latest release is an album called "The Hamburg Recordings" - listen to a track called "Love is on my Mind" on YouTube.

MISCELLANEOUS
The Top Gear Music London Facebook Page
- A celebration of that famous music instrument store that used to serve the famous and not-so-famous in Denmark Street London.


The Buddy Holly Educational Foundation
- The Foundation's aim, as well as honoring the Buddy Holly legacy to music, is to extend musical education to new generations of musicians, songwriters, producers, and all connected with music. The Hofner President that was acquired for Buddy and used during his 1958 tour of the UK is featured in the Guitars Section of the website.
Music Advisor - A website that provides help and advice to beginners and intermediate players about the vast range of instruments available to them. Buyers' Guides and associated Blogs abound, and all is written in an easy to understand style.
TonePedia - A social site for guitarists where they can find and explore guitars and gear based on their sound. Users can open a profile and add their gear to it. When they add gear they can also upload a sound sample of it and even describe other gear that took part in the recording (pedal, amp, etc).
The History of British Rock 'n' Roll: The Forgotten Years - A book written by Robin Bell which provides the definitive story of the British popular music scene between 1956 and 1962. These really are the "Forgotten Years"!
Rockbeare Guitars - Features a UK-based collection of guitars, amps, and associated gear, together with a blog and feedback facillity.
F. Charle Instruments de Musique à Cordes - A very classy shop in Paris that deals equally classy acoustic guitars including Selmer-Maccaferri.
Irish 60's Showbands Vintage Instruments Museum - A superb record of the Showbands and which instruments they used back in the 1960's. Hofner guitars and basses were very popular with them!
The Broadway Guitars Website - Details of the old guitars marketed by Rose-Morris in the UK during the early 1960's. A Broadway 1921 Solid was my own first guitar!

Fetish Guitars - An Italian site run by Stefano Aria, which is full of old European guitars, including some Hofners. A must for the connoisseur of "cool" and very unusual guitars!

The Official Bert Weedon Website - Provides information on "Mr Hofner" of the 1950's and early 60's. Famous for his guitar tutor "Play in a Day", it has been said that Bert made the big time with "A Yard of German plywood".
The Sandstorms - A book all about life with this Bournemouth band back in the late 1950's and early 1960's. This really does capture the vibes from the old days!! (See below:
Rock Cellar Magazine - An on-line magazine which has an emphasis on the band and artists from the past.
The Reslosound Website - Everything that you need to know about the famous microphones that were use by all the UK bands in the 50's and 60's.
The Ace Frehley Guitars Website - A site produced by John Tate that provided full details of all the Gibson Les Paul guitars used by Ace Frehley of "Kiss".
Telesforo Julve Website - Produced by Ton Bogaard in order to record the history of the Julve Classical guitars made in Valencia, Spain
Al Kirtley's Website - Full of memories of the good old days of British Rock n' Roll - written by a man who was in the thick of it!
---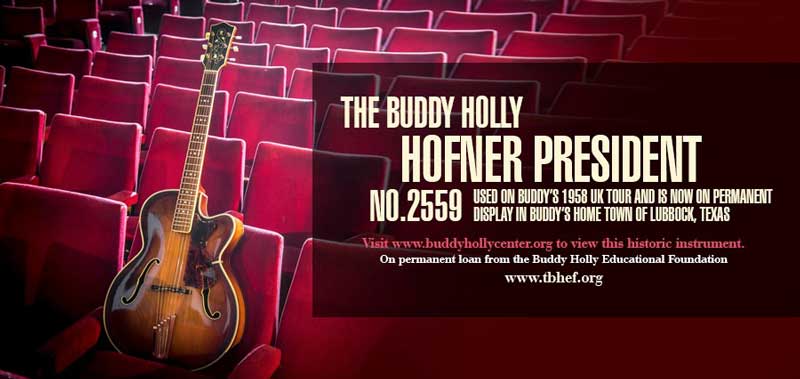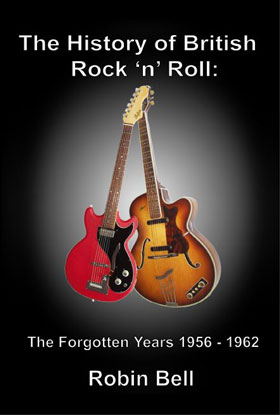 A book by Robin Bell which describes the music scene in the UK from 1956 to 1962 - "The Forgotten Years".
Available on Amazon in both Paperback and Kindle Editions.
Click HERE to visit Robin Bell's Website for further details.
---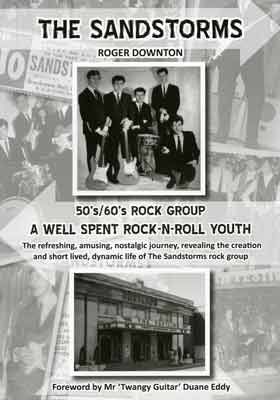 A book written by Roger Downton based on his experiences as a member of "The Sandstorms" in late 1950's/early 1960's Bournemouth.
Price £5-95 plus Delivery.
Order your copy by clicking HERE.
---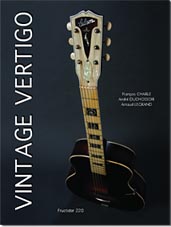 Vintage Vertigo, written by Francois Charle, André Duchossoir and Arnaud Legrand, is full of vintage guitars associated with the French music scene over the years.
The Vintage Vertigo website is at http://www.vintagevertigo.fr/
---
---

Hofner Artist Hawaiian Guitar, photo courtesy of Great Guitars, Australia. (Now Sold). Click HERE for further pictures of this guitar.
---
Return to HOFNER WEBSITE INDEX PAGE.