Amps

SELMER - TRUVOICE AMPLIFIERS
.........FROM OUT OF THE MISTS OF TIME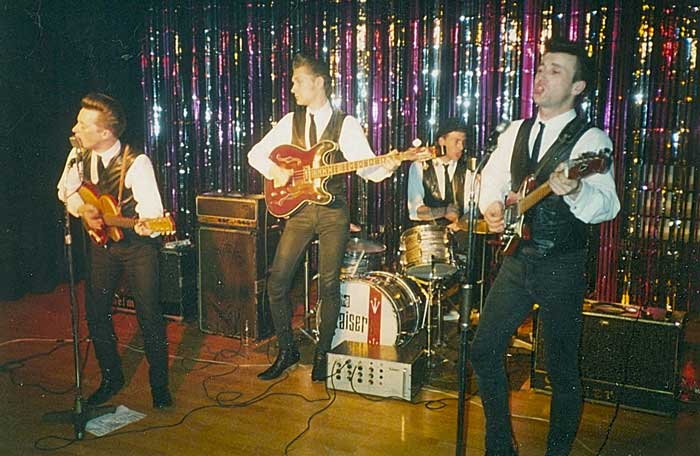 The Kaisers with their Selmers - Courtesy of Matt Armstrong
---


This section of the website was put together as a joint collaboration between Tim Fletcher and myself Steve Russell. Tim is an enthusiast who, like me, believed that the old Selmer guitar and bass amplifiers have never received the recognition that they deserve. There is virtually no information available anywhere on these old workhorses from the 60's. Totally different story with Vox amps, of course. The WWW is full of sites expounding the virtues of those admittedly fine amplifiers. Yet, during the early 60's in the UK, both Vox and Selmer were running equally in quality and quantity, supplying the up-and-coming bands of the day with professional standard amplification. So, way back around the year 2000, Tim and myself decided to help redress the balance.

The philosophy that we adopted with the Selmer section, was that we simply put down our joint knowledge on the subject. This relied on us both using our memories going back nearly 40 years, because as previously stated, there appears to be no other source of accurate information on the subject. We would be the first to admit therefore that there may well be errors on this website. However, we have done our best, and over the years during which the website has been running, the website content has been updated and expanded on the basis of information sent to us by the many visitors to the site.

Many Selmer fans used to bemoan the lack of information on Selmer amps, and this was our humble attempt to kick-start the process of putting together a source of knowledge. Initially, parts of it were an educated guess, and some even hearsay, but hopefully over time we managed to get pretty close to the truth.
---

AN INTRODUCTION TO SELMER AMPLIFIERS by Tim Fletcher




"

Think you've never heard a Selmer ? Well, if you're familiar with the immortal guitar riff forming the mainstay of The Animals' "House of the Rising Sun" then you probably have. During the course of an internet debate amongst Vox fans about what guitar & amp was used to record the song, Hilton Valentine (lead guitarist, whose fingers & Gretsch Tennessean supplied the input signal) was finally tracked down by e-mail and blew away conventional wisdom by declaring "No, it definitely wasn't an AC30, I think it was a Selmer" ! As The Animals were a Selmer-equipped band before that song catapulted them on to fame, fortune and free Vox amps (with which they mimed it on TV), the evidence suggests that he's right.

But that just illustrates how, in 60's Merrie England, Vox had all the glory and Selmer took second place, leaving poor old Watkins (aka WEM) to trail in third. Selmer started selling amps for the UK market before Vox ever did. They looked good. They sounded good. They probably lacked a little in street-cred because rebel rock'n'rollers may not have wanted amps made by the same company who made the clarinets in the school band. But principally they lacked two things, (1) The Shadows and (2) The Beatles, as high-profile users. Sad, because both those groups initially used Selmers, but abandoned them for Vox on the point of finding fame - maybe they preferred Vox, or maybe Vox were just smarter at giving free gear to the next set of pop icons. Either way, the rich & famous bands used Vox, and the rest had to be content with the cheaper Selmers & Watkins. (Like our host Steve Russell!)

(Update...... Alex Turner of "The Arctic Monkeys" uses a croc-skin Selmer Zodiac 30 as one of his main amps these days. Selmer amplifiers seem to be making a major come-back at last!)

So who were Selmer, and why did they make guitar amps ? Click HERE and this will take you to a page which provides as much of the history of the Selmer Company in the UK as we have been able to compile to date. As far as the amps were concerned though, Selmer UK saw the rise of the guitar, which came with the acoustic skiffle craze in 1956, as an opportunity. They were also acting as UK distributors for Hofner guitars in particular, plus one or two other brands. By then many of the guitars had pick-ups, and Selmer faced the problem of supplying amplifiers to accompany them. There was a post-war embargo on US imports at that time and a dearth of manufacturers in Europe. As it happens, Selmer had taken over a small company called RSA in December 1947, and this company had been producing a range of PA amplifiers since 1946 under the RSA and Selmer names. It was therefore easy to expand the RSA production into guitar amplification in the mid 1950's with the introduction of such models as the early RSA (non-Selmer) Truvoice Model TV19. The TV19 (Auditorium/Stadium) and TV6 (Popular) model designations on early Selmer Truvoice amps was a throwback from that era. Later they seem to have entered into production arrangements with other companies, in particular Fenton-Weill because that company also made amps near-identical to Selmer models under their own name. If you see an "FW" stamp on your Selmer's circuit board then it was probably made by Fenton-Weill. (Henry Weill was an early partner of Jim Burns in Burns-Weill guitars, who went his own way to make guitars, amplifiers and later lighting & disco products under the Fenton-Weill brand, the Fenton part being taken from the name of a Burns-Weill guitar model.


---
THE SELMER AMPLIFIER INDEX
Let's get down to specifics. Below are lised the main periods of the Selmer Amplifier evolution. Click on the one that appeals most, and have a look at the details and pictures of the amps appropriate to that period.

Also have a look at:


VALVES !! - A summary of most Selmer Amp models and their variations. The page attempts to show the development of the various models by a consideration of the valves (tubes) fitted through the range.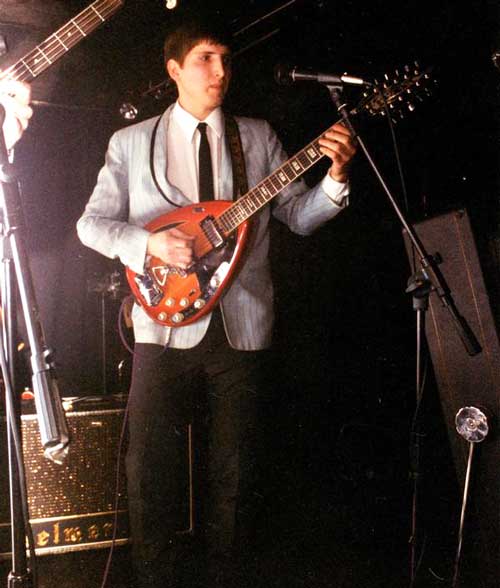 Eric Stollsteimer and his Selmer Thunderbird Twin 30 - The Gold Dollar Club, Detroit, 1999.
(Eric is playing a 1967 Vox Starstream XII, and yes, that is a Vox Line-Source speaker just to the right!)
For those who are wishing to restore their croc-skin Selmer amp, Tim Hamper has recently discovered a supplier for silver-on-black croc-skin fabric material.
CLICK HERE to access the supplier's website

| | |
| --- | --- |
| If you have gained something from using this website, perhaps you may wish to consider making a small contribution, (the cost of a cup of coffee say), towards its upkeep? | |
---

---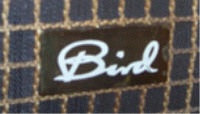 ---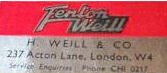 ---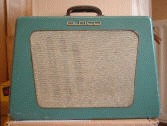 ---
Return to MAIN HOFNER SITE INDEX.
---

© Steve Russell & Tim Fletcher 2000-2020
All rights reserved