VISITORS' GALLERY
The page where other people's Hofners are featured.
HOFNER JUGEND / WANDER / STUDENT GUITARS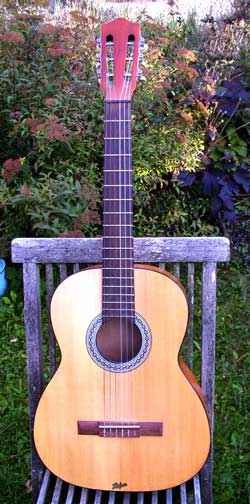 Hofner advertised their budget flattop range as "Classic Guitars for Beginners" in the 1970's, but generally they were referred to in the catalogues as "Jugend" (Youth) or "Wander" guitars. These were a mixture of steel strung and nylon strung models, some having a more classical guitar appearance than others, and most having a slightly shorter scale than the Classical Concert guitars.
The following picture-sets of Hofner guitars have been sent to me over the years by their owners. This has allowed me to present a much greater range of models and vintages than encompassed by my own collection on the website, and maybe this will help other visitors to the site to identify and date their own Hofner.
They should be studied in conjunction with the much more comprehensive page on this website which describes all the many Jugend/Wander models produced by Hofner:
---
EUROPEAN & US MARKET GUITARS


SELMER DISTRIBUTED GUITARS:
1964/65 HOFNER 'FLAMENCO' CLASSICAL GUITAR
A classical guitar that was of lower quality than the Selmer-distributed Concert and Vienna. The Flamenco was based on the Hofner 514 Model, which seems to have been classified both as a Concert and Jugend guitar grade at various times by Hofner. A near-mint example owned by David Inkel in the UK.


1956/57 HOFNER 'FLAMENCO' CLASSICAL GUITAR
An example of an early Flamenco, owned by John Wheble in the UK.


Late 1960's HOFNER MATADOR CLASSICAL GUITAR
The Matador was introduced to the Selmer catalogue around 1967. It was intended to be a budget-grade guitar, and sold for a lower price than even the Flamenco model, which was strangely retained in the range. It had a spruce top with laminated plain maple back and sides. The equivalent to the Matador in the general Hofner range was probably the 512/5120 model. This example is owned by Dennis Kilmore in the UK.