Amps
SELMER-TRUVOICE AMPLIFIER SCHEMATIC WIRING DIAGRAMS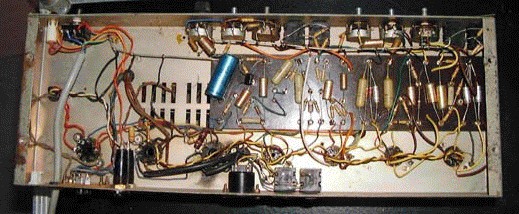 ---
The following circuit diagrams have been provided partly by visitors to this website, and also courtesy of the Obsolete Electronics website. They are reproduced in good faith, but with no guarantee of correctness. No responsibility can therefore be taken for any problems arising out of the use of the diagrams. The employment of an experienced electronics repairman is strongly recommended when work on electrical equipment is being undertaken. Remember that there are very high, and hence lethal, voltages inside amplifiers!!

By the way, the Obsolete Electronics website deals with a large range of different amplifier makes and types, not just Selmers. Well worth a visit!
A further possible source of "Service Manuals" and wiring diagrams for all types of guitar amplifiers (and televisions, and toasters, and.....) is Service-Manual Net.


---
SELMER VALVE AMPLIFIERS:
(Click on the required amplifier model)

EARLY RSA/TRUVOICE AMPLIFIER UNITS:

SELMER VALVE ECHO UNITS:
SELMER SOLID STATE AMPLIFIERS:
SELMER EFFECTS PEDALS:
UNITON SWISSECHO:
MEAZZI FACTOTUM:


SELMER CLAVIOLINE KEYBOARD:
INSTRUCTION HANDBOOKS:

---
Return to MAIN SELMER AMPLIFIER INDEX PAGE