1956 HOFNER PRESIDENT ACOUSTIC ARCHTOP GUITAR
SERIAL No: 2409
PLUS........THE CRESCENTS (c1956-60 LIVERPOOL) & TOMMY STEELE!
COURTESY OF LAWRENCE NOLAN, MERSEYSIDE, ENGLAND: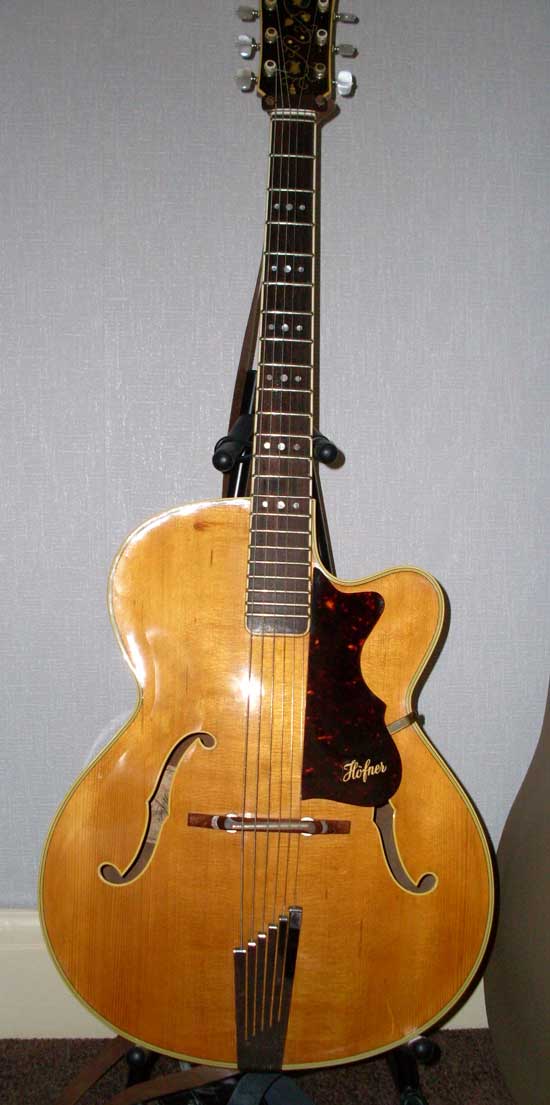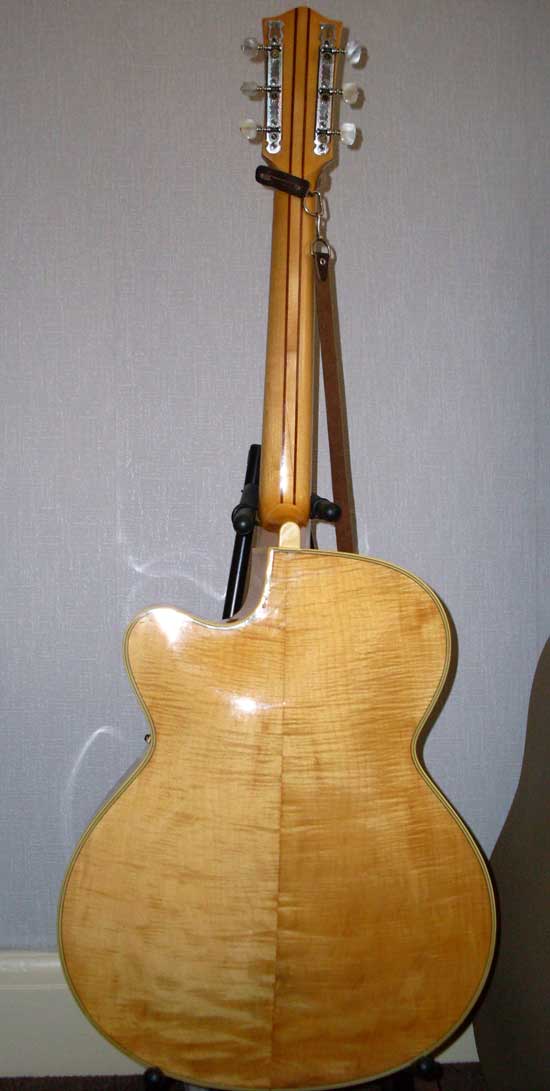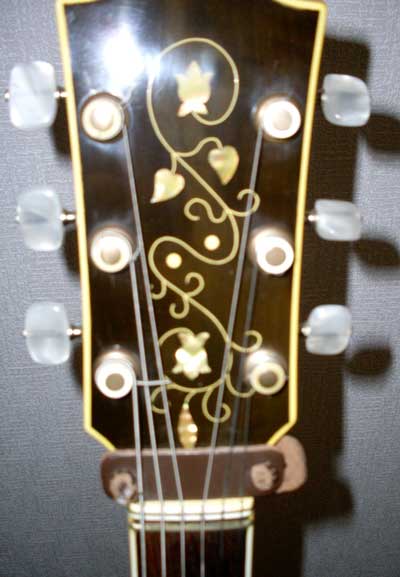 Note the two empty screw holes on the fingerboard cantilever. This is a relic of when the guitar was fitted with a floating pickup at the time when Tommy Steel played the guitar in August 1957. (See photo below.)
LAWRENCE RECALLS THE DAYS WHEN THE GUITAR WAS PLAYED BY HIS UNCLE
The President was bought new by my uncle John Daly in 1956 at Hessys music shop in Liverpool. He gave it to me in 1965, and I was shown/taught to play on this guitar. I had the guitar refurbished in 2004, replacing the pickguard and one side of the " Three in Line" tuners with the same type, so the guitar is now 95% original,
My Uncle was in a quite successful Group, called the "The Crescents" based on Merseyside during the mid/late 1950's, and they played at major venues in the North West of England. The band won the Carroll Levis talent contest at the Liverpool Empire Theatre in 1957 and went on to appear on TV and record for the Columbia label.
The Crescent's Records are featured on You Tube:
The Crescents "Baby Baby Baby"
John Daly is actually singing the solo on "Wrong" and of course playing his Hofner President.
One of the photos below shows The Crescents with Tommy Steel, August 1957 at the Palace Theatre Blackpool. Tommy Steel is playing my uncles President, on which my uncle had by then installed a pick-up which you can see in the photo. The guitar does not have a pick-up on it today, but as you will see from the guitar photos, the holes where it used to be are still there.
As well as The Crescents, my Uncle also played in many other groups and bands during the 50s and 60s. He had a blond Hofner Committee that he bought in 1963. Alas I don't have this guitar, regrettably. I use to go to Hessys, and Rushworth and Drapers in Liverpool with him in the 60's where he would meet with fellow guitarists. Names that I remember in Hessys are Jim Gretty and John Magee ( Johnny Gee).
I have played many guitars during my life. I currently own a Hofner New President and also a Rickenbacker, but although they are "easier" to play, the sound of the 1955 President is the best I have ever heard.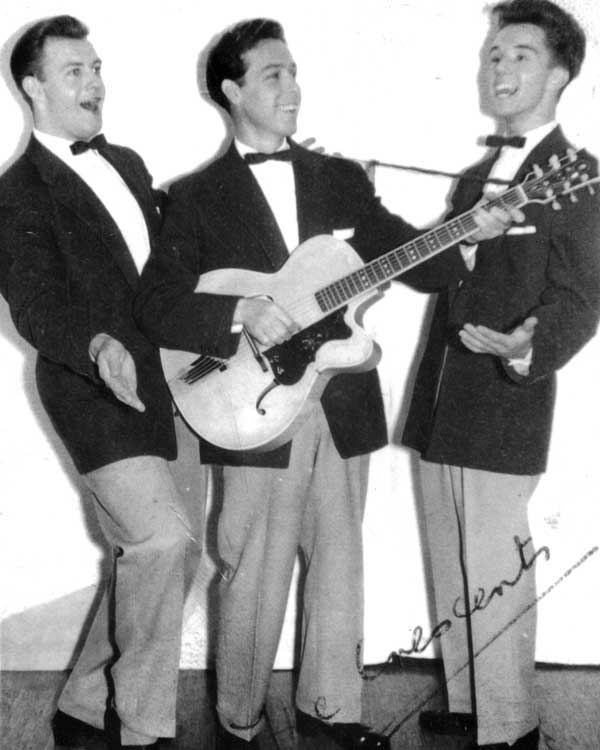 The Crescents c1956
Left to Right - Bob Sturgeon (AKA Bobby Kay, a Liverpool Comedian); John Daly (Lawrence's Uncle) & Hofner President # 2409; George McFall.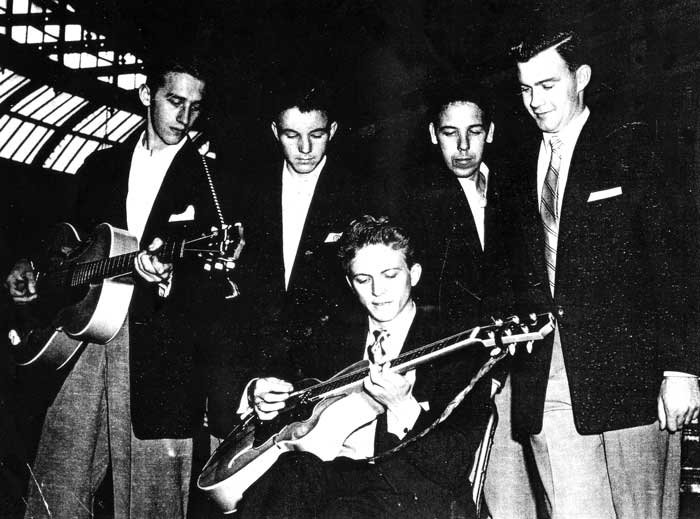 The Crescents were playing the Palace Theatre, Blackpool in August 1957 at the same time as Tommy Steele was appearing there. Here Tommy is shown playing John's Hofner President # 2409 with the Crescents looking on.
Left to Right: newcomer Bob McQuillan (with Hofner Senator), George McFall, Tommy Steele, John Daly, & Bob Sturgeon.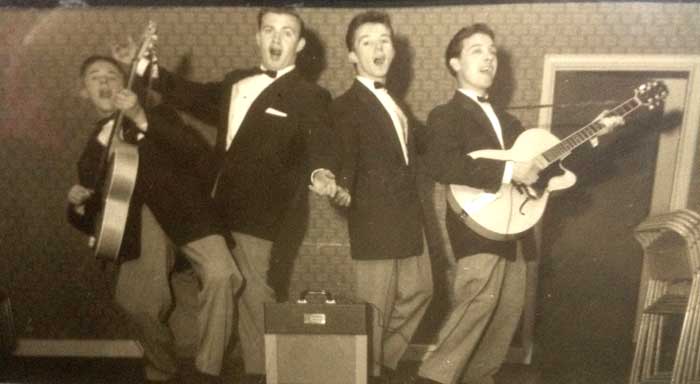 ---