TYPES OF PICKUPS SUPPLIED BY HOFNER AS ACCESSORIES
PART 2 - PICKUP ASSEMBLIES
(From the Early 1950's up to the 1970's)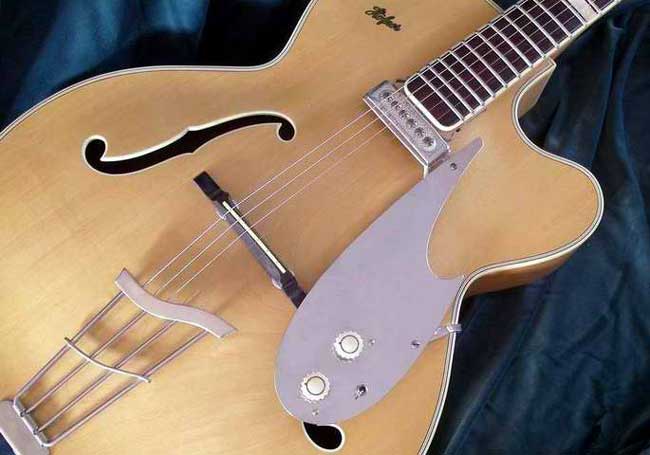 Thanks to Alan of the Just Jazz Guitars website for supplying this photo.
Part 2 of this Fact Sheet details the most commonly encountered pickup assemblies sold by Hofner to allow the amplification of initially acoustic archtops. They were intended for use both on Hofner's own archtops and also on those of rival manufacturers. Two main purposes seem to have been served by these units - firstly to allow to use of full size volume and tone potentiometers, and to provide a replacement pickguard on which the controls could be securely mounted without having to drill into the archtop's body top. A further benefit was obtained on some models which provided a facility for easily moving the pickups to any desired location.
Hofner also provided combined bridge/tailpiece/pickup assemblies for solid Hawaiian guitars, which were very popular in the 1950's, and two examples have been included below. Presumably they were intended for use by players who wished to make their own Hawaiian guitars.
Design development of pickup units was rapid and Hofner frequently changed the range on offer, but unfortunately tended to use the same model number from superseded pickups. This confusing situation will be very obvious from the table below!
Many of the following pickup assemblies have been extracted from old Hofner and Selmer catalogues. and therefore most illustrations used are Hofner's and Selmer's own. The dates quoted are my best interpretation of in-complete catalogues and price lists, and cannot therefore be guaranteed to be totally accurate. Please use them as a guide only!
CATALOGUE ILLUSTRATION

HOFNER TYPE NUMBER & DATE OF CATALOGUE FROM WHICH SCAN HAS BEEN TAKEN

HOFNER TYPE 40

1956

Fuma manufactured tailpiece control panel and twin body-mounted pickups.

(Note that one pickups is shown attached to the end of the neck, and a second one is for screwing down onto the body top.)

Selmer Catalogue No: 322 - Hofner Tailpiece Control Pickup

1959 to Mid 1960's

Fuma manufactured tailpiece control panel and single fingerboard "floating" pickup.

HOFNER TYPE 520

1955

Solid Hawaiian Guitar Type

HOFNER TYPE 520

1963

Solid Hawaiian Guitar Type

HOFNER TYPE 513?

Mid-1950's.

(Note the TV-Style Coaxial lead socket on this example.)

Picture courtesy of Stephen Kelly.

HOFNER TYPE 531 (?)

Selmer Catalogue No. 319 - New Model Pickguard Pick-Up Unit.

1959

HOFNER TYPE 531

1957

Selmer Catalogue No 319 - Single Pickup Pickguard Unit

HOFNER TYPE 531

1963

HOFNER TYPE 535

1963

HOFNER TYPE 536

1957

HOFNER TYPE 536

Selmer Catalogue No. 506 - Hofner Double Pick-Up Pickguard Unit

Early/Mid 1960's

HOFNER TYPE 536

1963

HOFNER TYPE 536

1971

HOFNER TYPE 507

For fitting to the soundhole of acoustic flattop guitars.

1970's
---
© Steve Russell 2009
All rights reserved