1966 HOFNER MODEL 164 SOLID GUITAR
COURTESY OF JOS WEHRENS, THE NETHERLANDS: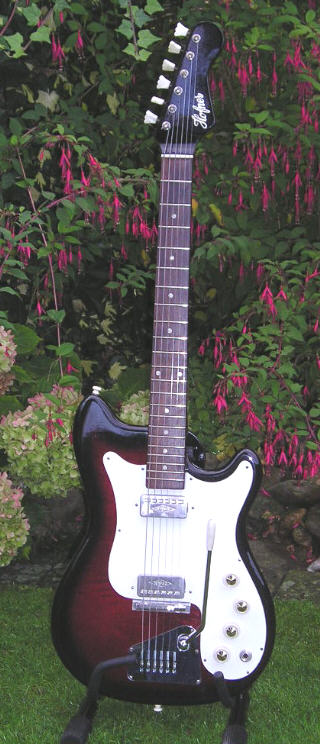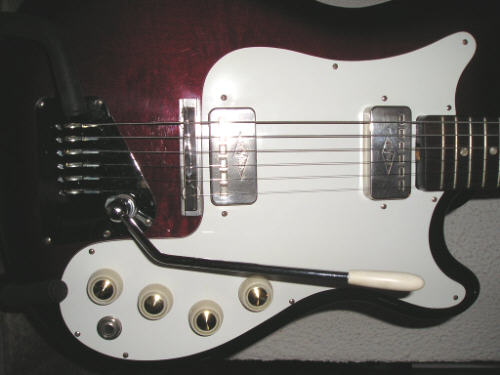 Unusual control knobs.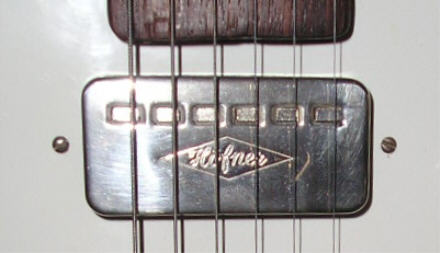 The very unusual Hofner Type 510 Pickups with "stud" type polepieces, factory fitted on this particular guitar.
---
JOS EXPLAINS ABOUT HIS GUITAR:

I could not resist the Höfner 164, build 1966, when I saw that guitar on a website and guess what..... it was for sale too! I paid 185 euro for the Höfner and that is almost for free!!

The guitar was dirty but I could see that it was almost an un-scratched guitar. Almost no scratches on the scratchplate and after polishing a very fine colour. The colour looks from dark red to purple. Very nice, and I have never seen a colour like that before. The chrome parts are in excellent condition.

The neck is a little shorter than a Strat and for a big man like me a little hard to play but the sound is great and what a sustain!

The amp I use is a Behringer Vintage AC112.

Overall is the 164 is in a very good and super condition as you can see an the pictures.
---
Return to VISITORS' GALLERY - EUROPEAN & US DISTRIBUTED SOLIDS