1966 HOFNER MODEL 492 ACOUSTIC 12-STRING GUITAR
COURTESY OF GARY SCOURTAS, MASSACHUSETTS, USA: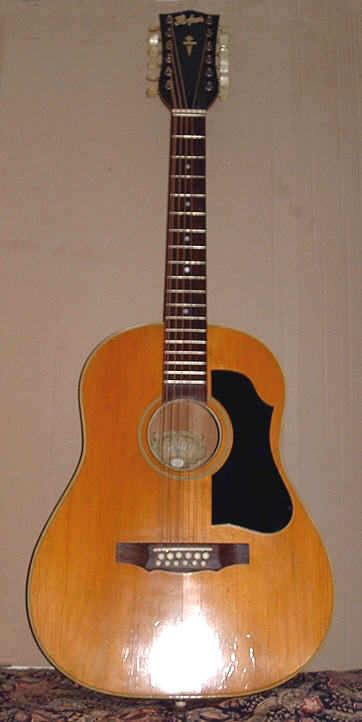 GARY EXPLAINS THE GUITAR'S RECENT HISTORY:
I bought this guitar back in the mid to late 90s from Salem Music in Peabody, Massachusetts - a small shop owned and run by a friend of mine. I can't remember what I paid for it, but I think it was $200.
The guitar came with a pick guard but it wasn't attached. I bought it without even playing it. When I took it down from the rack to check it out I discovered it was very out of tune and I didn't feel like tuning up those 12 strings. But it looked like a solid instrument, and had some nice detailing. It definitely looked well-made. I had always wanted a 12-string to play around on, so I bought it when I heard the price.
At the time of the sale, I asked the owner to put the pick guard back on for me. He tacked it on with a couple of dabs of super glue! When I got the guitar home, I had to give it a good cleaning. The instrument was grimy, and smelled musty, and the strings were decrepit. But once this beauty was cleaned and restrung, I realized I had found a gem. It just about played itself, and the sound was magical.
Although it sounded great, you could hear that it had an intonation problem. Tuning it was a nightmare. I soon had that problem fixed by a luthier in Boston, Massachusetts at a shop called "Broken Neck Guitar". After that, the guitar was ready to be enjoyed. It didn't take me long to realize that the guitar was made for writing songs. I was inspired to write a number of songs on this instrument over the next year.
Then, after a very cold and dry winter, the guitar developed a small crack in the bridge. But it didn't seem to affect playability at the time, and I was concerned that it would progress. I then made the regrettable decision to have the bridge replaced. From that day on, the guitar just never sounded the same. And the action was never quite the same either. With the new bridge, the action seemed a little stiffer.
It's been awhile, and I now play mostly 6-string, but every now and then I think about taking the old girl back to "Broken Neck Guitar" in Boston to see if there is anything that can be done to reclaim those glory days.
---
Return to VISITORS' GALLERY - FLATTOPS & CLASSICAL GUITARS