HOFNER GUITAR AMPLIFIERS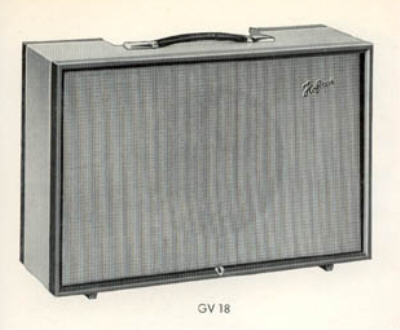 Sorry, but I don't know a great deal about Hofner guitar amplifiers. I am hoping that by adding this Fact File to the website, others who do know something about them or have pictures of them will make contact, allowing me to develop this page into a useful source of information. What I have learnt so far is:
The GV Series were manufactured between 1961-66 by a Munich based company called Eben, for Hofner. The Eben company produced units also for the German Hi-Fi brand Dual, and these days they manufacture circuit boards for other companies.

During the same period, Hofner appear to have also sourced a bass amp head and speaker cabinet from another company - Uniton AG in Switzerland. The amp head, designated the BV60 by Hofner, has a strong family resemblance to the famous Swissecho tape echo units made by the same company. The Swissecho units also appear in the Hofner catalogues of the period, but still retaining the "Swissecho" logo rather than "Hofner".

It has now been ascertained that the Schaller Company (who's factory is only about 30km from the old Hofner Bubenreuth factory) made the Hofner logo KV Series of amplifiers for Hofner from 1967 through to the early 1980's. These ran in parallel with Schaller's own brand KV series of mainly solid-state amplifiers. The evidence is that the Hofner KV-10 is virtually identical to the then popular Schaller Piccolo guitar amp, except that the Hofner KV-10 has a larger sized (and therefore more impressive-looking) case.

In 2017, Hofner brought out a new small boutique amplifier called the Hofner Little Fury. This is a combo amp rated at around 15w output, and fitted with a 10" Jensen speaker. It is fully valve (tube) driven and point-to-point wiring.
A very useful source of information on German manufactured guitar amplifiers, speakers, and effects units can be found at the superb website run by Hans Ohms in Germany. - THE ORCHESTER-ELECTRONIC WEBSITE
---
EBEN MANUFACTURED EQUIPMENT


UNITON MANUFACTURED EQUIPMENT



SCHALLER MANUFACTURED EQUIPMENT
This model was an early hybrid design with a solid state preamp and a tube power amp ( 2x EL34 providing 50 watts). Two Goodman 12" speakers apparently were fitted. The power amp section was located at the bottom of the cabinet and connected with an octal plug to the preamp section in the upper cabinet. (Just like the old Selmer-Truvoice amps.) The delay unit contained a magnetic disc, similar to the old Baby Binson echo units, and three delay heads.

PRESENT-DAY HOFNER AMPLIFIERS
---
Many thanks to Wolfgang Eggersdorfer for supplying me with the results of his own research into Hofner amplifiers. Also thanks to Guenther Vogt, who has provided me with much information out of old Hofner catalogues.
---