JOHNNY KING AND THE RAIDERS
BOURNEMOUTH AREA, ENGLAND - 1959 to 1960
COURTESY OF ROGER COLLIS: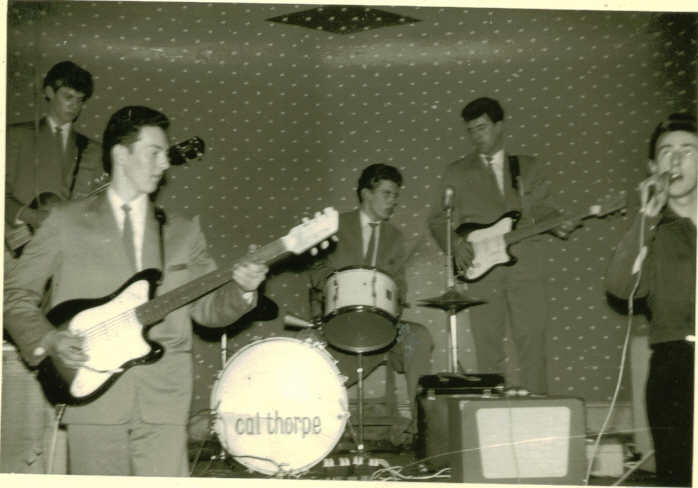 Picture taken c1960 at the Yeovil Drill Hall, Somerset. Roger is on the right playing a Futurama/Grazioso.
Personnel (left to right)
Pete Giles - Hofner 500/5

Graham (Wes) Douglas - Futurama III

Mike Giles - Drums

Roger Collis - Futurama /Grazioso

The late Johnny King - Vocals

Amplication for the band appears to have been a single Selmer Stadium and a little Elpico. Is that a Vox "TV Front" behind Johnny King?
ROGER RECALLS:
"I started playing in about 1958 and bought a Voss guitar which was imported from Germany I believe, by my guitar teacher, Don Strike. It was an acoustic and I converted it to electric by buying a couple of pickups and mounting them on a chrome plate etc. In those days, the only Hofner guitar that was even approaching cool to play was their small-bodied, semi-solid blonde model, with 2 black pickups, but I never owned one. (Steve - Presumably the Hofner Club 50?) We were playing Skiffle in those days with Mike and Pete Giles, later famous as Giles, Giles and Fripp, and then King Crimson briefly.
In 1959 We formed a band called Johnny King and the Raiders and Graham (Wes) Douglas and I bought Futurama Guitars, also imported by Don Strike. If I remember they cost about £40 but I may be wrong. That was about 4 weeks wages in those days and we paid for them at £3 per week! I think they must have been the original Futuramas because they had maple fingerboards and sunburst bodies. In the photos (taken at Yeovil Drill Hall, we used to accompany the fighting between the town boys and the squaddies) I am the handsome brute on the right. You may recognise the Giles Bros. in all of these. We used to play these super instruments through a big Selmer amp. You can just see it in some of the pics, and also a Watkins Copicat with the blue wooden box and the endless tape, although I'm not sure exactly when we got those.
We used to get all our instruments through Don Strike, he was a super old guy and he used to let all us rock boys buy our gear from him on the never-never. He took me up to London one day to meet Charlie Watkins, he'd just made his first guitar, and persuaded me to buy one on the spot, but when I gigged with it, it was awful so I sold it back to him.
Anyway JK and the Raiders gave Zoot (Money) his first gig as a guest, so when Zoot decided to form his own band, he asked me to join as the guitarist."
Roger Collis and Johnny King went on to be founder members of the first Big Roll Band with Zoot Money. He later joined up with John Rostill of Shadows Fame in a band called The Interns.
Peter and Michael Giles later formed Giles Giles and Fripp and then went on to King Crimson.
You can contact Roger Collis by clicking HERE
---