THE MARKYSPARKS
HERTFORDSHIRE: 1962
COURTESY OF COLIN COKE, NEW ZEALAND: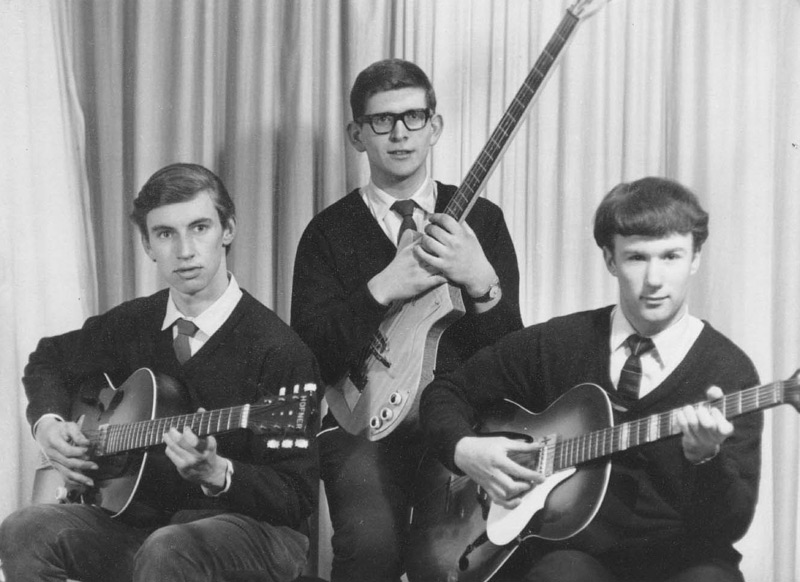 Band Members Left to Right:-

Michael Chaplin with a Hofner Congress.

Chris White with his homemade bass guitar (which now resides in the Rock & Roll Hall of Fame, somewhere in the US).

Colin Coke with a Framus archtop.
COLIN RECALLS:
We formed a trio in 1962 playing Django Reinhardt style music. The trio backing an unknown young singer at her first public appearance called Maddy Prior who sang "Summertime". Maddy later went onto fame with Steeleye Span.
The trio was called the Markysparks as we played a concert in Markyate, just North of St Albans.
Michael Chaplin went on to become the producer of an art show called "Watercolour Challenge", which was shown on UK TV from 1988 to 2002.
Chris White became famous as the bass player for the successful 1960's band , The Zombies.
My amplifier at the time of the Markysparks was a Watkins Westminster with a red and cream cover. Soon after this, I had to upgrade to a Burns 40 watt amp with 2 x 10" speakers, as I carried on playing with in a dance band called The Nightspots which did weekend gigs all over Hertfordshire and North London. This was after being offered a job in The Zombies as their lead guitarist, but I didn't see much future in it!
I now live and work as an artist in New Zealand, and still play a variety of music.
---
Return to NOT-SO-FAMOUS USERS PAGE