CHRIS AND THE DELTICS
BRADFORD, YORKSHIRE; 1963 to 1965
COURTESY OF JOHN RAYWOOD: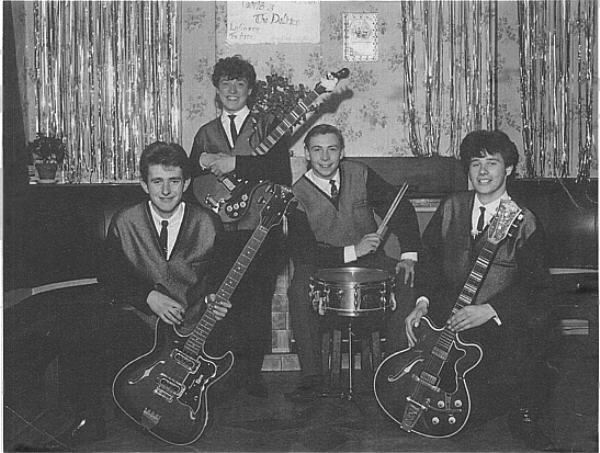 Band Members Left to Right:-

Roy Atkinson; Burns TR2 Bass played through a Vox AC30 Head Unit & Selmer Goliath speaker cabinet.

John Raywood; Hofner Super 3 Solid played through a Bird 4/25watt Amp with a Watkins Copicat tape-echo unit.

John White; Drums.

Dennis Raynor; (Chris) Hofner Verithin played through a Vox AC30 amp.
JOHN RECALLS:
The group was originally formed by Dennis & Roy from a skiffle group. The group was given its name by the manager, Ron Short, who at the time was a railway signalman. The Deltic was a large diesel locomotive and he must have liked the name; hence the Deltics were born. Dennis had always wanted to be called Chris, and as he was the lead singer so he became Chris of Chris & the Deltics.
Various members came and went - Big John the drummer was playing when I joined in 1964. We played all around Bradford and South Yorkshire. Unfortunately, as so often happens, we split up. I left in 1965 and I believe Big John left soon after, leaving Dennis & Roy back as a duo again. Looking back, although it was only a short time, they were halcyon days.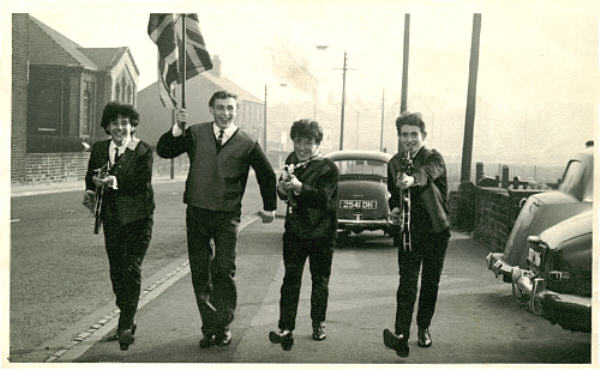 AND BRINGING THINGS UP TO DATE............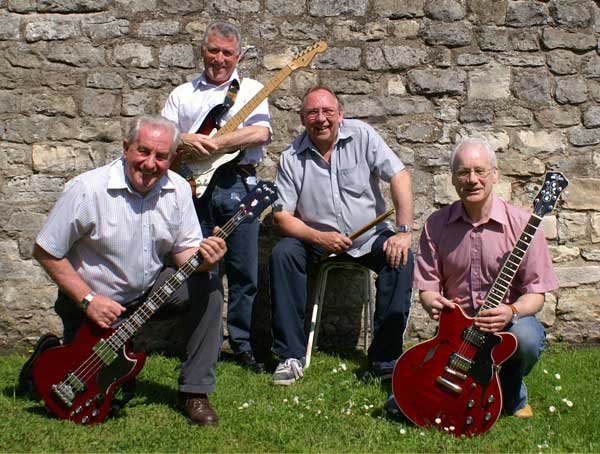 Roy, the two Johns, and Denis in exactly the same pose as in the photograph at the top of the page.....taken 45 years later !!
John Raywood - "The new photo was only made possible by some fluke........first getting in touch with Dennis via a school reunion site (Friends Reunited), then another fluke in searching a family history site where I discovered that Big John the drummer was living in Ipswich. Since this was taken, Dennis and Roy have actually played a gig at a birthday party, but I don't think it will be a revival for us all as I live in Sussex now and I think it will just be a little too far to practise again."
The Hofner Verythin in the new photo is not the original as that was destroyed when the Deltics had a bad road accident near Halifax after a gig back in the mid-1960's. Dennis' new one was bought for him by his son as a 60th birthday present in 2007.
Roy still has the original Burns bass guitar but uses the Epiphone now as it is much lighter to play.
John has moved on to a Fender Strat.
UPDATE (March 2012) : Roy and Dennis are now playing regular gigs in and around Yorkshire once more, and just call themselves "The Deltics".


---
Return to NOT-SO-FAMOUS USERS PAGE