THE MUSTANGS
WAKEFIELD, YORKSHIRE 1962 to 1965
COURTESY OF BRYAN HACKETT: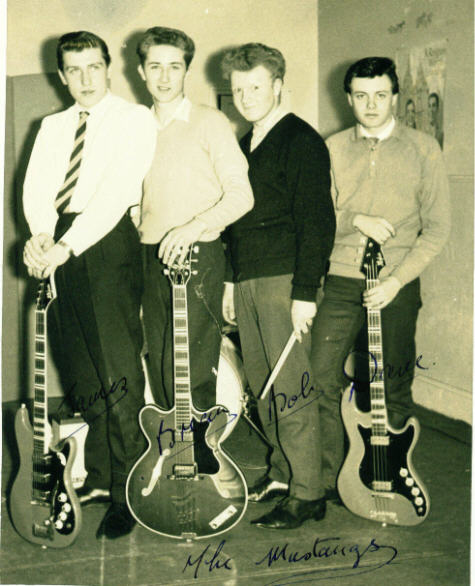 Left to Right:- James Fox (Hofner Super 3 Solid); Bryan Hackett (Hofner Verithin); Bob Mackie (Drums); and Dave Westmoreland (Hofner Artist Bass).
BRYAN RECALLS:
We were pupils at Thornes House School Wakefield and played together between 1962 & 1965, when we left school and split up. To be honest, we didn't do many gigs and James Fox dropped out towards the end when we became mostly vocal, rather than instrumental, performing as a trio.
Dave continued with his music in various local groups in Wakefield into his early 30's, but Bob never played the drums again after we split up. My Verithin went wherever I did, so I continued playing for my own pleasure and relaxation. (Steve: That actual Verithin is actually featured on the website. Click HERE to see it.)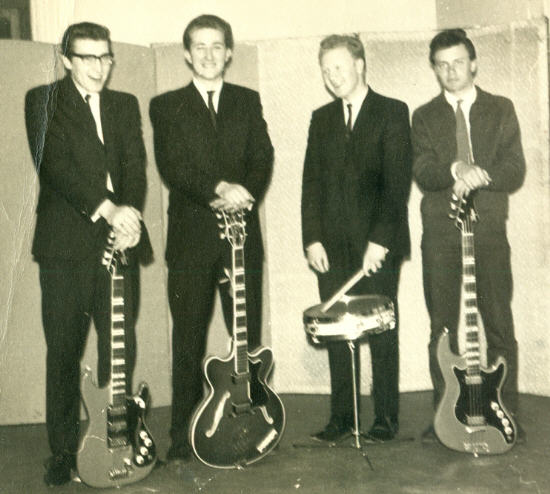 ---
Return to NOT-SO-FAMOUS USERS PAGE