VALVE TYPES COMMONLY USED IN SELMER AMPLIFIERS
The EL34 VALVE
(Output Pentode)
COURTESY OF JOHN CHAMBERS, NOTTINGHAM, ENGLAND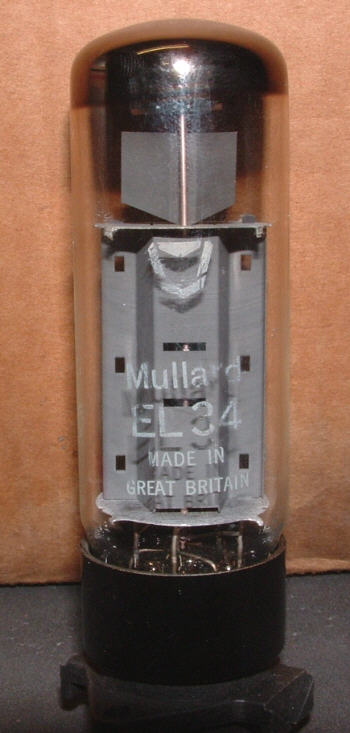 A Mullard EL34 - Batch Date 1068 (October 1968)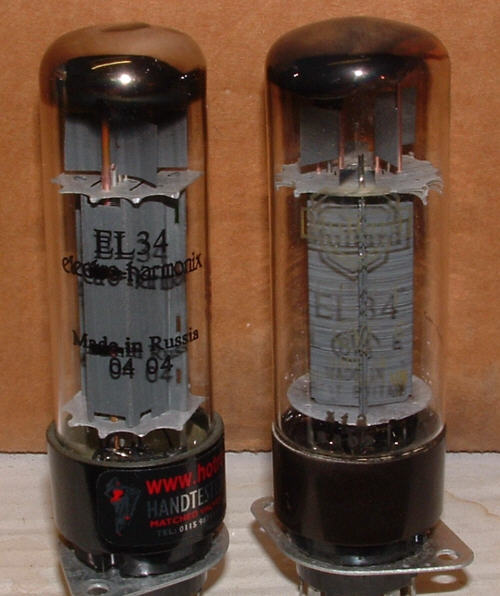 Two EL34's compared. The one on the right is an original Mullard, & the other is a modern day Russian substitute.
JOHN'S VIEWS ON THE EL34:
Apart from the 6L6 (a Beam Tetrode) developed & introduced by RCA in 1936 and still used today mainly in the American market, the EL34 (a Power Pentode) has to fall second as being the most used audio output valve (tube) ever! It was introduced in the early '50s by the giant Dutch firm, Philips Gloeilampenfabrieken N.V. based in Eindhoven, The Netherlands.
The Mullard EL34 is the one that is most sought-after by enthusiasts; not surprisingly as our good old British Mullard (Blackburn, Lancs) is a tough, well constructed valve.
With absolute maximum ratings of 800 volts (plate/anode) and 400 volts screen (grid 2), fixed bias up to 100 watts is available from just a pair! Not that most amplifier manufacturers would push them this hard.
An anode/plate & screen voltage of around 400 - 500 volts would be most commonly used, giving an output of 50 - 60 watts (2 valves) or 100 watts for 4 valves (being the preferred set-up for most guitarists).
In other countries the EL34 was known as a 6CA7. In most cases all the manufacturers (many others started to manufacture the EL34 on the strength of it's success) would even print both numbers on the valve (EL34/6CA7). It is one of the same, and in fact some still do this today.
As regards any direct equivalent there actually isn't one, apart from the now extinct KT77 which was designed & manufactured by GEC/MO Valve Co (famous for the KT66 & KT88) in the period between 1957 and 1988. I suspect that this was probably their attempt to "jump on the bandwagon" with the EL34 success. The KT77 looked exactly like an EL34 externally apart from the more pronounced dome top. However internally it was quite different, with an anode/plate size noticeably bigger than the EL34 and boasting a dissipation of 32 watts (rather than 25 for the EL34). It was also a beam tetrode. Nevertheless, apart from needing a slight bias tweak, it was a perfect substitute. The KT77, although selling ok, never quite took off in the same way as the EL34. They have become so rare nowadays that I have seen a brand-new quad set of original Gold Lion brand fetch £300+!!
The EL34 has surely stood "the test of time" What a great bottle it is!

A Gold Lion KT77.
(Thanks to Sydney Cohen of Leeds, England for pointing us towards this picture.)
---
THE MULLARD EL34 "RE-ISSUE"
It would appear that the Russians have bought the machines, tooling equipment & brand name of Mullard, together with permission to re-manufacture the beautiful original EL34. These re-issues are now in production. Even the packaging is authentic!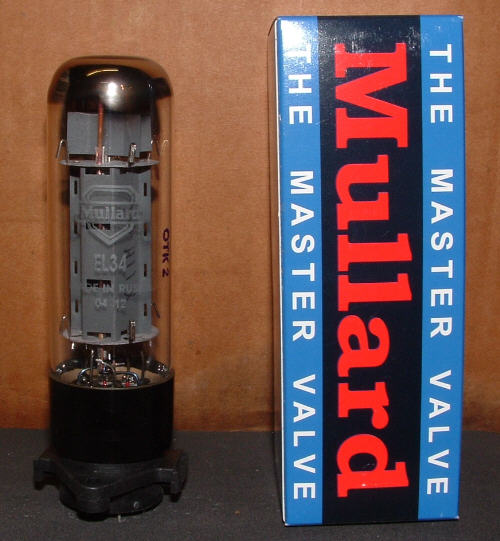 These re-issue valves can be obtained from:
HOT ROX UK
UNIT 6, MILLVIEW COURT
NEWARK STREET
NOTTINGHAM NG2 4PS
ENGLAND

Tel: +44 (0)115 9873163
---