WINDOWS, ROCKETS....... AND RONNIE LANE!
John Crocker recalls working in the Selmer Factory at Theobald's Road in the mid-1960's.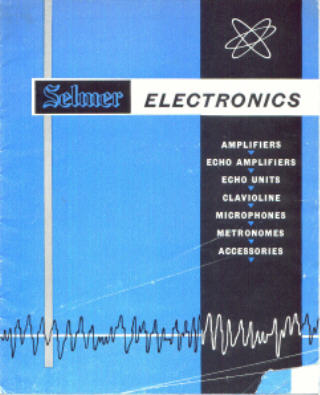 Cover Page of Selmer Electronics Catalogue, September 1963
Just after Easter 1964 I joined Selmer at their factory situated on the first floor in a building behind the Holborn public library in Theobaldís Road, London.

I stayed with Selmer until the factory officially closed on 7th February 1969 but this story is focused on a very short period; c. 1964 - 65 and because there is plenty of good technical information about the amplifiers etc. produced before, during and after this period I would like to concentrate on some of the people I met and had the pleasure to work with or near to.

I started in the test room where the newly wired amplifiers were tested and if necessary, repaired and for a while, amplifiers returned by the groups were also repaired. The room was of rectangular shape with a large multi-paned metal framed window which looked onto Johnís Mews. (See below) As the window was East facing, on a sunny day the sun poured into the room in the morning which made it a pleasant place to start work. One of these panes was destroyed by a rocket, but more about that later!

There were two doors, one leading to the adjoining inspection room where two or three ladies worked and the other door was on the opposite wall to the window. This door gave access to the rest of the factory and was directly opposite the soundproof test room where the then eighteen year old Ronnie Lane worked.

The test room had work benches on all four walls and as expected there was various types of test metres, oscilloscopes and all the equipment that was needed to test and repair 1960ís amplifiers.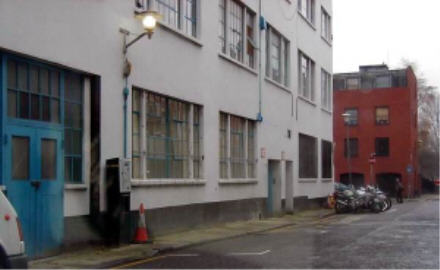 The Old Selmer Factory from John's Mews

I actually happened to start at Selmer on the same day as John Weir, both as test engineers. John had a working background with hi-fi and was technically competent. At a later date he transferred to the Development Dept working with John Hosay and Brian Davis and when the Holborn factory closed he went with the company to Braintree and became Production Manager. I remember when he bought a new red Mini and gave me a lift to work when my car was crook. All the pop stars and royals had a Mini in those days and John was no exception!

A year or two ago we made contact for the first time for many years and have been in touch since then. He was, and still is always ready for a chat especially if Selmer is the subject. Come to think about it, he is just ready for a chat! An approachable, friendly sort of bloke, he was always willing to give advice and something of an encyclopaedia on all matters Selmer.

---

The man in charge of the Test Room was Ron Fowler. Ron was born in Brazil, used to live in Jamaica, and looked just like the stereotype Mexican bandit complete with black moustache! It was easy to imagine him with cross gun belts, a large Mexican hat, draped manga, and saying through white clenched teeth "today you live, tomorrow you die, Gringo!!" I donít know if he drank tequila but if he didnít, he should have. He could have easily played a part in one of those spaghetti westerns.

Ron fancied himself as a musician. He would borrow a keyboard from the organ department, install it on his work bench and start making a very distinct sound! As his hands roamed over the keys he would suddenly stop and with one hand touching the top of his head, slowly turn round to look at the rest of the guys in the room and say "Gentlemen, do you agree that Iím improving?". "Yeah Ron, youíre a maestro" was the ensembled reply. Ron gave an agreeing nod and continued with the recital. Was Ron any good? Well, thatís best answered in the words of Eric Morecambe. He knew all the notes, itís just that he played them in the wrong order!

One day Ron was bored and decided to have some fun! Adjoining the test room was another room where a talented man repaired Claviolines. Without any kind of warning Ron announced to the staff in the test room "Gentlemen, Iíve decided to kill him". The two rooms were connected by a false wall so one lunch time Ron made a small hole in the wall, threaded a mains lead with the wires bared through the hole and connected the other end to a 240v mains outlet. He threw the switch and waited to see what happened when the Clavioline repairer returned from lunch. The more sensible members of the test room saw the danger and persuaded Ron not to go ahead with his little 'joke'. Ron reluctantly disconnected the lead from the mains and pulled it back through the hole. I would like to believe that Ron was not serious!!

During this period the US space programme was well under way and the staff of the test room must have been caught up in the excitement. One day we decided to make a rocket. In fact I think we made three.

The first exploded before take off, one took a lump out of the ceiling, and another went straight through one of the small window panes which remained un-repaired for years. Dick Twydell, the Works Director, came rushing down from the office and peering through the smoke shouted "what have you f***ers been up to??" Looking like butter wouldn't melt in our mouths, Ron made up some cock and bull story. He was good at that!

Fortunately we didn't have any TNT laying around, so we used red top matches (RTM) as the explosive but this didn't have the desired impact so we progressed to RTM-FP (finely powered). This did the job quite well by giving a slower ignition rate. The last rocket was made from bent aluminium. Ignition by putting a match to it proved to be rather dangerous so the problem was solved by remote electronic ignition. (Eat your heart out NASA).

Ron was a good leader. Not that he overworked himself but he was on the side of his men if the going got tough. An unforgettable Mexican bandit!

---

I started at Selmer just about the time of Ronnie Laneís 18th birthday on 1st April 1964. He worked in a supposedly soundproof room made out of some kind of board which was meant to cut down the sound. This was situated on the opposite side of the corridor to the test room. He used a Fender Strat and Precision bass to test the newly made amps and speaker cabinets.

Ronnie would regularly stroll around outside the soundproof room playing ĎGreen Onionsí on the bass, trailing a long lead which was connected to the amp. He often came into the test room just to wind up Ron Fowler which I must say wasnít too hard to do. Ronnie and Ron Fowler had a love/hate relationship. Ron being a fiery character and Ronnie, young and fun loving, was just the bloke to take advantage.

One morning when we arrived at work, we found a gift from Ronnie. It was a rope tied in a hangmanís noose dangling from above the test room door with Ron Fowlerís name pinned on it! Ron Fowler was last seen chasing Ronnie, waving his hands in the air shouting "Iíll kill him" in best Mexican bandit accent.

There was the day when Ronnie declared that he was skint and asked if I would lend him a tanner (6d) (2.5p in todayís money) for bus fare. I must have had a bit of spare cash that day so I gave it to him. How things were to change for Ronnie!

As we all know, Ronnie was to soon to jump from rags to riches when he became a founder member of the Small Faces. Another founder member was drummer Kenny Jones. At this time Kenny worked at Selmers with a Polish chap called Felix putting the amplifiers and speakers into cabinets.

Although I didnít have much to do with Kenny except for the occasional visit to his area to discuss something related to work, he always came across as a quite, pleasant and amenable young man. His quietness being in stark contrast to Ronnie!

---

Another man in the test room with a dry sense of humour was George. He worked next to Ron Fowler and back to back with me. Mac was there for a short time. He was a well mannered, very well spoken West Indian guy. Chris Wright also worked in the test room.

Lenny Caton was a very nice guitar player. He was just as much at ease with acoustic or electric guitar styles even at his young age. Sometimes he tested the amps in the soundproof room with Ronnie. I think he played in a band with another chap that we called ĎGingerí, who also worked in the soundproof room. Iíd be surprised if Lenny didnít make a career out of music.

Tom Sayers was production foreman. An episode which I remember well relating to Tom and Ronnie Lane is well told by John Weir elsewhere. Tom always seemed to be harassed in some way and rushing around chasing people, usually young guitar players in the soundproof room! But Tom could also be a nice bloke.

After this period several other characters came and went. Notably was Allan Baldwin. He was a young guitar player who worked in the test department. We became good friends but lost contact after Selmer at Holborn closed. After many years we made contact in 2002 with the help of Tim Fletcher. Allan is now a great, versatile musician and technician.

---

My five years working for Selmer was certainly not the best paid job Iíve had, but if lots of fun, working with lively, memorable characters and an overall good feeling is part of the equation that make a job desirable then this must surely be the best job Iíve had.

One last word about Ronnie Lane. When I knew Ronnie nobody had any idea what the future held for him. Within a short period he and Kenny Jones were to be founder members of one of the best and most famous bands of the '60ís. The Small Faces.

Ronnieís exuberant character was always good for a laugh a minute and certainly made life Ďinterestingí. When I learned of his death in Trinidad, Colorado on 4th June 1997 aged 51 years after a twenty-year battle against multiple sclerosis, I, and no doubt many others who knew Ronnie, were greatly saddened.

But the memories live on....

P.S. I never did get that tanner back from Ronnie. Never mind.

John Crocker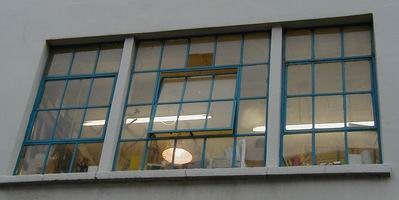 The actual Test Room window overlooking John's Mews which is referred to by John in the above text. (Photo taken in December 2001, long after Selmer had moved out!)
---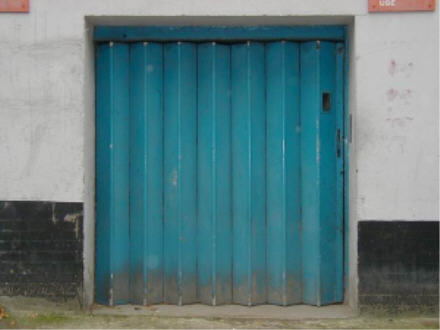 This is the lift (elevator) entrance door from off John's Mews which gives access into the old Selmer Factory. All materials going into the factory entered via this lift,......and all completed amplifiers came out by the same route. A huge amount of "canned" music has therefore passed through this very entrance!!
---
Return to the SELMER COMPANY STORY PAGE

Return to the MAIN SELMER AMPLIFIER PAGE