THE MJB COMBO
ASHFORD & ROMNEY, KENT, ENGLAND - 1963 to 1966
COURTESY OF MEL BRAY: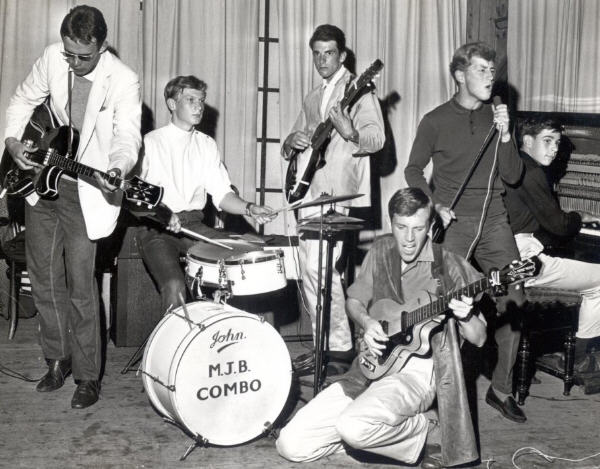 Picture taken in 1963, featuring Mel on his knees playing his Hofner Club 50.
Personnel (left to right)
Andy Birchall - Framus Star Bass

John Newall - Drums

Richard Dyke - Egmond/Rossetti Solid 7

Mel Bray - Hofner Club 50

Mick Bashford - Vocals

Mick Lewis - Piano
MEL RECALLS:
The MJB Combo worked village halls, dances, wedding receptions etc in the Ashford and Romney Marsh area of Kent from about 1963-66. All of us bar one were from the local Grammar School. We were one of only about two bands in the area at the time. We used a mixture of home made, borrowed and second hand amps/PA. In fact the guy who owned the PA came and reclaimed it in the middle of a gig on one occasion. Prompted quite a lot of bad feeling.....
My amp at the time of the MJB Combo was a Stroud Audio 30watt with twin 12inch Fane speakers - all in a nicely finished cabinet a bit bigger than that of an AC 30. Extremely heavy and tended to get overheated - causing reduced volume and farting sounds - usually around half way though a gig. A good kicking and the usual break tended to clear it up enough to last through to the end of the evening. Stroud Audio just made the amp chassis etc (and sold them through Exchange and Mart or similar) - this was then bolted onto a shelf in the cabinet and connected up to the speakers. The amp had four channels as I recall, a bank of around a dozen knobs and actually had tremolo on it, and a socket for a footswitch. The cabinet was actually pretty impressive - made by a carpenter friend of my father, covered in maroon leatherette with fancy grill fabric over the inset speaker area. Where the word "Vox" might have been, I used gold coloured plastic garden gate lettering to create the word "Stolz" (German for proud). Blokes used to come up at gigs saying "What's the amp, mate". And I used to say in a nonchalant kind of way - "Stolz - specially imported from Germany." ..aaaagh - what it was to be young!


I got my 1959 Club 50 (Serial No. 796) secondhand in 1961. It was initially paired with a tiny Selmer amp followed by the Stroud, and in the late sixties was driving a Vox AC30 and a Watkins Copicat. It helped me earn my living for a major chunk of the 60's and I still have it now (a bit battered, and the case is falling apart). It's neck was broken at the heel in about 1965 whilst being swung around my head during a rendition of "Blue Suede Shoes"! It never played beyond the twelfth fret after a not very good repair, and I had it re-repaired about ten years ago - still not too hot on the upper frets. It was used in several amateur bands (including the MJB Combo), and for solo stuff abroad. In the main band I played with, (after the MJB Combo days!), we were support for among others - the Kinks, John Mayall and the Bluesbreakers, the Yardbirds, Gino Washington and the Ram Jam Band, Alice Cooper, The Free and others who did the campus circuit of the late 60's.

---