THE SCORPIONS
KIDDERMINSTER, THE MIDLANDS, ENGLAND - 1963 to 1966
COURTESY OF JOHN GWILLIAM: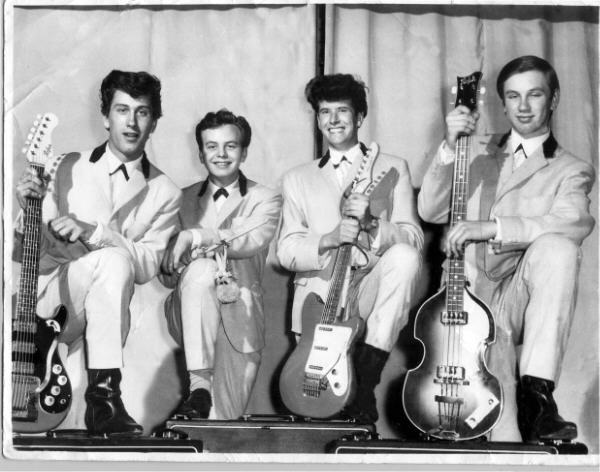 Line-up in Photo Above (Left to Right):
Jimmy Bowden - lead guitar and vocals - Hofner V3, Watkins Copy Cat, Vox AC30

Martin Hill - drums (Jean Krooper exponent), vocals and piano

Bob Barber - guitar (John's Futurama 3), vocals, percussion, Vox AC30

John Gwilliam - bass, vocals, Hofner Violin Bass, Vox AC30 Bass model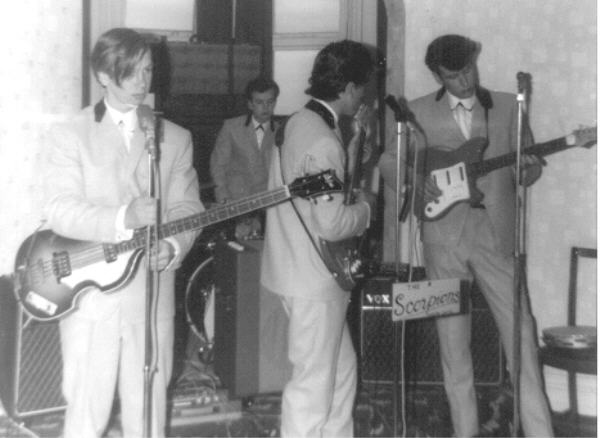 Photo Above:
The Scorpions at the "Park Atwood" in early 1963, somewhere outside Bewdley, Worcestershire.

Notice the Selmer 300 echo unit on the floor. Vocals into the Selmer 300, 2 outputs routed, 1 to each guitar Vox AC30, doubling as a PA

Also notice the strange Bass amp between Jimmy Bowden's and Bob Barber's Vox AC30's. "Our manager bought it for us, it was a 30 Watt valve amp with 2 x 12" speakers; one in the front and one in the back. At least that's how it seemed to work best. Not side to side as suggested. We never knew the Brand. I was sure happy to get my AC 30 soon after."

Personnel (Left to Right):
John Gwilliam; - Hofner Violin Bass.

Jimmy Bowden; Hofner V3 - "It had a beautiful super low action with no slap or buzz."

Martin Hill; drums - "He was the perfectionist."

Bob Barber; Futurama 3 - "A very accomplished vocalist - should have gone further."
---
Return to NOT-SO-FAMOUS USERS PAGE