VALVE TYPES COMMONLY USED IN SELMER AMPLIFIERS
SILICONE DIODES
COURTESY OF JOHN CHAMBERS, NOTTINGHAM, ENGLAND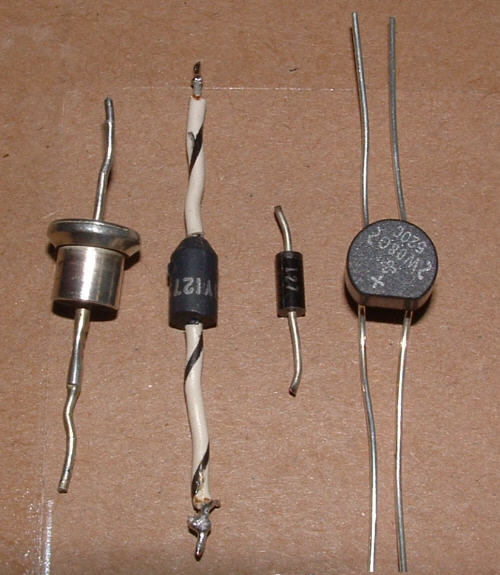 THE SILICONE AGE.......
- when it became the trend in any electronic equipment to change from valve rectification to Silicone, hence allowing for cheaper overall production, smaller size and less produced heat.
One of the first mass produced was the BY100 Silicone diode. This little diode could virtually out-perform any of the standard currant rectifier valves of the day with no effort at all! In the photo above, the first example on the left is an actual 1960's Mullard. Yes....... Mullard!! They used to come in a small box similar to an ECC83 in size, with all the original Mullard logos. Red or blue boxes with black writing, but there was this card from corner to corner with a single BY100 pressed onto it. This type of diode was known as the "top hat style" for its shape. It was metal, shiney, and hair rising if touched!!
Later versions were called encapsulated like the slightly beefier version of a BY127 of the late 1960's (second from left in the photo). You couldn't get a shock from the body of this style.
All equipment using these first two kinds of diodes (Selmer included) would either use two (known as full wave rectification - as with most valve rectifiers of the era) or four (known as a full wave bridge, which is the most common means of use today).
The Diode which is third from the left in the photo, is the same, but modern day, BY127; and how much smaller it has become!
Finally the example on the right is a modern, common, in-use everywhere, full wave bridge in one package. This is simply 4 diodes in a full wave bridge circuit, ready wired in one package.
There is a bit of a swing nowadays back to vacuum valve (tube) rectifiers, both in the Hi-Fi, and in the musicians world, together with lots of comments like "valve rectification sounds better?" In my opinion they both have a place in today's world as there are fore's and against on both issues!
- John.
---