VALVE TYPES COMMONLY USED IN SELMER AMPLIFIERS
EF86 PRE-AMP VALVE
(Amplifying Pentode)
PHOTOS COURTESY OF JOHN CHAMBERS, NOTTINGHAM, ENGLAND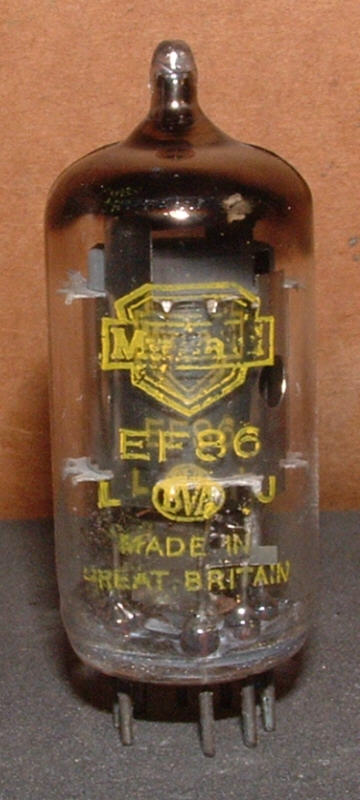 An original Mullard EF86 Valve.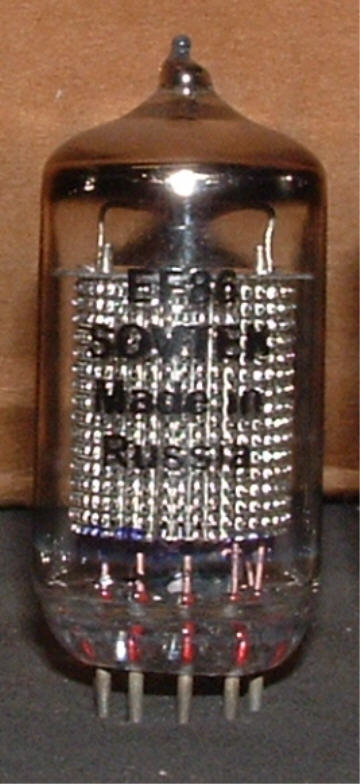 A present-day Russian Sovtek EF86.
JOHN'S COMMENTS ON THE EF86:
"EF86's, Mmmmmm.............let me see. Firstly I have to say that I have never been a fan of the EF86 !!
I assume (?) that they were developed once again by Philips of the Netherlands. They are a high gain, low mu, amplifying pentode on the B9A base, widely used in mainly Hi-Fi amplifiers for imparting the high amplification of low gain record player/turntable cartridges for the same said Hi-Fi use.
How and why they found their way into guitar/musical instrument amplifiers I will never know! Maybe it was just trendy to do this at the time? Whilst certainly having a place in society and history, the EF86 (in my eyes anyway) was always a troublesome, noisy and unnecessary addition to musical amplifiers of the era. They ALWAYS seemed to be noisy and troublesome, regardless of their usage. The simple ECC83 double triode was a far better choice in my opinion, and as the valve (tube) boom seems to have come full circle nowadays (so rightly so), there doesn't seem to be anybody using EF86's anymore - just lots of ECC83's!
Maybe there is some truth in my suspicions that they were not so good (and unnecessary) in musical instrument/guitar amplifiers? Though not many companies used them - Selmer and Bird were just two examples of those who experimented with the EF86 in some of their amplifier models.
Personally I wouldn't mind or care if I never saw (or used) an EF86 ever again!! Maybe I'm wrong? Anybody out there with similar feelings on this bottle please let me know !!!! "
---