VISITORS' GALLERY
The page where other people's Hofners are featured.
VISITORS' HOFNER COLLECTIONS

---
Over the past 16 years or so of my website being on-line, I have been sent many pictures of Hofners from all over the world. A large number of these are included in the specific-type galleries. Several visitors have however, sent me images of all or part of their entire collections. Rather than include these very impressive displays with the individual guitar images in the original galleries, I decided to set up this separate gallery. Believe me, these collections deserve their own page!
---


VISITORS' OWN HOFNER COLLECTIONS


SIMON ADAHL'S COLLECTION OF HOFNER GUITARS
Simon Adahl, being a professional musician, regularly gigs all these guitars.




ANTONIO'S HOFNERS
The backbone of Antonio Ongarello's collection are three beautiful Hofner A2 model guitars dating from around 1980; two A2L full-bodied archtops and an A2HL thinline. Also in the collection are two late 1960's Hofner basses; a 500/1 Violin Bass and a 500/2 Club Bass.


HOFNERS IN THE RED ROOM
John Robinson in North Yorkshire, England has a varied collection, but with a tendency towards red-finished guitars!


A DUTCH HOFNER FAMILY
Four guitars in the collection of Norbert Boekhout from The Netherlands. Two lovely acoustic flattops and a two Violin Basses.


MR NATE LAMY'S HOFNER CHANCELLOR ARCHTOP COLLECTION
Five beautiful examples of Hofner's current top-of-the-range archtop from the collection of that highly knowledgeable archtop enthusiast, Mr Lamy from Canada. They includes the Chancellor prototype which was fitted with 24 frets.


DIETER SEROWY'S "GOLDEN" COLLECTION
A superb collection of two Golden Hofners, four Hofner 470/4700 models, and the unique Golden/4700 Prototype guitar which is featured elsewhere on this website.


THE PYRAMID STRINGS COLLECTION
The Pyramid Company have had a close association with the Hofner Company for many years. This started with the supply of all types of strings to Hofner back in the pre-World War days in Schoenbach, and again from the late 1940's when both companies had re-located to Bavaria and finally to Bubenreuth.
The Pyramid Company have recently purchased many of Christian Benker's collection of Hofner guitars and basses, and these now take pride of place in the Pyramid historical collection of Bubenreuth musical artefacts. This must now be the definitive collection of Hofner guitars in the World.


JOHN HALL'S HOFNER PRESIDENT COLLECTION
Eight Presidents from the 1950's and 1960. Probably the most of that model that I have seen in any collection.


STEFAN LOB'S HOFNER COLLECTION
Stefan has an extensive collection of German guitars in general. The photos show the Hofner guitars included in that collection.


RICCARDO ABBONDANZA'S COLLECTION
A very comprehensive collection consisting mainly of Hofner vintage solid guitars and basses.


THE CHRISTIAN BENKER COLLECTION
Christian Benker worked for the Hofner Company from 1963 until his retirement in 1998. From 1982 until his retirement, he was the Company President. His personal collection of Hofner instruments covers all periods of Hofner's post-war history.


JOHN SNELL'S HOFNER BASS COLLECTION
John, from California, USA, still has the 1967 500/1 that he purchased new whilst at High School! It has now been joined by some more rather tasty examples from 1963, 1964, and 1965, plus two nice re-issues.


DAVE HESLOP'S HOFNER BASS COLLECTION
An impressive collection of five 500/1's from the most desirable period - from 1957 through to 1966.


FRAN FESTA'S HOFNER BASS COLLECTION
Fran in Pennsylvania, USA owns five beautiful 500/1 basses, both "vintage" (including a 1963 Selmer Violin Bass) and re-issue versions.


GRAHAM STOCKLEY'S HOFNER COLLECTION
As well as being Hofner's Sales Director, Graham Stockley also collects Hofner guitars, old and new. The linked photo page shows some of his own personal Hofners, including a 1963 500/1 Bass and a beautiful old Hofner 125 Club guitar fitted with the early Fuma pickups.


THE LATE MIKE KENNEDY'S HOFNER COLLECTION
Regulars to this website will be saddened to hear that Mike Kennedy passed away on the 18th November 2006. He was a great musician and a gentleman.


RENÉ De BONDT'S HAWAIIAN / LAP-STEEL GUITAR COLLECTION
For the electric Hawaiian guitar enthusiasts. René has put together an impressive collection of Hofner and Framus lap-steel guitars, plus a real beauty that he has made himself.


RAMSAY McKINNON'S HOFNER COLLECTION
Four Committees, and a Hofner 496 Western cutaway flattop make up the backbone of Ramsay's impressive collection of Hofners from the 1950's and 60's, up there in Scotland.


JIM McGREGOR'S HOFNER COLLECTION
A Golden Hofner AND a Hofner Deluxe AND five Committees........all on one photograph !! Jim in Scotland is a very lucky guy!!!!!


PETER KANE'S HOFNER COLLECTION
Peter is another Hofner collector who lives in Scotland.


IAN THOMSON'S HOFNER COLLECTION
A well balanced collection of Hofners in lovely condition. There is even a Congress with Hank Marvin's signature on the body top! Ian is yet another collector living in Scotland.


FRANK ALLEN'S HOFNER COLLECTION
Frank is a member of one of the UK's most famous bands - The Searchers - and he has acquired some lovely Hofners over the years, which I am delighted to show on this website. Many thanks Frank !!


AL WOOD'S HOFNER COLLECTION
A very nice collection of 1950's and early '60s Hofners, including some of the Selmer distributed guitars and a beautiful old 465 model. Al lives in New Mexico, USA.


THE NICK WASS HOFNER SOLIDS COLLECTION
A collection of Selmer UK distributed solids from the "boom days" of 1963 to 1965.


ALLEN BADAWAY'S HOFNER SHORTY COLLECTION
Al has put together a very impressive collection of all three types of 1980's Shorty travel guitar. He has also made available his experience of these little but powerful guitars for the production of a Shorty Fact File elsewhere on this website.


DETLEV GOLDAU'S HOFNER COLLECTION
A nicely balanced collections of 1950's and 60's archtops and solids, all in beautiful, original condition. Detlev lives in Germany.


LENIE COLACINO'S HOFNER BASS COLLECTION
Four interesting left-handed Hofners make up this collection, one of which was played by Lenie when he was in the cast of the Broadway production of "Beatlemania".


THE H. J. KAMPHUIS HOFNER SOLIDS COLLECTION
H.J. in The Netherlands has put together a very nice collection of European market solids which span the 1960's period.


JASON WILLIAMS' HOFNER COLLECTION
Four lovely examples of Selmer distributed guitars - two basses, a Club 60 and a Congress. Jason was one of the original visitors to this website and lives out in Australia.


JOHN HALL'S HOFNER COLLECTION
A Verithin, 4575, Club 50, Senator Thinline, and a President together with a Hofner 191 Doubleneck make up John's nicely balanced collection.


BOB BULLOCK'S HOFNER COLLECTION
Five immaculate archtops, all with Compensator tailpieces, plus a Verithin, Colorama, and three Committees, all in mint condition.


NICK SMITH'S HOFNER ARCHTOP COLLECTION
Nick, in Kent England, has put together a nice collection of Selmer distributed archtops, including an 1954 President and a 1956 Committee.


RICK BIRON'S HOFNER GUITAR COLLECTION
The heart of Rick's collection are three Hofner 459(ii) "violin" guitars. Also a nice pair of 12-strings and a Model 4572 semi. Rick's home is in Florida USA.


GREG FEO'S HOFNER BASS COLLECTION
A very large collection of 500/1's, 500/2's, and 500/5's with the odd President Bass thrown in for good measure. These are the guitars that were featured in "Vintage Guitar Magazine" - September 2003 edition. Greg lives in California, USA.

On 28th September 2005, Greg and his wife Carrie lost their home to a bush fire that swept through that area of California. During the fire, most of Greg's guitar and amplifier collection were lost. This website offers Greg and Carrie all our heartfelt sympathy. Thank God nobody was hurt.


JEFF SHERMAN'S HOFNER COLLECTION
Four Hofner archtops which encompass 40 years of Hofner jazz guitar history. From the 1950's Hofner Senator, a 1960's Committee, a beautiful Attila Zoller model from the 1980's, through to the Jazzica of the present day. Jeff lives in Kentucky, USA.


PAUL REYNOLDS' HOFNER COMMITTEE COLLECTION
Four beautiful blonde Committees, plus a blonde President! One of the Committees has unusual factory-fitted electrics, and may well be a prototype. Paul lives in Hertfordshire, England.


DAVID ROGERS' SENATOR COLLECTION
Three gorgeous pre-1960 Senators, two of these being electrics fitted with the round control panel. David's home is in Norfolk, England.


SOREN KOCH'S HOFNER COLLECTION
These are the Hofners that were featured in the UK's "Guitar Magazine" - November 2002 edition. Soren lives in Copenhagen, Denmark.


MICHAEL GUTHRIE'S HOFNER "CLUB" COLLECTION
A very nice collection of Club 40/50/60's, plus a pair of Hofner basses. A backline of pre-1963 JMI Vox amps adds the finishing touch to the photo!


JO RAFFEL'S HOFNER BASS COLLECTION
A very impressive collection of a broad range of Hofner bass models. Jo lives in Germany.


JOE BAIARDI'S HOFNER BASS COLLECTION
Superb right and left handed basses from 1963 and 1966. Joe comes from the USA.


MIKE HILLMAN'S COLLECTION
A 1956 Committee and a beautiful c1966 Hofner 4700 form the centre pieces of Mike's collection out there in Australia. Also featured is a Club 60, a 461, a 465, and two heavily modified Hofner Super Solids which Mike uses as "working" guitars.


BILL RITCHIE'S HOFNER BASSES
Three re-issues of the 500/1 and an original 1966 model in this collection. Bill comes from Illinois, USA.


DANIEL LEE'S COLLECTION
Beautiful examples of the Committee, President, Senator, Club 50, and 457 guitars, all previously owned by Daniel Lee in Australia, but now for sale at Great Guitars, Australia I understand. Daniel's photography is pretty impressive too!

LARRY WASSGREN'S BEATLE HOFNERS
Larry from the USA has put together a collection of those Hofner models associated with the early days of the Beatles. Correct models, dates, finishes,.........Fab! Yeah, Yeah!


1954/57/61/63 HOFNER COMMITTEES
Ramsay McKinnon's collection of Committees spans just about the whole development period of this fine guitar.


TWIN 1964 HOFNER COMMITTEES
These two beauties have been owned since new by brothers Roger and Lindsay Wilkin in the UK. Maybe not a "collection" in the true sense of the word, but pretty unique in my opinion!


THE PITTSBURGH COLLECTION
Carl of Pittsburgh Guitars, Pittsburgh,USA has provided this photograph of his personal Hofner collection, but they are not for sale!! There are a lot of guitars in this picture, and hence a long downloading period (362Kb), but it is well worth the wait. Take a look at those old 125 and 126 "Club" Model guitars!


1954, 1958, & 1962 HOFNER SENATORS
A trio of Senators owned by Peter van de Ven in the Netherlands. Just about the whole history of the Senator in one collection!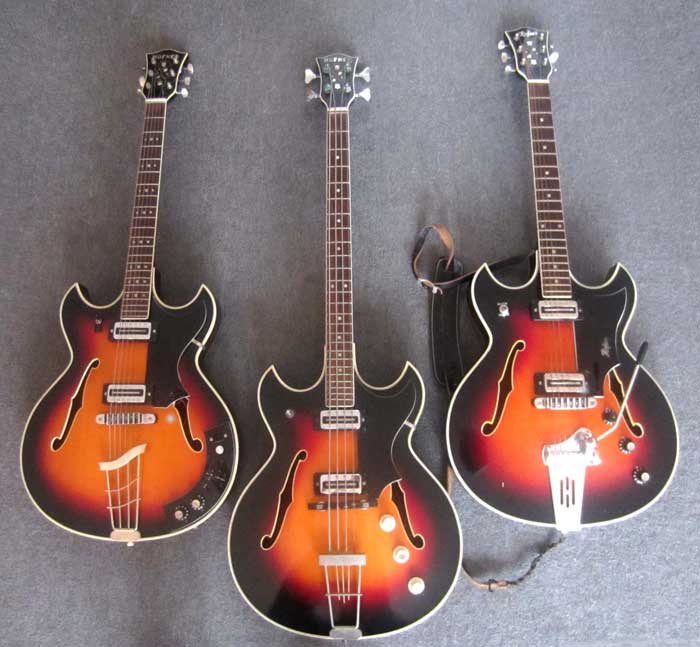 ---