c1966 HOFNER MODEL 4574 STEREO THINLINE ARCHTOP GUITAR
COURTESY OF CARL KAYE, AUSTRIA: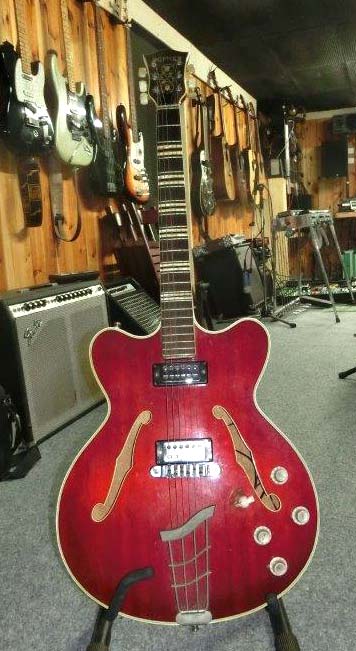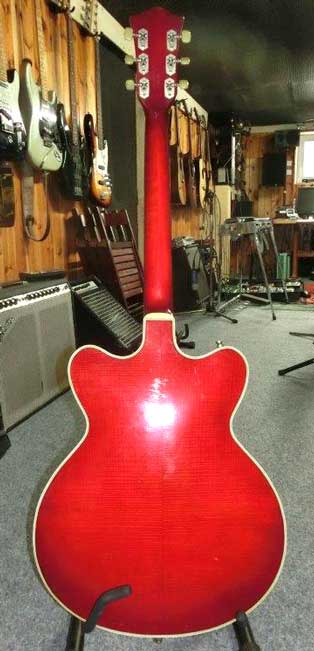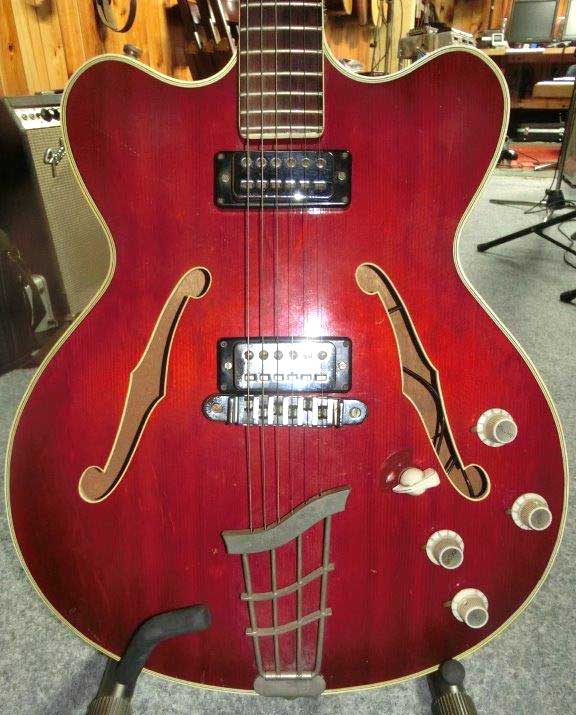 The original black pickguard is missing from this guitar.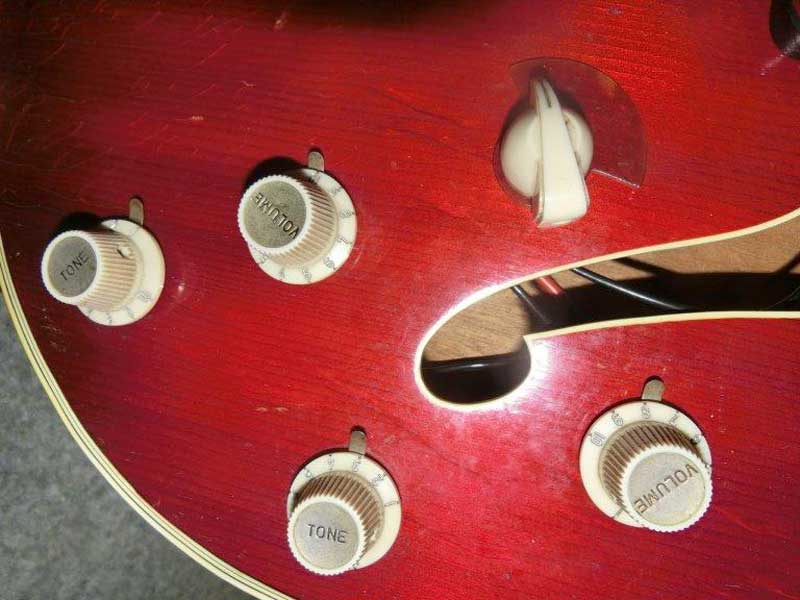 The Chicken-Head Selector Switch has four settings:
"1" - Neck Pickup Only
"2" - Bridge Pickup Only
"All" - Both Pickups On
"ST" - Both Pickups On, with each pickup feeding a separate output for stereo effe
CARL TELLS ABOUT THE HISTORY OF HIS GUITAR:
I am the ORIGINAL OWNER of this guitar! I got it as a Christmas present in 1967 when I was 14 years old. My father bought it for me in a music store in Vienna and I am still in contact today with the guy who worked in that store in 1967 and sold the guitar to my father, as both of us have become professional musicians later. Of course, way back then I had no idea what "stereo" meant, or that things like mono and stereo jacks or sockets exist at all.......:-)
I played with this guitar from 1967 until 1980, when I got my first Fender Stratocaster. From then on it was only Fender guitars for me, and my poor old Höfner gathered dust. Actually, in 1974 I had switched from guitar to pedal-steel guitar as my main instrument, and was no longer interested in guitars as such. In 1991 the female lead guitar player of my band at that time saw my old Hofner in my home and asked if she could borrow it to try it out. I said OK, she tried it out, and we both forgot about it. I got it back from her in 2012 when her parents asked her what they should do with that old red guitar she had left almost two decades earlier in her parents' apartment !
Unfortunately when I got it back it was in a pretty bad shape; everything was crackling and the selector switch didn't work any longer. I brought it to a professional repair shop to get the whole electric system cleaned and fixed, and they told me the bottom plate of the switch was broken but they would try to get a new switch. Months passed, but they could not find replacement switch that was similar and that did not need to be adapted somehow. However, I told them to keep searching as I did not want any modifications on the guitar. I guess that we all then forgot about the guitar.
In 2014 I decided to move to Thailand in order to escape the cold Austrian winters and our rising costs of living. In late 2015 I received an email in Thailand, coming from the repair shop. They were cleaning out their shop as they needed more space, and were throwing away all the things they didn't need and that nobody had picked up. They asked me whether they could throw away my old Hofner. By that time I had found out that the Asian culture and mentality is a bit too different from MY way of living and I was ruefully thinking of moving back home soon. I therefore told them to keep the guitar some more months and I would pick it up as soon as I was back in Austria.
Well - that's what I did. Thus my very first electric guitar came back home to me, and I restored it lovingly myself last month (April 2016) :-)
Carl

---
Return to VISITORS' GALLERY - ARCHTOP GUITARS