c1960 HOFNER MODEL 4550/S/E1 ARCHTOP GUITAR
PHOTOS COURTESY OF OLAF POETER, GERMANY: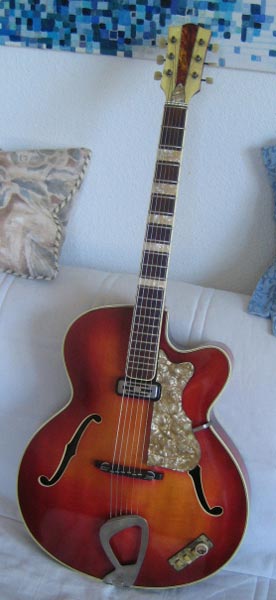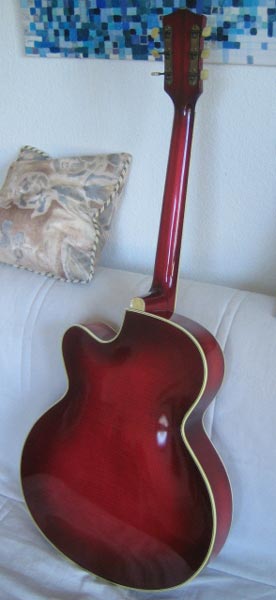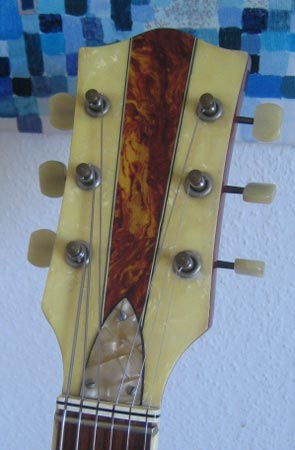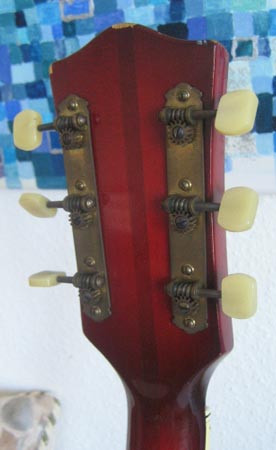 USEFUL COMMENTS RECEIVED FROM OLAF REGARDING IMPROVEMENTS MADE TO THIS GUITAR
"There were some little things to correct on the guitar, including the string action at the nut (zero fret) and the string spacing on both, the nut and the bridge.

Sorting out the spacing on bridge was no problem, as one would expect, but with the nut it is a different matter and at first I was about to replace it. Then I did a trial to enlarge the string spacing, without having the bother of nut replacement and the possibility of visual damage.

I cut the nut notches with a file, angled sideways under the top. By doing this, the nut does not look much different in top view, but it does achieve the result of the strings being moved sideways. You can see it on the pictures below. The top picture shows the initial condition; the lower ones show the final result. The E6 string was 5 mm away from the fretboard edge before I started. Now it is 4 mm, which is OK for my hand. To get the other strings into the correct position, I had to move a few more of them, but each a reduced distance of course.

Before I discovered the trick with the file, I had already widened the E6 notch. Next time that I do this operation, one will not be able to see any difference between before and after!

The zero fret was 0.3 mm too high, as usual on vintage Hofners. I filed it down, so that playing the F cord is a pleasure now. By the way - the string action on the first fret is, what makes a guitar a good playing one or not. The action on higher registers is secondary, at least according to my personal feeling.

The spacing on the bridge is perfectly adjusted, too, of course. The string action at the 12th fret is 1.8 mm under E1 and 1.9 under E6 now - without buzzing at medium hard playing style, which I consider to be pretty good! (Steve-"So do I !!") Also, the octave is absolutely in tune."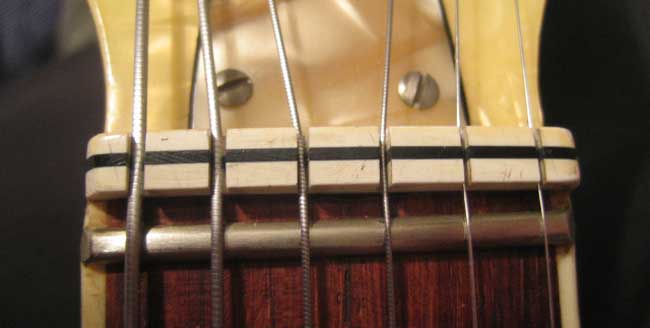 Before Work Begun - Note distance of E6 from edge of fingerboard.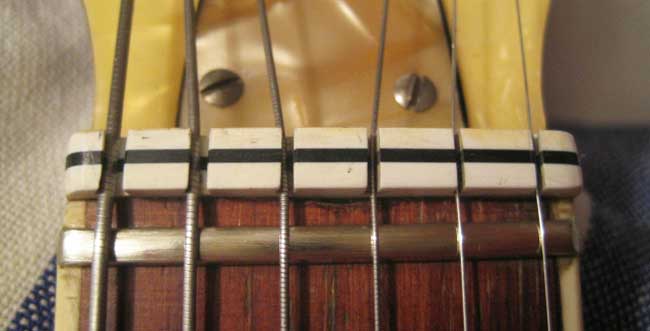 After Work Carried Out - E6 now in correct location and A5 and D4 also moved over to give correct spacing.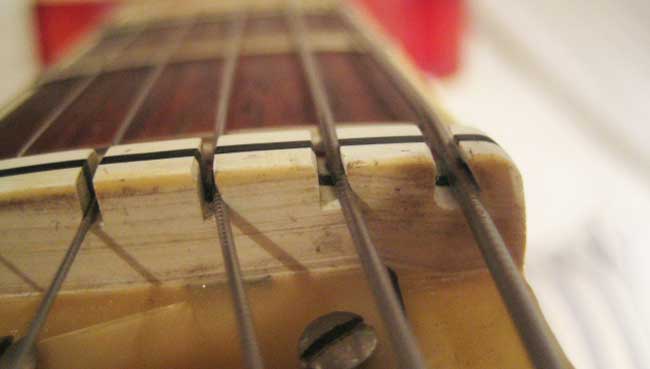 A better view of the filing work.
---
Return to VISITORS' GALLERY - EUROPEAN DISTRIBUTED ARCHTOP GUITARS