FRANK RODGERS
PURCHASED HIS HOFNER 172 WHILST SERVING IN THE CANADIAN ARMED FORCES IN GERMANY
- SEPTEMBER 1959 to DECEMBER 1962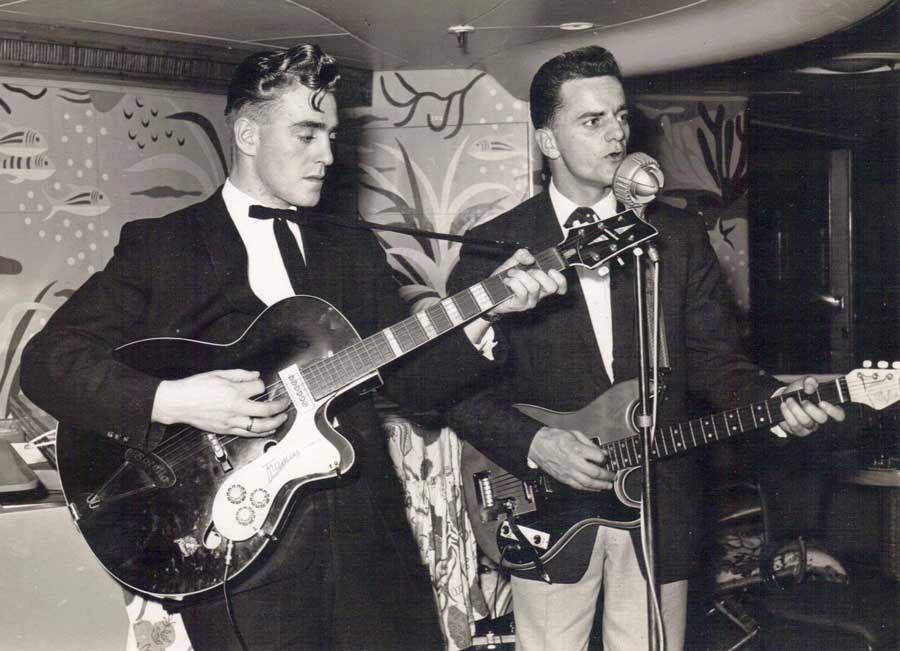 That's Frank Rodgers on the right with his vinyl-covered Hofner 172 Solid. Dale Verge is on the left playing a Framus Sorella archtop.
FRANK EXPLAINS:
This is a photo of me, on the right, playing my 1961-1962 solid body, vinyl leather-wrapped, Hofner Guitar. I bought the guitar at a local music shop in Soest, Germany for I believe 400DM, while serving with the Canadian Armed Forces at Fort York near Soest. This photo was taken on board the Dutch cruise liner, the "Ryndam", as my army buddy Dale Verge and myself entertained the troops and their families on our return to Canada in December 1962.
I loved that Hofner guitar, but had it stolen from me in 1964. I never did recover it.
---