SHADOWFAX
1968 to 1970 - SURREY, ENGLAND
COURTESY OF MICK SPINKS:
Showfax playing the Esher Assembly Rooms, c1969.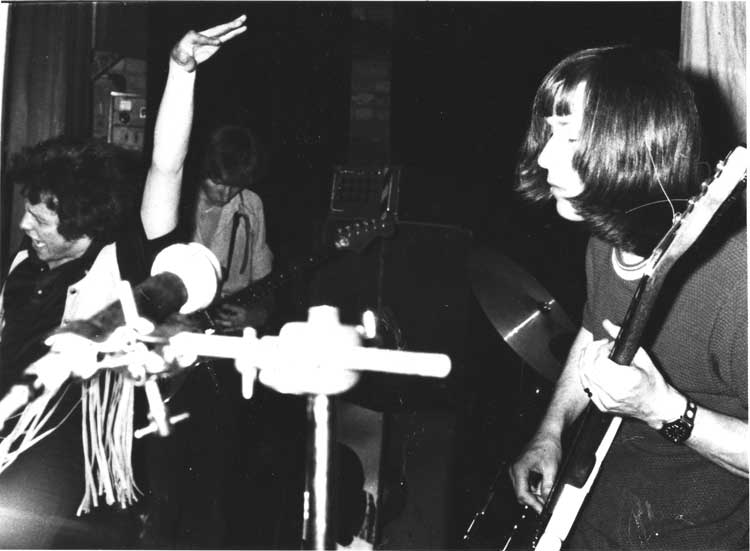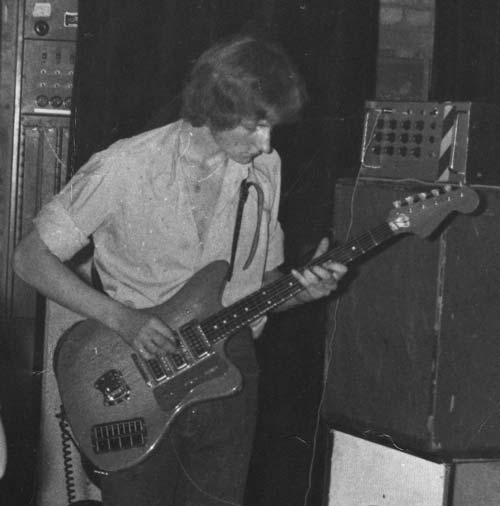 Mick with his Futurama Coronado Automatic, playing through a Selmer PA 100 amplifier head.


MICK REMEMBERS:
The group was called Shadowfax (we were all young once) and was formed at Tiffins Boys school in Kingston-on-Thames from the ex-members of the short lived but active Rail Freight Blues Band (see what I mean). The personnel were :


Brian Napper-Drums
Doug Bogie-bass
Graham Travers-vocals and leaping
Mick Spinks-guitar
The photos were taken by another school friend, Stephen J Hall.)

My guitar was my second electric after a Futurama II, and was bought for a fiver including hard case, but no tremolo bar, from a pawnshop in Brighton Rd. Surbiton. It had the lowest, sweetest action I have ever experienced, bar none - a true slippery dick feel and a joy to play (although it was originally supplied with a heavyish set of tape wound strings). The guitar itself was in beautiful condition except for a substantial gash in the centre of the back, which showed the excellent quality of the wood in all its natural glory, so I didn't mind this (ahem). It was eventually stolen by a thieving bastard of our acquaintance (but that's another story), which I bitterly regret, and was later replaced by a beautiful Custom Whorl guitar made for me by a Luthier in Hook (near Tolworth, Surrey) called Peter Redding, which I don't regret at all – I still play this one today.
The Selmer PA amp came from another of the multiple mobile pawn shops in London Road. Kingston and was used in parallel with a Selmer/Futurama Bassist Major head. (I still use this today for piezo acoustic bridges on the Redding and various Arias with a wide band cab, at which it excels.) The original cab went to a bass playing mate in London and eventually expired of the damp in his garage.
The PA wasn't really voiced for guitar, above all with two 15" single closed cabs and was, at best, rather brutal with the Range Master treble booster, but OKish with a 3 piece, as we played more or less flat out all the time and gave a tone very much in keeping with the Beano Album. (And it also kept up with the bass player's Marshall stack – no wimpy wibbling here!)

Doug did two gigs with Queen in February 1971 (I think Hornsey Town Hall and Kingston Poly) and then left to do his exams (silly chap). At the time, no one thought that Queen were likely to get out of the college circuit! - Oh dear. We all really shouldn't have listened to what our teachers / career advisors told us after all!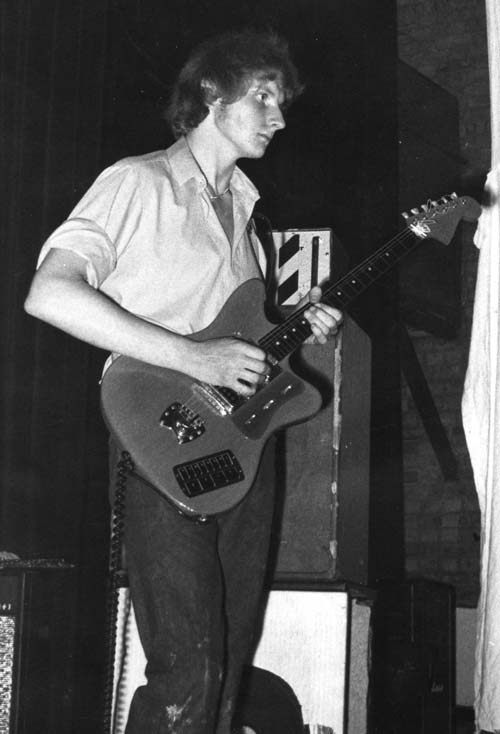 "The pensive look on my face in one of the pix is because we were playing a number that Rory Gallagher's Taste used to do called "Same Old Story". It has a step up for the second solo, and neither myself nor the bassist could ever remember if it was a tone or a semitone step - a tone for this gig, so no worries eh?"

("PS if anyone knows the whereabouts of this guitar, I cheerfully renounce all claim to it but would love to have some pix!!")

---