DINO & THE TRAVELLERS
1963 to 1965 - HALIFAX, YORKSHIRE
COURTESY OF LES PIGGIN: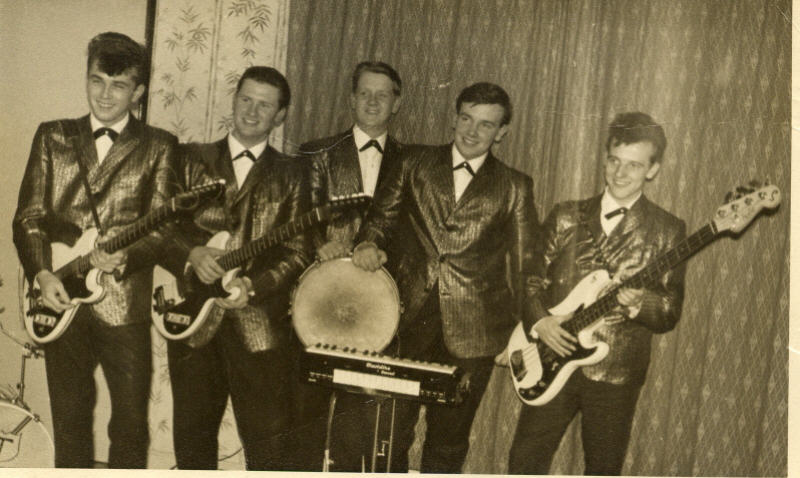 "Taken at Shozzie's (Stewart Shaw's) house during a 1963 promo shot session. Dino is missing from the photo."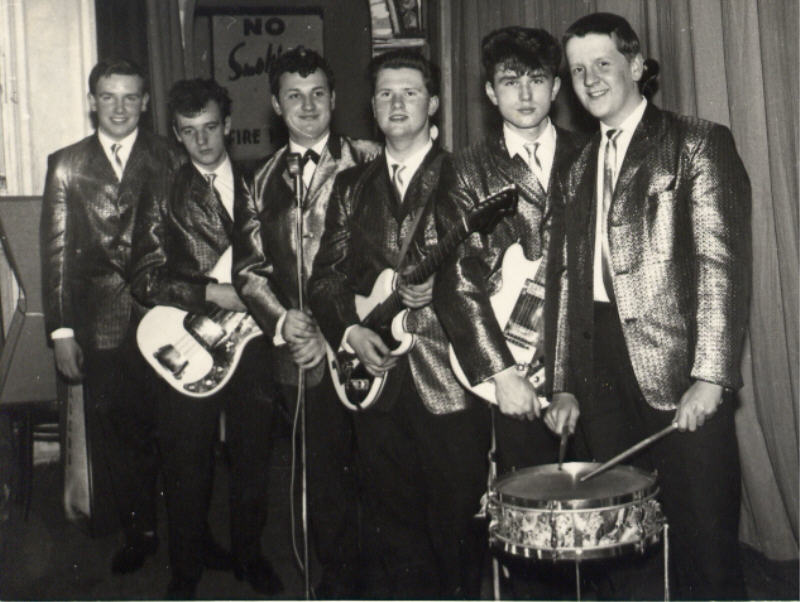 "Marlborough Hall, Halifax, Friday 19 April 1963, complete with Dino this time - The night we supported the Brook Bros & Rhythm & Blues quartet. Silver jackets were brand new for the gig."
MEMBERS OF THE BAND:
Peter Reeve - Keyboards
Melvyn Burns - Fender Precision Bass
Dino (Bob Marsden) - Lead Vocals
Les Piggin - Rhythm Guitar (Hofner Colorama)
Graham Hilton - Lead Guitar (Hofner Colorama)
Stewart Shaw - Drums
LES REMEMBERS:
I was at school with Peter Reeve and Stewart Shaw from 1957 to 1963. Peter was a very good pianist (properly trained!) and we started a little 3 piece band. We were joined in April 1962 by Melvyn on bass and Bob (also a school chum) on vocals and then Graham on lead because he knew all the Shadows numbers. By mid 1962 we were starting to get some bookings. Graham was a big Shadows fan and didn't much like the bluesier music of the Beatles or the Stones etc. He left the band about May 1964. I took over on lead as the emphasis was then more on singing and less on instrumentals. Melvyn left later in 1964 and we got a new bass player who later became my brother-in-law when we married two sisters in 1969.
Dino left in 1965 so we continued as a 4-piece. Peter Reeve left in 1966 and Stewart gave up in 1967 at which point, with a new drummer, we became a trio of guitar, bass & drums with a girl singer – The Alan Davies Trio with Maria. We continued going round the clubs till October 1969 by which time we had all had enough.
Dino & the Travellers have reformed at various times for various causes. In 1976, the 1965 version of the group played a gig and over the last 10 years a newer version of the band with Bob Marsden and me has done quite a few gigs but it has become increasingly hard work when we only do one or two a year. Bob and I are still good friends and go on holiday together with our wives.
In 2002 Stewart Shaw, our first drummer, died unexpectedly at only 56 which caused us to make contact with Graham Hilton again after almost 40 years. He now lives in Cambs and works at Papworth Hospital. In Nov 2002 he came up and did a memorable gig with us: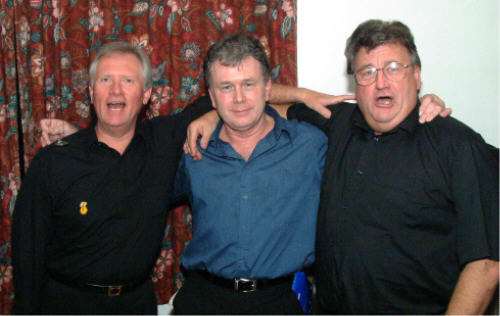 Bob, Graham, and Les Re-United.
---