1959 HOFNER CONGRESS ACOUSTIC GUITAR
Serial No. 8468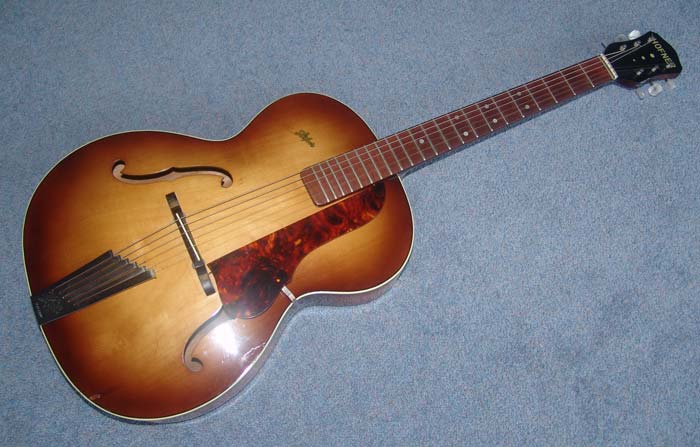 ---


Bottom of the Selmer range model, but nonetheless, this was the one on which Hank Marvin began his career!
Plain maple laminates are used for the top (one piece) and sides of this guitar, but a fairly modest flaming is evident on the two piece maple veneer back. The dimensions of the body are 19.5" x 15" which is significantly smaller than the Senator and President at 20.25" x 16.5", but the Congress is a more comfortable instrument to play. Not as loud, though, as the Senator.
The tortoiseshell pickguard is a replacement, albeit a genuine original unit from off another Congress of the period. The Senator and Congress models were the only Selmer distributed guitars that shared that same type of pickguard.
A simple white/black binding strip has been applied only to the arched top of the guitar. There is no binding to the back, neck, or soundholes.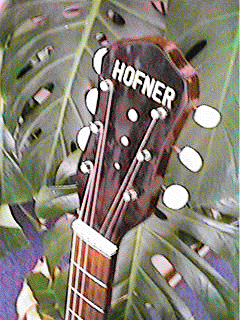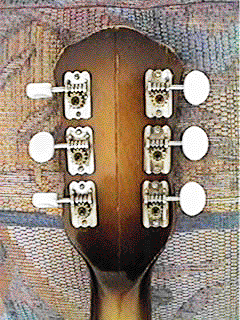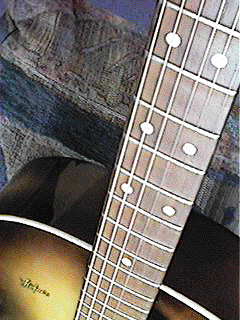 The neck is two piece maple without truss rod, being pre 1960. The finger board material is described as rosewood in the Selmer catalogues, but does not, to my admittedly untrained eye, have the grain texture of that exotic timber. Double marker dots of a very plain material have been installed for the 5th, 7th, and 9th frets. Curiously, only a single dot has to suffice for the more important 12th fret.
The headstock is faced with a celluloid plastic-like covering, on which the block Hofner logo and three off-white dots are displayed, (as on Hank's old guitar). On later instruments after about 1960, the treble clef motif replaced the three dots, this being in turn replaced by about 1965 with a plain plastic face with elevated white Hofner script-type logo. No ebony and mother of pearl inlays here!
At some stage, the original three-on-a-plate tuners have been replaced, by a past owner, with similar quality individual units. I have been able to acquire some original Hofner three-on-a-plates recently, and intend to change back onto these at the next string change. Note that ferrules around the tuner barrels are not fitted on such a budget-cost guitar as the Congress, nor indeed even on the Senator.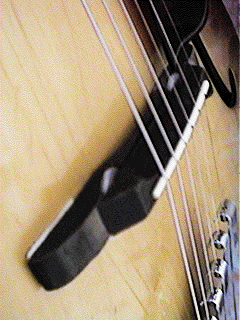 The tailpiece on the guitar is Hofner's famous "Compensator" type. The bridge is the standard "ebony", probably dyed maple, which is only adjustable for height.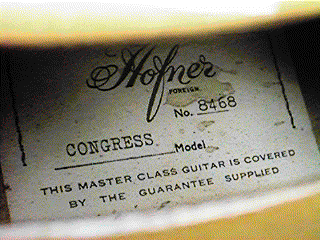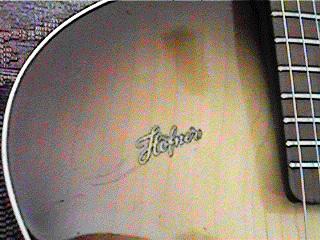 Plenty of identification on this guitar, with the body logo transfer on the upper bout and the maker's label stuck inside the body directly beneath the bass soundhole, as with all Selmer imports (excepting the Clubs and Solids which, lacking a soundhole, have their serial numbers stamped onto the rear of the headstock).


---