c1963/64 WEM E.R.15 AMPLIFIER HEAD
(PROBABLY AMPLIFIER HEAD UNIT FROM "PICK-A-BACK" OUTFIT)
COURTESY OF THE VLAD LASHING, CANADA: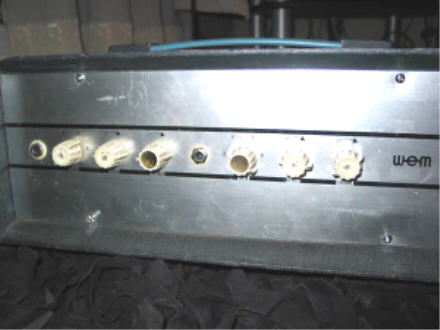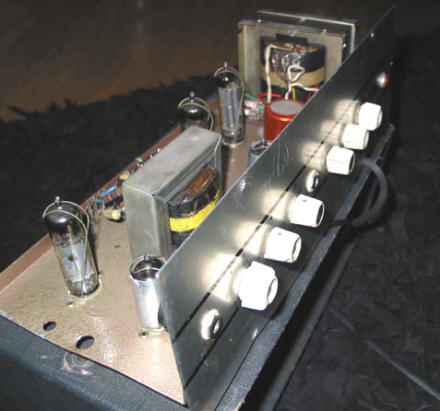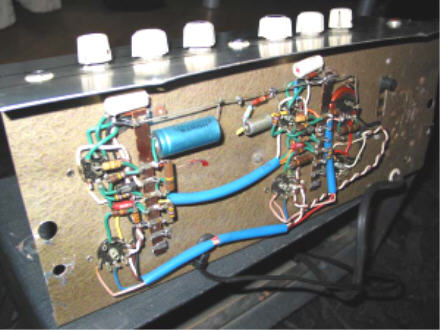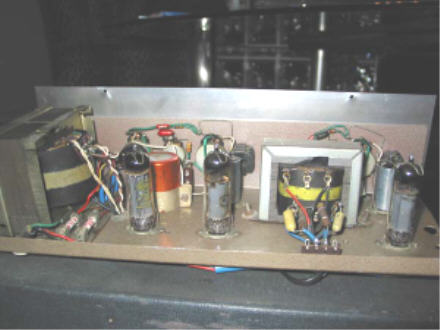 VLAD'S COMMENTS ABOUT HIS AMP:
This one was a rare find indeed as each and every component was original from 1963. You can see the date on the Filter cap (orange can) in the pictures. Of course, I didn't expect this amp to work well and it didn't. The output was low on one channel and almost non existent on the other. Amazingly the only things that needed replacement were two small caps in the tone circuit of each channel. They had dried up from age. The rest is still working which is amazing since capacitors will fade over time especially the filter cap. Its 40 years old and should be dead (their life span is 10 years) but is still functioning quite well. I expect to replace it soon as a precaution. Its a cheap part and all it does is filter the 60 cycle hum so it has little if any effect on tone. Filter caps are something I usually replace on any item over 7 years old for maintenance sake as their failure can take other components with them.
The WEM now sounds quite good. It took some playing with it to learn its abilities. By overdriving its input with a Boss overdrive this head sings like a class A EL84 amp should. Its not a high gain metal amp. Its more like a Vox overdrive which always has been quite a beautiful sound especially for single note leads which have the "bell" tone. Thanks to Ho's Electronics in Burnaby for patiently going over the entire circuit of this amp to restore it without damage. Ho is famous in Vancouver for knowing his stuff. He also made me an attenuator which is I will soon feature on this site as well.
---